4/22/00
Northampton, MA
Reviewed by: Chris, Jordan, Lawrence & Amy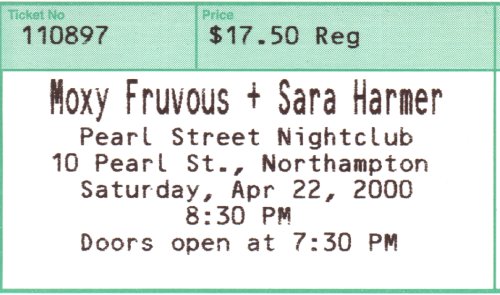 ---
The Details
Short review...
Michele, Vika and I left Norwood around 5pm, making it to Noho by 6:30 or so. By then, a long line of frufans had already accumulated in front of Pearl Street. It was actually pretty cold for April, so we braved the chilly weather and stood in line waiting for doors to open.
Doors opened a little bit late (past 7:30). I'd never been to Pearl Street before, and I was initially impressed by the size of the venue and how well organized it was. We staked out some sitting spots near the back of the main floor and waited for the opener to start. Meanwhile, my friend Mike who lives in Amherst showed up, and we all sat around socializing. Jason Reiser, roB!, Loren and many others also arrived.
Sarah Harmer went on around 8:30 and played for a little less than an hour. To be honest, I didn't pay as much attention to her set as I probably should have, but what I did hear sounded pretty good.
Fruvous came on around 10 if I remember correctly. I hadn't seen them since late December. It was great hearing Heatseeker Boy since the last time I heard it live in November 1996. They also seemed very loose and willing to go off on improvs more often than they usually are lately. The banter and off-the-cuff numbers were hilarious. Too bad the sound system and acoustics at Pearl Street are so crappy. Fruvous' set was about 2 hours long.
After the show, we all hung out and socialized with the lads (except Mike, who didn't come out). We left the venue around 1:30 in the morning and made it back to Norwood, sleepily, at 3am.
Pretty good show! I doubt I'll be excited, though, if they play Pearl Street again, just because the sound quality there is so muddy and echo-y.
From Jordan:
Ok so... i guess that Amy and I had kind of planned on going to this since before she got to NYC, but it still was somewhat spur of the moment, if you know what i mean. She had IMed me right before the Jersey shows and asked me how far away I was from SoHo. To which I replied - I live there (thinking she ment South of Houston st... a neighborhood here in the village). When I realized what she *really* meant we figured that NYC was about 3 hours from NoHo and that we could totaly make it.
After the NYC show we've basically decided that we are definitely going to the gig and so whatever, I got about 5 hours of sleep after the NYC gig and after doing my stuff in the city that needed to be done this morning, we hopped in the car and shot out to NoHo. The car-trip there was pretty uneventful except for the awesome radio stations *grin* We got to NoHo and I could have sworn I was in an ugly version of Boulder, Colorado. The people were all very similar, the attitude was the same - just not quite as nice of a place *grin* mho. I really liked it tho. We went and chilled with the locals at a cafe/restaurant and that was pretty cool then we jetted on over to the venue and stood in line - for way to long.
I have to just give a huge shout out to the three fruheads that were in line behind us (y'all know who you are). I was thinking that most of the people around me were pretty sketch but you guys proved me wrong and turned out to be really cool people. It was nice to meet you and chat before the show... stay chill :)
That said, we got into the gig and amy takes me over to stage dave again. I'm really beginning to like it there. Sarah Harmer was great again - not the same energy as the NYC show but it was still really cool. I like that chick a lot.
So inbetween sets Amy heads over to the bar and gets a beer then gets back in her spot and asks me for a piece of paper and a pen... she then proceeds to write "Dave ~ Here's a heiny just for you" *grin* she cracks me up.
The show was pretty damn cool. I'm waaay too tired after having been forced to drive back from the show this evening (let's hear a shout out to my first time actually atempting to drive in this humble city I call home) to go into details but here's some highlights (as always). There was some banter about MA being a "smart" state as compared to Kentucky which was a smart state but for very different reasons. (they know how to grow pot, whereas MA has smart schools - see the difference). Uhm... that theme showed up a few more times throughout the night.
Dave forgot some of the lines in GE&H and it kind of threw Jian off in turn. very funny. He also started acting like a monkey in the middle of that song (can't remember why exactly) but the image will stick in my mind for a lil while.
They sang the Angry Monarch version of KoS and :::shudder::: let's just say i'm not the biggest fan of that song. I guess it was cool to hear it live tho, right?
Jian threw like two seconds of Run DMC in some of the banter again so i was souped.
The last song they played was If Only You Knew and, IMHO, it was a most excellent way to close the show.
So there it was the end of my fruvous adventures (possibly until frucon 4) *sigh*. I'll try to jet up to the Rhode Island gig and since I may end up living in Santa Barbara for a lil while this summer (i'm homeless after may 7th - any offers? *grin*) I'll try to catch the first two California gigs. check you kids then.
From Lawrence:
yet another great show that the audience really didn't deserve.
I'm probably going to be one of the few people who doesn't complain about the sound, but that might be because I had been told so many awful things about it and then it didn't turn out quite as bad as I was expecting... maybe it's just where I was standing... ymmv. :)
I wish the hecklers could learn when to shut up...
Jian's setlist

michy
jockey
2 careful
heatseek
sad g.
lazy
moon
booty
2 cold
tureen
sauce
fly
mpg
river
car
king
green
splatter
video
--------
shit / grunge
--------
cher

they also played If Only You Knew, to end the show.
between Johnny Saucep'n and Fly, they teased Killer Tents, and indicated that it, too, would be on the C album.
it was great to hear It's Too Cold, because it *was* too cold... something like 40 degrees out... (as a side note, all but one of the times I've heard this song, it's been after waiting in tremendous cold to get into the venue... coincidence? :)
and Grunge of Spain was good to hear, partly because it means I've now heard all of Live Noise, but also because Dave is just... just... an *amazing* guitar player. they introduced the normal version by trying to get the entire audience to boo him as he entered the stage, and that was highly amusing... we were cheering at first, but after some gentle prodding the boos started. :)
River Valley was done with a reference to it being Earth Day, and Get in the Car followed with a bit of an interesting interlude as Dave broke a string in the intro...
however, the audience was one of the absolute worst I've ever experienced. yeah, I suppose it's one thing to shout something during a break, or when they're not saying anything. it's rude, but it's not nearly as bad as actually interrupting a song. I remember distinct shouting during the Sad Girl intro, which distracted them completely, and during Video Bargainville, which was again obnoxious and distracting.
oh well. at least I enjoyed the part of the show that was taking place on the stage.
From Amy:
So, here I am back in Jordan's place and it's 4:55am. Why am I typing this story at this time in the morning? Is it because Jordan's on crack and won't let me sleep? Or is it because I want to give the VA crew a little bit of story time before I get home? Or could it be because I'm just that tired that I don't even care if I'm up any later? For starters, I can't believe Jordan mentioned my idiotic slip up of referring to NoHo as SoHo. I was on crack that day that I was talking with her and she hasn't let me live it down yet.
We left here at about 1:30pm with directions in hand. Again, I drove through this city totally stressed out...VA crew knows how I get whenever I'm driving around any kind of traffic. (so Jordan just got the "death look" from me...she needs to either calm down or just go to sleep...but I love her.) the trip really wasn't all that eventful, except for the random exit 18 I took in Connecticutt and not Massachusetts...like I was supposed to know exit 18 meant the one in Massachesetts...the navigator should have told me (ok, so she told me as I pulled off, and snapped at me hard core). Anyway, so we eventually got back onto the interstate and made it to NoHo without any cops pulling me over (I have some bad luck with that stuff). NoHo is pretty chills. The parking attendant guy was pretty funny. He told us girls to be good tonight...and we promised him we would. :-) We ate at a cool deli type place or whatever. Bagels and tea for dinner for us good girls! yay!
Then, we stood in line for 2 hours...way longer than what was necessary. We met some cool FruHeads in line and they set me at ease. It was great meeting a bunch of Heads that are that chill. Don't ever change, y'all! After getting hugs from the "line huggers" we eventually went inside. The place was pretty cool. I was very impressed. We got our spots stage Dave, right in the front. I'm standing there, thinking to myself, ok, I have a few bucks left in my wallet. This is my third Fruvous show this week and I haven't bought Dave a beer yet. Yup, tonight is the night. After a mellow set from Sarah Harmer, I headed over to the bar and got a beer for good ol' Dave. I write a note to go along with it as usual and put it up on the stage.
Fruvous came on after 10pm. Their excuse for coming on so late was because they had priorities in their lives, and the Maple Leafs games was #1. Luckily they won the game. :-) They had a high energey show yet again. To follow up the "Rock Extravaganza," I would say that tonight's show was the "Dave Showcase." I noticed that there were a lot of songs that Dave sings and I was very happy. To go along with some of the banter that Jordan already mentioned, Jian was very impressed that someone finally pronounced his name correctly. Then, Dave said that he should try hearing some of the mis-pronunciations of his name. Ha ha. Jian had read the note that I left with the beer and he mentioned it then...said something along the lines of people passing Dave notes and there being a proposal on it. Then, Dave said thanks for the beer and I said you're welcome and the guys went on with the set.
Jordan basically said almost everything that happened during the concert. Alls I have to add is my sentiments exactly to what she wrote about the angry monarch version of KoS. Definitely #1 on my list of Fruvous songs I don't enjoy. At least they sang both versions of the song... GEH was cool...esp. when Dave acted like a monkey. That will remain in my mind for a long time. OH! During one of the songs, Dave and Murray put their guitars up against each other and it was really cool...ok, so that description isn't all that great, but it is 5:15am now.
After hanging out in the club for a bit, we headed home. I drove for about an hour and could barely keep my eyes open. By this time, we were driving through Hartford and I thought to pull off and go to a friend's house...but I didn't think his parents would too happy with us considering they don't even know us (my friend goes to school with me). So, Jordan took over the wheel and she drove the rest of the way. I woke up right outside of NYC and became immediately stressed. Let's face it, Jordan is as crazy of a driver as she is a person. I was really concerned when she was wiggin over the concrete blocks and cones... Anyway, after loosing our way and taking a bit of a detour, we made it safely to the parking deck. And here we are now. Dead tired and Jordan is laughing uncontrollably about silly things. We definitely need some sleep, or drugs. Whatever comes first we'll be happy with.
Fruvous weekend is officially over. I am looking forward to seeing them in Alexandria and hopefully taking as many people with me. Sadly, it's in the middle of finals so who knows who will end up being able to go. We'll find out May 3. But, I will definitely be there. :-)


---
The Pictures
Click the description to get the pic:
Thanks to Maria Mrowicki for these:
---
The Music
Opened with
The Set
Closed with
Encore 1
Encore 2
---
Misc. Info
Some other tidbits from the performance include:
Feel free to help contribute to this section!
---

Back to the tour dates 2000 page