5/6/00
Providence, RI
Reviewed by: Chris, Rachel & Josh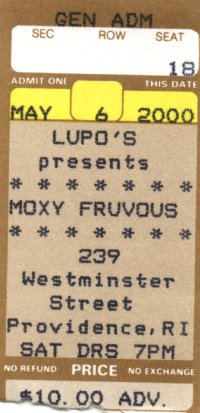 ---
The Details
Short review...
The last time I'd seen Fruvous in Providence was at the Met Cafe almost exactly one year prior, at the Met Cafe. The venue sucked, the audience was rude. This time was a surprising change.
Colleen, Vika and I headed down to Providence around 6pm. When we arrived shortly before seven, doors were already open and there was no real crowd to speak of. Surprise number one. Once inside, we saw a small smattering of fans milling around the large-ish venue (much larger than the Met, anyway).
Martina Sorbara came on really early (like 7-ish). I guess the venue turns into a rave club around 10pm, so Fruvous needed to be done by then. It was my first time seeing Martina, and she seemed really good. I especially liked the songs containing keyboards, but I'm biased, of course. ;-)
Fruvous came on around 8pm, and played for a little under two hours. It was my first time hearing Guinea Pig/Frankenfood. Cool song. Kinda quirky, and the style of what I'm expecting on the c album. The rest of the set was great; the sound quality was awesome, and the crowd was wonderful. Since the show was so early and this show was smack in the middle of finals week, the turnout was kinda small, but I think that helped keep the show a little more enjoyable for me. Afterwards, we talked to the lads for a bit, and headed home around 10:30.
Awesome show. I'd definitely be eager to see another Lupo's show at some point in the future.
From Rachel:
I have a setlist, but Lupo's was my first Fruvous show, so I'm not sure how much I remember clearly. (Thanks, Angela) If I have a couple of details wrong I'm sorry; it's been a few days. Let's see. My friends decided to road trip down from Boston. In spite of some really frightening parking lot attendants we got there with plenty time to spare, so we were standing right in front of Dave when the band finally came out. Martina Sobara opened. She sang -- her own words -- bubbly girl pop, but it was really good, very jazzy. She finished with an amazing cover of "house of the rising sun".
Fruvous came on at 8 and played for two hours, including two encores. Things that stand out... When Jian was introducing the King of Spain he was talking about Elian, and politics, and he got wrong what the Al in Al Gore's name is short for. When someone told him it was Albert he cracked up. "*Albert* Gore? No wonder he goes by Al..." Oh, and they did a great behind the music thing for Ash Hash, and Dave invited everyone to joke rehearsal.
Later, someone yelled out for them to play the "Dating Song" and when they didn't know what that was Mike started playing the techno part of "Good Date Band?" from Live Noise ("the Egyptian girls.... aaaaah.... the Rhode Island girls.... aaaaah....") Oh, and they after they played Pisco Murray started joking about how all the years he'd spent in Mexican prison were paying off.
I Love My Boss was especially great. First it took Jian so long to get the song started that the rest of the band started stretching and ignoring him. Then they changed the lyrics to "who knows what ILOVEYOU will be bringing/ from dear old boss......" and Jian pointed to Dave and said "mac user!" instead of examples. After the second encore one of my friends grabbed Dave's setlist for me, and we stuck around for a while until Jian came out to talk to people and I got him to sign it. I had a great time; I'm going home this weekend, so I'm dragging my sister with me to Darien Lake to go see them again.

Dave's Setlist:
Down
Horse
Fly
Tureen
Sauce
Boss
King
Splatt
Too Care
Booty
Jockey
Guinea
Pisco
Ash
Hold
River
Car
Boyfriend
Psych.

1st Encore:
Michigan

2nd Encore:
vid    (disco bargainville)
Ballad

From Josh:
(delurk)
All - Angela requested a setlist from Lupo's, so here goes...

Down From Above
Horseshoes
Fly
Present Tense Tureen
Johnny Saucep'n
I Love My Boss
King of Spain
Splatter Splatter
You Can't Be Too Careful
Boo Time
Jockey Full of Bourbon
Guinea Pig
Pisco Bandito
Ash Hash
I Will Hold One
River Valley
Get in the Car
Your New Boyfriend
Psycho Killer
---
Michigan Militia
---
Disco Bargainville
If Only You Knew

I enjoyed this show a lot, because of various reasons. First and foremost, the setlist was a nice mix of old and new. Of course, they started with the first four songs from Wood, but after they diverged from that album, the mood picked up. This was my first time hearing Guinea Pig (which will be on the upcoming C album), and I think it is a pretty cute song. Also, it was my first time experiencing Ash Hash live. And, for those of you who have seen them perform this, you know why I chose to call it an experience.
The crowd was very curteous; probably one of the quietest crowds in recent memory. In fact, in some of the calculated pauses (such as during Boss), we were all quiet instead of whooping and hollering like usual. I think that threw off Jian a little, but I think that overall it was a nice departure from what the norm seemed to be.
It was nice to see some of the same crew there (Chris, Vika, etc.), and great to talk to Tobey and the boys again. I still can't believe that Jian remembers me... =)
Anyway, the show was cool, but I do have to say that the Toad's Place show the next night completely and utterly rocked, making this show look pale in comparison.


---
The Music
Opened with
The Set
Closed with
Encore 1
Encore 2
---
Misc. Info
Some other tidbits from the performance include:
Feel free to help contribute to this section!
---

Back to the tour dates 2000 page