03/15/97
Boston, MA
Reviewed by: Jason Reiser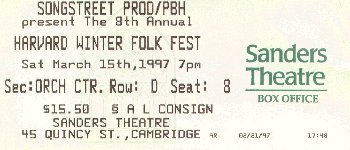 ---
The Details
Moxy appeared at the 8th Annual Harvard Winter Folk Festival. The show was held in Sanders Theater at Harvard University. More details about the show will be available soon.


---
The Music
Opened with
Peace of Mind (Buy Our Brand New Disc)
BJ Don't Cry
The Set
I Love My Boss (off mics, in audience)
You Will Go to the Moon
Gotta Get a Message to You
The Drinking Song
Today's the Day That We Fight Back
Michigan Malitia
Johnny Saucep'n
My Baby Loves a Bunch of Authors
Closed with
Encore 1
King of Spain
Green Eggs & Ham (short)
Encore 2
---
Misc. Info
Some other tidbits from the performance include:
The length of the show was 1 hour 20 minutes.
Feel free to help contribute to this section!
---

Back to the tour dates 1997 page