03/27/97
Philadelphia, PA
Reviewed by: Zard Snodgrass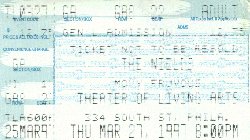 ---
The Details
Moxy appeared in Philadelphia at the Theater for the Living Arts.
From Zard:
Wow, we thought DC was a great show!! TLA seems to be a perfect Fruvous venue - it's spacious so there's a bit of room to breathe, but they pack it in well enough that there's tons of pent-up energy which filters up front to the boys. We knew it would be a good night when we saw Mike's huge grin, and the way he started right off bouncing around on stage. We were priviledged to hear "Towels from Home", which I didn't even realize was a "thing" - thought it was a one-off until this night. We met Eric and Bill Bowen, saw Deedee and Sue, hung out w/Jason and Craig and Susan, saw Jackie, and met tons of other people who I'm sorry I'm forgetting (at least by name) now. Sorry - think that I was running on about 8 hours of sleep in the previous 3 days.
From start to finish this was one amazing show. I think the guys were getting tired, and Susan said they seemed to perform better the more tired they got. Unfortunately Mike seemed to be getting sick, which can't be good for the shows. Take care of yourselves, guys! There were tons more ad-libb-ey things - Chris, Jason, can you help me out here?? Then by 11pm they had kicked us out of the venue. We hung out chatting for a while, then mosied on to a hotel, and the Fruvous week was over. I think I'm having withdrawal symptoms now, but all in all I can't complain. I'd live last week over again in a minute!! Can't wait to start all over again.


---
The Music
Opened with
Peace of Mind - Buy our disc
Lazlo's Career
The Set
B.J. Don't Cry
Video Bargainville
"Open country" impromptu number
Horseshoes
I Love My Boss
You Will Go to the Moon
The Greatest Man in America
I've Gotta Get a Message to You
Fly
Michigan Militia
The Present Tense Tureen
Johnny Saucep'n
Boo Time
King of Spain
Green Eggs & Ham
My Baby Loves a Bunch of Authors
River Valley
Get in the Car
Encore 1
Mistra Know It All (Stevie Wonder Cover)
Darlington Darling
Encore 2
---
Misc. Info
Some other tidbits from the performance include:
Feel free to help contribute to this section!
---

Back to the tour dates 1997 page