4/23/97
Columbus, OH
Reviewed by: Dave Althoff & Kristina Cizas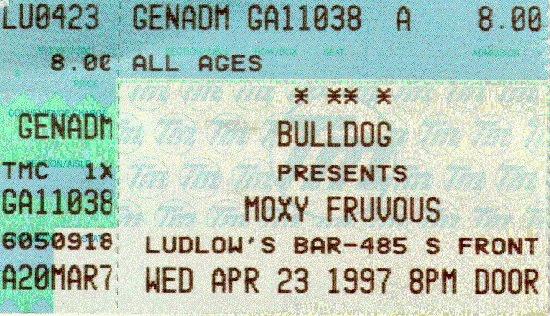 ---
The Details
Moxy appeared at Ludlow's.
Well, the show ended almost 24 hours ago, and I didn't manage to take any notes, so this will be a very sketchy report. The show was at Ludlow's Bar, which is really a neat place...a converted warehouse. Anyway, let me get the bad part out of the way first: While the sound mix was good, it was TOO @#$! LOUD!! A word to any sound man---when you hear that little 'ring' off the vocal mics, it is too loud. When the audience members are holding their ears and walking out with wind-in-the-face hairdos, IT'S TOO @*%%@! LOUD. My ears are still ringing. Aside from that, it was a great show. Local acappella gang Throat Culture started things off...their set got off to a slow start, but once they found their groove, it went off well.
Then Fruvous arrived on stage...late, as usual, and put on a high-power 90-minute show...starting with the obligatory 'indecision/buy our disc' then starting with Lazlo and BJ. The big suprise was Laika, which I have never heard "live" before. One of many trips scheduled for the evening. Other offerings included Sahara, No No Raja, Incredible Medicine Show, and Kick in the Ass from the new album; Horseshoes and Fly from Wood; Video Bargainville, Laika, Authors, River Valley, BJ, and of course King of Spain from Bargainville, with King of Spain segueing right into Green Eggs & Ham. Uh...Johnny Saucep'n and I Love My Boss from B. Plenty of abuse for WCBE's Maxx Faulkner, who wasn't even there. And we knew it was over when they did The Drinking Song. After the show, Murray left in a hurry and Dave and Mike both sounded a bit hoarse. All in all, a really good show. Well, did you expect anything less?


---
The Music
Opened with
Peace of Mind - Buy Our Disk
Lazlo's Career
The Set
B.J. Don't Cry
Video Bargainville
Horseshoes
Laika
I Love My Boss
Billy Joel/Neil Diamond/Dave Mattheson "BOUND FOR VEGAS" interlude -- in which Dave did a nice rendition of "Shiloh"
Kick in the Ass
The Incredible Medicine Show
Sahara (with cool disco ball)
Edi Amin interlude
Fly
Michigan Militia

Jian told us that they were hoping that one of them would be shot by a militia member in response to the song so that album sales would go through the roof (ala Notorious B.I.G.) - adding that he just hoped it wouldn't be him

Johnny Saucep'n
No No Raja
King of Spain
Green Eggs and Ham
My Baby Loves a Bunch of Authors
Closed with
Encore 1
Encore 2
---
Misc. Info
Some other tidbits from the performance include:
Feel free to help contribute to this section!
---

Back to the tour dates 1997 page