05/22/97
Owen Sound, ON
Reviewed by: Chris O'Malley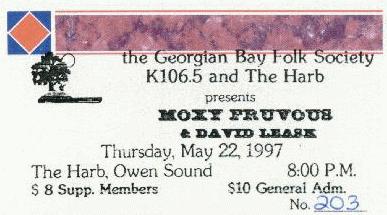 ---
The Details
My very first Ontario triple crown. Mike had told me in Albany that I would be seeing some very beautiful areas of Ontario, so I was definitely looking forward to this trip. Until now, I had only been to Hamilton and Toronto.
I left Rochester around noon and thanks to every form of construction imaginable, I didn't make it to Hamilton until past two. I picked up Heather Rolph, just one of the people who is attending this little "Früvous Trilogy". We headed for Owen Sound, and, once again, thanks to the marvels of modern road work, we got to the town by around five in the afternoon.
We were planning on meeting a bunch of people there, but we were keeping an eye out for Sharilyn, Beryl, and Nikolai, who came all the way from Seattle for these shows!! I think that may set a record for longest distance travelled to see a show. Ceecee and Sharilyn are most likely the other contenders for that title.
The venue was a small bar with a stage in the back; very cozy. The sound quality was surprisingly good, considering the size of the place. I showed Marcus my new car (!!), the multi-ton vehicle that carries my "FRUVOUS" license plates all over these great lands of ours. After everyone showed up, we staked a table near the front of the concert area, chatted with Mike and Murray for a bit, and waited for things to get under way.
Nikolai looked like he was about to explode, since this is the first time he's ever seen Früvous. He was very happy that he was able to talk to the guys; they all knew he had come from such a long way.
At around eight or so, the first peformer, David Leask, came on stage. He played guitar, and was accompanied by an upright bass and a fiddle. David had a very thick Scottish accent, which I personally love to listen to. He could've just talked for an hour, and I would've been set. Their music had a celtic feel to it; very nice.
Moxy hit the stage at around 9:30. They played for about an hour and a half, filling the set with impromptu bits and other oddities. I'm really pleased they did Horseshoes; that song has been put on the back burner a little bit lately.
After the show, we talked to the guys for a looooong time. :-) Mike talked to a couple of us for about an hour, and I asked him a bunch of lyric questions. When I couldn't think of any more things to ask him, he exclaimed, "Come on! Keep asking! This is fun!" I had an awesome time after the show; it's so cool to be able to talk to them for so long after a performance.
At around one in the morning, Heather and I headed back to Hamilton, while Beryl, Sharilyn, and Nikolai went to their hotel in Owen Sound. We're all meeting up at Port Dover for part two of the Ontario triple crown!!


---
The Pictures
Click the description to get the pic:
---
The Music
Opened with
Peace of Mind (Brand New Disc)

"give it up Owen Sound for our brand new cassette or disc!"
The Set
Lazlo's Career
B.J. Don't Cry

Jian, during the drum intro: "Thank you for observing Owen Sound bylaws and leaving 12 feet between us and you."
Some audience members (including myself) take the plunge and sit in front of the stage.
"Budha and a brush"
megaphone for "Now on the street..."
Mike and I talked after the show, and he explained what he's saying when he uses his megaphone for the "Now on the street..." section. In Falco's "Rock Me Amadeus", there's a section in there where someone's speaking through a megaphone. Mike is mimicking that, but changing the words to something like, "In 1844, Mozart composes The Magic Flute." He said what he says during that part of the song pretty much changes every night.

Chatter

Jian explains that it's the first time that they've been in Owen Sound.
Dave and Mike do a quick song about Wingum (sp?). (a la Bob Marley)
Murray: We haven't played near here, but my parents live in Shelburn.
Jian: And I'm from Iran. It's east of Shelburn. About 16 hours.
Murray: You have to cross a lake.

Horseshoes
Chatter

Jian: It's great to be playing in the town where Bobby Orr is from.
(Boos from the audience)
Mike: But it's great to be playing in the town where Harry Lumley is from.

I Love My Boss

"Who knows what the Shriners will be bringing?"
"Perry Sound" instead of "examples"

Chatter

Murray: One of the world's few employment songs.
Jian, looking at Dave: Dave, you're tailored tonight.
Dave: I got it at James Tailory.
Jian: You have Owen Sound in stitches tonight.
Dave comments on how he can't see the audience, and Jian says that there's no one really out there, and a tape of applause is being played.
Jian: If you see anyone out there, Dave, just pretend you're Marsha Brady and think of the audience in their underwear.

You Will Go to the Moon
Chatter

Jian: We are 'Jagged Little Pill' (a local Alanis tribute band)
The guys tease "You've already won me over..."
Jian: "You've already run me over..."
Murray: "Please don't back up."
Some more teases about Alanis. "I'm not here to remind you..." kind-of broadway version.
Jian: We don't have the sex of Alanis.
Jian doesn't understand why you would want to see an Alanis tribute band, instead of just seeing the real Alanis.
Murray: With all respect, when will she play Owen Sound?
Mike: The concert of the fall, Morrisette at Lumley!!

Kick in the Ass
Chatter

Jian talks about YWGTTM and introduces the next song.

The Incredible Medicine Show
Sahara

Mike reads "Planet News" thru a megaphone near the end of the song.

Chatter

Murray: Hopefully we planted a sublinimal message during the last song.
Dave: Cranberry sauce.
Jian introduces the next song about breaking up a relationship.

Fly
Chatter

Jian: Thanks for listening to the new songs. We will get to the Alanis stuff.
Jian talks politics, the upcoming Canadian federal election, how countries nearby paint the flag on their face :-), and the recent problems such as the megacity and the erosion of things that separate Ontario from the US.

Today's the Day That We Fight Back
Chatter

Jian: We switch from Canadian to American politics.

Michigan Militia
Chatter

Jian: There comes a time for a song about food.
Dave, talking to group in the audience: Have your boss check out this recipe.

Johnny Saucep'n
Chatter

Jian talks to the audience for a bit, commenting on how friendly Owen Sound is.
Dave: You come to this place and say, "I wanna buy real estate."
Mike asks the audience if they use lawn chairs during the summer. He returns with "That's great" when the audience says yes.
Dave, after a conversation about whether people should walk around topless or not, "I have enormous tits, for one."

My Baby Loves a Bunch of Authors

"Who needs a grave? He's Robertson Davies!"

River Valley
Chatter

Jian asks how many people haven't seen Moxy before.
A majority of the auidence applauds.
"It's the story of a guy who lives in a smoke-filled VW bus..."

King of Spain

During the intro, Murray: "Good friends of Beck."
"There's a fish on your head...Scooby snacks!"
Before the epilogue, Dave, dancing to the bongos: Damn this is a good groove!

Green Eggs & Ham

During "Not the Beatles": Owen Sound will beat the shit out of you. Jian: Great songs. Can't Get No Satisfaction. Champaigne Supernova. Sowing the Seeds of Love. Murray: Parts one and two.
Closed with
Love Potion #9 Medley

During the drum intro, Jian talks about the upcoming Owen Sound folk festival, and thanks everyone. "Look out for us 'cause we're coming back!"
Ohio, Stayin' Alive, Jungle Boogie riff, Who Will Save Your Soul?, That Kind of Girl, You Oughta Know, "will he go down on Fiona Apple?"
Encore 1
Chatter

Jian thanks the local radio station. Mike gives it up for the opening act.
Murray: Leask fever is catching on.
Some audience members request Jockey Full of Bourbon.
Jian: You must be Fruvous fans, but we're not gonna do that song.
Dave, doing an impression of Tom Waits, introduces the next song.

Get in the Car
Chatter

Jian: We're doing a video for that last song, and we're shooting it in a week near here.
Jian introduces Lou.
Lou: You know I came to these environs for a break. But sweet seductress Owen Sound and I played cards at Carson Lake. Good carp.

Dancin' Queen Medley
Encore 2
Chatter

Dave introduces the final song, and asks the audience to sing along.

The Drinking Song
---
Misc. Info
Some other tidbits from the performance include:
Feel free to help contribute to this section!
---

Back to the tour dates 1997 page