05/23/97
Port Dover, ON
Reviewed by: Chris O'Malley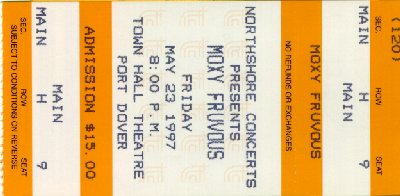 ---
The Details
Heather told me that I could probably expect quite a different show than the one from the previous night, since the venue to which we were headed was a small, cozy, sit-down "concert hall". As always, Moxy never ceases to amaze me and made this one of the most unique shows I've ever seen.
Heather, her parents and I left her house in Hamilton at around 6:30 and after a quick hour drive pulled into Port Dover. It's a very cozy, water-side community. We met up with Sharilyn, Beryl and Nikolai in front of the venue. They had seen the sound check, but doors hadn't opened yet.
The venue was quite small, actually. The stage included a stone fireplace and a piano, which I was hoping Fruvous would take advantage of. At eight or so, the opening act, called Four Wins, started. They were four girls from the local high school and performed some acappella tunes as well as some accompanied by the piano. I must admit I was impressed. They had a real nice sound.
Moxy started at around nine, and began the show with a *real* "human treat". Each of the guys came out in turn, and did a solo song (see below for details), very similar to the Ann Arbor show a few weeks ago. It was so cool to see Jian and Murray playing guitar (I'd never seen this before). After the openers, all four of them came out and did an hour and a half set which included tons of on-the-spot songs, some noodling with the piano (although not as much as I would've liked), and other tid-bits.
I have a feeling that many people who were at the show had never seen Fruvous before. As always, Moxy won over the crowd and was commended with standing ovations before each encore.
All of us headed back to Heather's house fairly soon after the show was over. Her parents really enjoyed them; this was their first show. We all sat around and listened to the sounds of Fruvous before falling asleep at 1am.
So now we come my first outdoor concert in a very long time. The weather just hasn't been good enough lately for festivals and such. Guelph, here we come!!


---
The Pictures
Click the description to get the pic:
---
The Music
Before the set...
Dave

Dave comes out all by himself and looks around at the empty stage and says, "Here's a song we often don't get to play."
Dave: This is a sad song, and it goes out to Marcus.
Younger Than Spring

Mike

Mike: Here's a song I've only sung twice, and on the phone, long distance, to my beloved.
If Only You Knew How Much I Think Of You

Jian

Jian: It's great to be opening for Moxy Fruvous.
Jian talks about how he doesn't like to eat things with brains, but since Port Dover is a big perch town, he decided to go for the perch platter for dinner. He was unaware, however, that the 7 oz. perch platter consisted of 7 perch (since they're each only one ounce). He refutes the recent attacks on the newsgroup about artists not discussing politics. He then goes into a 'protest' song called "Who the hell is eating all the perch?"
Who the hell is eating all the perch? Don't you know it goes against good wishes? If I find that bastard person in my search, I'll kill him 'cause I've got a new predilection for the fishes.
Jian: That's not really the song I was gonna do.
Something Stupid Like I Love You

Jian has a huge grin on his face during this one, and gets a lot of laughs from the audience.
On the last 'I love you', Jian changes it to 'I still love you.'

Murray

Murray: You learn a lot about yourself when you write a song. I've learned that I have a natural streak of melancholy. I write sad songs; real downers.
Love Set Fire
Opened with
Peace of Mind (Brand New Disc)
The Set
My Baby Loves a Bunch of Authors

During the drum intro, Jian: Can we have some more intros please?
"Pulp Fiction"
"Who needs a grave? He's Robertson Davies!"

River Valley
Get in the Car
Your New Boyfriend
Chatter

Jian recounts playing at the same theatre before, and it being one of their favorite shows.
Jian: It's up there in the top 400.
Jian: We're gonna beat that show, we're gonna play for five hours! The show is only 2 hours, but we jam for 3 hours. We climax in the first hour.
Dave: And then I climax in the second half.
Mike talks about an album that was recorded in that very room.

Horseshoes
Chatter

Mike gives it up for the opening act, Four Wins.
The guys go off-mic and have a quick talk with the people in the balcony.
Jian mentions that it's like the Carol Burnett show, and Dave is told his hair looks like Carol's.
Dave: I'm actually Wendy from the Davey and Goliath show.
The band discusses Davey & Goliath and the old Wizard of Oz cartoons.
Some quick teases of the Wizard of Oz cartoon theme songs ensue.

I Love My Boss (off mic)

An audience member claps during the intro, and Murray responds with, "It's like we're doing 'My Way'".
"Who knows what Barry will be bringing?"
Instead of "examples", Jian says "Dunnville".

Chatter

Murray: I was trying to do the Pee Wee Herman dance during that one.
Jian: No one remembers Pee Wee.
Murray: They do, but for the wrong reasons.
Dave: Here's a song about what's coming down the pike.

You Will Go to the Moon
Chatter

Dave: I can tell the story of the next song, while Murray straps on that big thing he calls a bass. It's about how we change our appearance, which is such a small part of who we are, after all.

The Incredible Medicine Show
Sahara

Mike reads from "Planet News", through a megaphone, near the end of the song.

Chatter

The band rearranges a little bit, and Dave comments, "It's like you're catching us at work."

Fly
B.J. Don't Cry

Dave, during the drum intro: "No moshing!"
"Buddha and a brush"
Mike uses his megaphone for the "Now on the street..." section
"told him the game was over...hanging out in Port Dover!"

Chatter

Jian talks about the recent US tour, and how the Canadian tour is just starting.
Jian brings up politics and the upcoming election. He also discusses the provincial government and the recent mega-city bill. He supports the grass roots movement that has started against this.

Today's the Day that We Fight Back
Chatter

Murray: We're gonna switch our focus to American politics. This is a humorous tale about certain groups who do things like collect gun racks.

Michigan Militia
Johnny Saucep'n
Chatter

Jian asks the audience who the guest star coming on stage is.
"Here's a guy who's so happy to be here tonight, that he basted himself in a ludenberry glaze."

King of Spain

Murray, during the intro: Currently performing in "Bring in the noise, bring in the funk."
"There's a balcony overhead...Happy Birthday!"
"Now the Wings call me up to drive..."
Before the epilogue, Murray asks Dave to do Rachmaninoff on the piano. He plays a quick couple notes.

Green Eggs & Ham

During "Not the Beatles", Murray: I don't think I heard you, what did you say?
A quick little tease of Entropy with piano accompaniment crops up.
Closed with
Love Potion #9 Medley

Jian, during the drum intro, thanks Four Wins and all the people who made the show happen. He also plugs the upcoming Ontario area shows.
Murray does a little groove on the bass during the drum intro.
Jian: This is a little hustle. This is 'Popcorn'.
Ohio, Stayin' Alive, Jungle Boogie riff, Who Will Save Your Soul?, What if Maude was one of us?, ???, You Oughtta Know
"There's a lot of reasons to hear Four Wins again. 2,000 million 24 hundred and 10."
Encore 1
Chatter

Jian breaks into the "Winnie the Pooh" theme. The guys soon join in.
Jian changes to a thick English accent. He then explains how he grew up in England, and the Pooh record he had contained a Winnie with a deep English accent.
Mike asks the audience where Winnie the Pooh is from.
They jump back into the Winnie the Pooh theme yet again.

Billie Jean Medley
Encore 2
Chatter

The guys come off-mic and close to the edge of the stage again to do the final song.
One of the speakers was humming and they tried to get it to go away, but the lighting board was the problem.

Gulf War Song (off mic)
---
Misc. Info
Some other tidbits from the performance include:
Feel free to help contribute to this section!
---

Back to the tour dates 1997 page