05/30/97
Ottawa, ON
Reviewed by: Chris O'Malley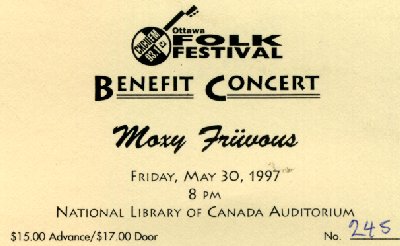 ---
The Details
This was one of the first shows that I've ever attended by myself. I knew of one person on the ng who would be at this show, but I'd never met him before. This was also my first time visiting Ottawa, and Mike said it's a beautiful city.
I managed to drive from Rochester to Ottawa in four hours, but since I left at ten in the morning, I got there significantly early. I didn't really plan much ahead for this trip, so I kind of had to wing it. I drove around Ottawa for about an hour, and found the National Library, where Fruvous was playing that night. The Radisson Hotel is nearby, so I got a room there.
Mike was right about Ottawa; it's phenomenal. Clean, safe, and the buildings are amazing. The National Library is right next to Parliament and a bunch of museums; an architect's dream.
Doors opened at 7:45 and at 8:15 a young woman from the area, named Meg Lunney (sp?) performed for about half an hour. She reminded me a lot of Tori Amos; she had similar vocal inflections. She's apparently quite popular in the area, and quite versatile. She played piano, guitar, and also did some a cappella numbers.
Moxy came up on stage pretty much at nine. They did a longer set than usual, but only one set of encores, so it ended up being a pretty standard length show. The audience, mostly comprised of older people, loved them. Dave exclaimed, "It's so nice to have an audience who laughs at our jokes."
I met a guy named Army, who sat next to me during the show. Apparently, he's an old friend of Murray's, and they went to University together. He was blown away when I told him that Moxy was my favorite band. He said, "It's so weird to hear that your friend's band is someone's favorite." He seemed to get a charge out of how many shows all us Fruheads travel to see.
After the show, Jason from the ng and I talked to the guys briefly. Mike is still working on that surprise for the web pages (can't wait to see it!). Jian was talking politics with some people, and I really didn't understand what they were talking about. Jian looked at me and said (jokingly), "Yeah. Americans. You don't know anything about Canadian politics. Get out of here!" He also told me that the band has something special planned for the Clinton show the next night. Can't wait!!
I ended up leaving shortly after that, and getting back to my hotel at around 11:30. Not bad. Can finally get some rest in anticipation of the Clinton show. Fruhead reunion, let's go!!


---
The Pictures
Click the description to get the pic:
---
The Music
Opened with
Chatter

The guys come on stage, greeted by some interesting orchestral music (it reminded me of something from an old western or big band). Of course, the guys poked some harmless fun at the music by dancing along, etc...
Jian greets the crowd.

Peace of Mind (Brand New Disc)

"squeeze the lemonheads of our brand new disc!"
The Set
Lazlo's Career
B.J. Don't Cry

Dave, during the drum intro: It's good to be back in the archives (referring to the library/national archives).
Jian, during the drum intro: We were just reading some old letters...
"Buddha and a brush"
Mike uses his megaphone for the "Now on the street..." section
"every Thursday hit the roxy"
"hangin' out at the archives"

Video Bargainville

Jian teases the crowd with the opening line.
For the last "Just ask for Roger", Jian says "No No No Raja"

Chatter

Jian talks about the start of their Canadian tour.
The band discuss the upcoming election and all the election signs that they've been seeing.
The guys poke some fun at the local candidates, their names, and their platforms.

Horseshoes
Chatter

The guys come off stage to do the next tune.
Murray, pretending to be a professor: "Economics and agriculture!"
Jian: It does feel like a lecture hall.
A discussion of relevance leads the guys into a quick tease of "Songs are relevant too".
The guys stop during the intro, and Jian exclaims, "It's like the Carol Burnett show!"

I Love My Boss (off stage, off mic)

The guys run around the auditorium aisles during this one.
"Who knows what Chopper will be bringing?"

You Will Go to the Moon
Chatter

Jian asks the audience what they want to hear: GMIA, Kids' Song, or Ash Hash.
By audience applause, Kids' Song is selected.
Jian segues nicely into the intro for the song, regarding the constitutional crisis and the group of people who weren't consulted. "Who was that group?"
Murray can't decide, so he chooses "D" per Jian's suggestion.
Dave: Penican (sp?) designers local 102?
Mike, laughing at Dave's comment: I only eat designer penicans. (A long tease about designer penicans ensues)

The Kids' Song

There is a lot of audience reaction to "Should Quebec separate?"
"Barney" instead of "Jurassic Park"
"squirt gunning my pablem! (sp?)"
Jian messes up one of the final lines, and starts laughing.

Chatter

Murray, about Jian's mess up: "Speed kills, ladies and gentlemen"
Jian: I knew I'd be the guy. I always forget the lyrics.
Mike switches from electric to acoustic guitar, and the other guys don't realize it.
They go to start into "Medicine Show", and realize Mike has his acoustic on.

Gord's Gold
Chatter

The audience eats up the Gordon Lightfoot, and the guys go into "Every Highway".

The Incredible Medicine Show
Sahara

Mike reads from a book, speaking through his megaphone, during the last part of the song.

Chatter

The guys make note of a young person who keeps leaving the room.
Murray: You have to think "spy" when you see that.
Jian: Who suspects the kid in the orange hat? Start 'em young.

Fly
Chatter

Jian talks some politics to intro the next song. He discusses the upcoming election, Canadian pride, and the erosion of social services.

Today's the Day that We Fight Back
Chatter

Dave tunes his banjo, while Jian turns the crowd's attention to American politics.

Michigan Militia
Chatter

Mike plugs the Ottawa Folk Festival.

Johnny Saucep'n
Chatter

Dave: It's turning into spring, finally.
Jian and Dave talk about how they met in high school, and Jian said that Dave was the best musician there.
Dave: There was Dan Jablonski; he was a pretty good clarinet player.
Jian talks about how Dave wrote the grade 9 commencement song, "Spring is here"
Dave: They didn't have digital technology back then, otherwise we would have captured it.
The guys do various teases of "Spring is here".
Mike thinks it sounds like another song with the words "spring is here".
Murray: Is there a copyright lawyer here?
Dave does various common songs, but changes the words.
"Jambalaya Man" to the tune of "Tambourine Man"
Dave: "He's a real workin' man" (to the tune of "Nowhere Man")
Murray: His new album, "New Melodies".
Murray: It should be called "New Words".
Jian: "New Words, Same Melodies".
Another young girl leaves, and Murray comments: "It's like Spy vs. Spy."

No No Raja
Chatter

Jian asks the crowd who has seen Moxy live.
Jian: "Is this guest Tony Blair? Blair Packem?"
Murray: Packard Bell.

King of Spain

"there's something overhead...whooooweee!"
"Now the Sens call me up..."
Dave does some "good moves" before the epilogue.
Dave: "Where the king learn to dance like that, you're probably curious..."
Murray: Did you come over here to pursue a dance career?
Murray and Dave embrace and do some quick ballroom dancing.

Green Eggs & Ham

During "Not the Beatles", Jian: Great Beatles songs, Daydream Believer, Sowing the Seeds of Love, Champaigne Supernova.
Murray: 'Help'.
The guys return, "Never heard of it".

My Baby Loves a Bunch of Authors

Jian, during the drum intro, thanks the crowd and plugs the Ottawa Folk Festival.
"Pulp Fiction"
"Who needs a grave? He's Robertson Davies"

River Valley
Closed with
Encore 1
Chatter

The band comments on how nice the audience has been.
Dave: We're not used to people getting our jokes like you do.
Jian: You've all been so attentive and quiet.
Murray: It's a library thing, I think. Be quiet.

Spiderman (w/ instruments - lounge version)
Chatter

Jian talks some more about the Ottawa Folk Festival, and how it has such a nice community feeling.
Mike speaks some French, and of course the crowd loves it. (I didn't understand a word)
The guys give a hand to the opening act.
Jian: Boy, can she ever drink though? She's like a fish.
Murray: Waters and juices, though.

Billie Jean Medley
---
Misc. Info
Some other tidbits from the performance include:
Feel free to help contribute to this section!
---

Back to the tour dates 1997 page