05/31/97
Clinton, NY
Reviewed by: Chris O'Malley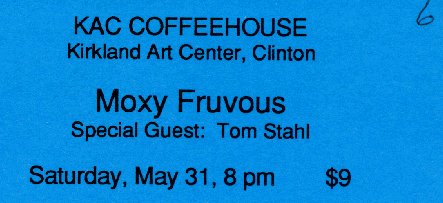 ---
The Details
Ahhh, another Fruhead reunion. It was so nice to see all my friends again, and at a show such as this, no less. What a great time...
It took me about four hours to drive from Ottawa to Clinton, thanks to some of the beautiful two-lane highways in the Empire State. I spent more time passing cars than anything else. I got into Clinton at four in the afternoon, where I immediately found Laurie and her boyfriend Craig. Zard, Chris Traugott and Jason Reiser (who had only just procured a ticket the night before) showed up soon thereafter.
After catching up a bit with one another, we grabbed some dinner before the show, and were joined by Laurie's friends, Beth and Bethann. Jenn (AJPenfield) was also with us. Clinton is a very small town, basically consisting of one main block. Fruheads came from all over to see this show, and we hung around outside before doors opened and visited with each other. Mike and Kelly from Buffalo also made the trek down to see the show.
Doors opened at 7:30 and the opening act, Tom Stahl, went on at around eight. He played guitar and harmonica and his songs were mostly of the folk-ballad variety. He was quite good. I thought he had a very powerful voice. The audience really enjoyed his performance, as well as Moxy's.
Moxy came on stage at about nine and did a very different set compared to what they've been doing lately. They started with the first four tracks from Wood, and Jason and I thought that they were just gonna keep going and do the whole album. They didn't really talk at all between songs either. However, after the fourth song, they finally started talking to the crowd and getting back into normal Fruvous mode.
Dave was sporting a pair of leather pants that were either the same pair that Katrina Nields was wearing a month or so prior, or a new pair that looked amazingly like them. There were a TON of impromptu bits during this show as well. During I Love My Boss, Mike and Dave realized that Jason and I were recording and Mike decided to add some sublinimal messages to our recordings. I almost was on the floor, I was laughing so hard. Later in the show, Dave's guitar cut out for a bit, so they sang all of "Homeward Bound", along with very nice audience accompaniment. And near the end, Dave thanked the internet Fruheads while Mike did a quick "Have Modem - Will Travel" number.
After the show, we hung around the venue and visited with the guys for a looong time. Murray was surprised to see Jason and I in the same place, equating us to Clark Kent/Superman. We talked about pretty much everything it seemed: other bands, politics, the internet. I had a blast at this show; it was so nice to see them in such an intimate venue where they could really let loose during the set and hang out to chat for so long afterwards.
Once back at the hotel, we were so wired from the show that we finally didn't get to sleep till about five in the morning. The next morning we had our morning meeting (some would call it breakfast), said our goodbyes (or actually "til next times") and all headed home by around noon.
Thanks to everyone for making this such a fabulous time. This definitely ranks up there with the great Fruvous shows, like Sudbury :-) Can't wait to see everyone again!! Take care all...


---
The Pictures
Click the description to get the pic:
---
The Music
Opened with
The Set
Horseshoes
Fly
The Present Tense Tureen
Chatter

Jian talks about how they recorded 'Wood' in Woodstock, NY, in a room very similar to Kirkland Arts Center.
Jian and Murray joke about "The Making of 'Wood'", an upcoming PBS special.

Johnny Saucep'n
Chatter

The guys come off stage to do the next song.
Jian: "This is our first time in Clinton!"
Murray thanks the people in front for bringing some flowers.
Mike does a quick Morrissey impression.
Jian discusses a time long before 'Wood', when they sang this coming song.
Jian: We shoveled the streets while we sang, and we sang this song.
Dave, doing a shoveling motion, and singing: Free manure!

I Love My Boss (off stage, off mic)

Mike realizes Jason and I are taping the show. He has some fun with us, snapping into Jason's microphones, and whispers "Jablonski" during the song.
Moxy runs around the crowd throughout the song.
"Who knows what Crawdaddy will be bringing?" (Mike points to a guy in the front row who helped to organize the event)

Chatter

A guy in the audience throws some more flowers on the stage. Mike finds him and stands him in front of the audience. Mike: "Face your jury!"

Spiderman

Mike continues to run around the crowd.
Mike taunts the gentleman who's still standing in front of the crowd.
Mike proceeds to dance with him.

Chatter

Murray: Spiderman, featuring Spiderboy!
Jian explains how when they were doing 'Boss', he felt like it was Les Mis when he was walking up and down the stairs.
Jian: It was like Barry Manilow. You never walk upstairs when you're signing.
Some Barry Manilow teases ensue.
Murray: That's when the backdrop falls to reveal an orchestra.
Jian: Celine Dion does that.
Dave: But nobody does it better, except maybe Marvin Hamlisch.
Jian does a quick song from "A Chorus Line".
Dave: Murray, what do you want to give me sometimes when I poke ya?
Murray: A big hug, Dave. Oh, those other times...

Kick in the Ass
Chatter

Jian: Three years ago we came down to this country from Canada.
Murray, sounding like an announcer: Where natives hunt and gather for food.
Jian talks about how in grade 5 they had those old film projectors, and you really couldn't hear the audio.
A little skit follows. Jian makes a film projector sound, while Mike does some dialogue about nature, bartering, carrots, and soldiers. (you really had to be there :-)
Jian introduces the song about how they were impressed by a certain media figure when they came to the U.S.

The Greatest Man in America

"love and praise John Sununu. Howard Stern is quite a nice man..."

B.J. Don't Cry

Murray, during the drum intro: This is a song called 'Funky Town'.
Murray does a cool walking bass-line during the drum intro.
Dave joins in with some accordion.
Murray: It's instrumental.
The intro goes on for quite a while with a disco groove.
Jian sings "Batman" to the groove.
Dave: It's the new Batman theme.
"on the scene, his genesis"
"hooka and a brush"
Mike uses his megaphone for the "Now on the street..." section.
"...looks just like Bobby Vinton. But he'd rather be hangin' out in Clinton!"

Video Bargainville

Murray scrapes his bass an unusually long time during the intro.
Jian replaces the final "Just ask for Roger" with "No no no Raja".

Chatter

Jian talks about YWGTTM.
Murray: This album was recorded on 24-track analog systems.
That gets Dave going on a "space age" tangent, and Mike chimes in with some dialogue about the raffle winners going to the moon. He is accompanied by some soft drums and accordion.
The jamming continues, and fades away. Murray: It's easier to start songs than it is to end them.
Jian thanks the people who came from Toronto.
Jian asks who else came from outside NY.
Some people cheer.
Murray: I think you're lost.
Jian relates a story from that night before the show (with musical accompaniment of course). The band plays some walking music while Jian continues the story. Apparently, Murray and Jian were asked by some guys if Moxy was any good. Murray thinks they don't know who they are, and Jian thinks the guys realize that they're in the band. Murray says "They're shit" at the same time Jian says "They're great". The guys tell Jian and Murray that they heard Moxy sounds like Ween. Jian thinks that that's a good thing, so he returns with, "No. They're better than Ween!" The guy says back, "Well, for sure, 'cause Ween's shit!"

The Incredible Medicine Show
Chatter

Jian asks the crowd if they should stop.
After some discussion of curfews, and dating, another tease of old film projectors emerges, called "The Mating Ritual".
There's a little confusion about where Mike and Dave are standing before the next song.

Get in the Car
Your New Boyfriend
Chatter

The guys make some fun of a towel Dave uses to wipe his brow off with.
Jian: It's a damn good thing you guys a wonderful crowd, 'cause we're missing a hockey game.
Jian and Mike comment on how good the room is.
Mike sings a quick song from 'Cubs', which is the equivalent of American cub scouts.
Jian: I don't think they have that song down here.

No No Raja
Chatter

Dave talks about playing the coming song in its home state.
Dave: I won't say what state, but I'll give you a hint. Wolverines.
Dave: And this song features the M15 K Zed 3, the fantastic new keyboard from the Roland corporation.
Mike talks about Major Matt Mason, and his inventions, the moonwalker and mooncrawler.
Mike: They were quite different; one took 2 AA's and the other took 4 AA's.

Michigan Militia
Chatter

Jian: That's way better than Ween!
Jian starts the drum intro for MBLABOA, but Dave has some trouble with his acoustic guitar.
Jian does a quick tease of the slow version of Authors.
Dave, struggling with guitar: Just fill for a second, they won't know.
Mike, Murray and Jian come to the front of the stage with an unplugged acoustic.

Homeward Bound

The audience (who could actually sing!!) follows along beautifully.
Every so often, Dave manages to get some acoustic guitar to come through the speakers.
Jian doesn't remember all the words, but does a good job faking certain parts. :-)
After the song, they jump directly into Authors.

My Baby Loves a Bunch of Authors

"my crucifiction"
"Who needs a grave? He's Robertson Davies!"

River Valley
Closed with
Love Potion #9 Medley

Jian, during the drum intro, thanks the crowd, and says how the band likes to play intimate venues. He thanks the staff, and plugs some of their other gigs, including the upcoming Rochester show.
Ohio, Stayin' Alive, Jungle Boogie riff, Who Will Save Your Soul?, What if Maude was one of us?, "She's outspoken, I'm heartbroken..." ??, You Oughtta Know, "Will he go down on Fiona Apple?"
"Corneluis Compton is too proud to beg, but ?? hides a tiny egg."
Encore 1
Chatter

Jian tells the crowd not to get comfortable.

King of Spain

"there's a hat on your head...Hey man!"
"now the Wings call me up..."
"Ladies and Gentlemen, I introduce to you the Stanley Cup winners!"
Murray, before the epilogue, holds up a shoe: King, are the one who dropped the golden slipper?
Dave puts the shoe up to his ear. "I've gotta call 99."

Billie Jean Medley
Encore 2
Chatter

The guys come off mic and to the front of the stage.
Jian thanks Tom Stahl.
Murray: We'd love to stay and play all night, but there's some important hockey statistics that we have to...
An audience member yells "Fuck hockey!"
Jian: "Huck hockey??"
Mike: "Water sprite hockey."
Jian explains that they only do the following song when they're in an intimate venue and can do it off-mic.
Dave thanks the internet/newsgroup people for coming to so many shows.
Mike follows up with a quick "Have Modem, Will Travel" number while walking up and down the steps at the front of the stage.
Murray: There is a musical in there somewhere.

Gulf War Song (off mic)

Absolutely beautiful. Everyone stays completely quiet, and there's a few second pause when the song ends before people start clapping. You can even hear everyone take a deep breath of satisfaction before the applause began.
---
Misc. Info
Some other tidbits from the performance include:
Feel free to help contribute to this section!
---

Back to the tour dates 1997 page