06/06/97
St. Catharines, Ontario, Canada
Reviewed by: Chris O'Malley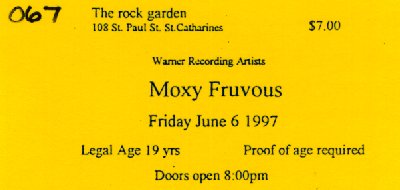 ---
The Details
One of the things I love most about seeing Fruvous shows is the fact that I get to see them in places I've never been before. I'm finally getting to visit all the cities and towns that people always talk about. I think I'll have covered all of Northeast North America by the time I'm done. :-)
Laurie Addenbrooke and I got to St. Catharines, a quaint little town, at about 6:30. We took a stroll through the town (it kept feeling like a colonial town to me) and had some food at the local pub across the street from the venue.
Doors opened a lot later than was expected, but while we were waiting, Heather Rolph and some of her friends were there, so we chatted with them about recent shows, etc. I think we finally were let in around 8:30 and proceeded upstairs to the area where Fruvous would be playing.
Mike and Kelly from Buffalo joined us, as well as Beth, all of whom I'd seen a week earlier at Clinton. Jude was there too; it's always good to see her. She always has info for me for the web pages, which is great. A bunch of us staked out a table near the stage.
A jazz combo called "Grab Bag" took the stage from around 9 to 9:30. Their band consisted of an upright bass, lead sax, electric guitar, and small drum kit. I haven't heard any good live jazz in a while, and I thought they were very good. I've always been impressed with people who can play upright bass, and these guys had such a rich sound.
At a little past ten, greeted by their standard "Wanna Be Startin' Somethin'", Moxy took the stage and played a fairly normal length set. The crowd there was a little less than desirable. There were too many loud, drunk people for my tastes. They really crammed the people in there, too, to the point where you really couldn't move much. Also, and I don't think this was Trevor's doing, since this was the first time the venue had ever had a live band and the acoustics were, ummmm, interesting, but it was way too loud. My ears were really hurting afterwards.
After the show, we chatted with the guys, and with Marcus. I also got to see Sandy from Ohio, who comes to tons of fru-shows. Hi Sandy!! :-) I think we ended up hanging out until about 1:30 in the morning. Ugghh. Of course, I had a drive back to Rochester still. We all said our goodbyes, and after dropping Laurie back off in Buffalo, I headed home to Rochester.
Hey, wow, I just realized that I've seen Fruvous at least once during the past three weekends. I need some rest. Well, off to bed...


---
The Pictures
Click the description to get the pic:
---
The Music
(not complete)
Opened with
Chatter

The Michael Jackson music is turned up and down while some problems with the monitors are rectified. Moxy has been using this music to open their show since the new tour started in March, but this is the first time I've ever heard them talk about it.

Peace of Mind (Brand New Disc)

"come on, feel the noise, squeeze the lemonheads of our brand new disc!"
The Set
River Valley
Get in the Car
Your New Boyfriend

Jian does the standard intro for this one: "You see, the problem is that my ex-girlfriend's new boyfriend's a right-wing shit!"

Chatter

Dave has to pass his guitar through the crowd to Marcus.
Mike SantaLucia takes the guitar and Jian makes some remarks about his "Waltons" t-shirt.
Jian thinks the crowd should develop a "hierarchy on the basis of height", so everyone can see.
Jian: No, I'm just kidding. The strongest should be in the front, and the weakest in the back.
Murray: If the people in the back had eaten better, they'd be taller now. They had too many Trix and Froot Loops.
Jian does a quick poll to see what's best liked by the audience: Franken Berry, Boo Berry, or Count Chocula.
Everyone applauds for Count Chocula.
Murray: Don't complain about not being tall enough, then.

Horseshoes
Chatter

Mike: You folks are scrammin' in the jammin'.

I Love My Boss

Jian starts laughing during the intro. The guys stop.
Jian: You three didn't have to bail just because I started laughing.
"Who knows what The Planet will be bringing?" (local radio station which helped plan this show)

Chatter

Murray: You know those fiberoptic cameras that they put into your stomach?
Dave: I have one on order from Consumer's Distributing.
Jian: I've seen them on Chicago Hope.
Murray: This guy invented them.

Spiderman

"Spiderman arrives just in time to tell you that I did invent those cameras. And if we're gonna see them come back, we'll need to see a resurgence of Consumer's Distributing! They closed down the last one and I cried!"
"Eight legs good! Miss Rocket! Two legs bad!"

Chatter

Dave talks about Peter Parker, Jr. to introduce the next song.
Dave: Peter Parker comes into the office, and the person behind the desk says, "Peter, I read that expose you wrote, and you need a kick in the ass!"
A drunk, obnoxious audience member yells to the guys.

Kick in the Ass
Chatter

Jian: That was a brilliant segue, David. I was wondering where you were going with that Peter Parker thing.
Murray: It's turning the whole night into a mini-musical. The Titanic.
Dave sings a quick "It was sad when the great ship went down" number.
Jian asks who's from Canada and who's from America.
Jian: Fucking Americans.
Murray: We know why you're here. Natural resources.
Dave: Rack of venicen in the trunk.

The Incredible Medicine Show
Sahara

Mike reads from a book, speaking through his megaphone, during the last part of the song.

Chatter

Dave: That last song really happens for us over in London. People go squirrely!
Jian: In England, people just come to you with substances. By the end, you're just a druggie.
The guys quip under the guise of some thick English accents.
Jian, introing the next song: For those of you who haven't been hurt badly, you haven't lived.

Fly
Chatter

Jian: Thank you, illegal immigrants.
Dave: Murr, could you play some immigrant music please?
Murray starts jamming on the bass. Jian soon joins in.
Mike sings some crazy Indian vocals.
Jian talks about how during Fly, he felt like one of the members of the Skydiggers, since he was doing some move with his hip.
The band goes into "I Will Give You Everything".
Jian: I think that's one of the best Canadian songs ever. It's easy to play, 'cause there's really only one line.
Dave: It's almost like "Row, Row, Row Your Boat".
Some teases follow of a Skylarks song.
Jian: We weren't going that far, otherwise we'd have to start singing Anne Murray songs.
Dave leads the band in a quick tease of "Snowbird".
Jian: We all love Anne Murray, but why did she get that hairdo? She's modeling herself after the Roxette woman.

B.J. Don't Cry

"Buddha and a brush"
Mike uses his megaphone for the "Now on the street..." section.
"rather be at the Rock Garden"

Video Bargainville

Jian replaces the last "Just ask for Roger" with "I Will Give You Everything".
During this song, Trevor came into the crowd and stood next to me for about 10 seconds. I asked him afterwards, and he explained that he couldn't hear very well back at the mixing board. He was mixing the guys with headphones! He had come into the crowd to see how things sounded.

Chatter

Jian: I just thought of a song we should do. We actually made the video for this next song at Port Delousie (sp?). I think it's the neatest video we've ever made. We were all dressed in wacky costumes, and scaring the locals.

Down From Above
Chatter

Jian: Here's a song that we're excited about, 'cause it's getting a lot of play on the American radio stations. That means money, which is good, because that's why we're in this group.
Jian: No, we're actually in this band for sex. With each other. We travel in a van all day, what the fuck do you think we're doing?
Dave: Next year I get Murray.
Jian: He's tired of Mike and I.
Mike: A great local station, The Planet plays this next song.
Jian: Who doesn't like Elvis Costello? 'Cause only enemies of him wouldn't listen to the new Planet.
Some quick jokes about the "Costello conspiracy" are made.

Michigan Militia
Chatter

Jian: Thank you, humans. And now a song about food.
Dave messes with his banjo for a bit.
Jian re-intros the song: Thank you, humans. And now a song about food.

Johnny Saucep'n
Chatter

Jian talks some hockey with the crowd.
"Here's a story about a guy who fills the Welland canal with Jello, swims in it, jumps out, and says, 'I'm all yours!'".

King of Spain

King, during the intro: "I was always a very happy fellow!"
Mike, during the intro: "The original nutty ass chocolateer."
King, during the intro: "Now I'm filling the canal with jello."
"King, how are you such a liberal? There's a fish somewhere... ???"
"Now the wings call me up..."
Before the epilogue, the King talks about hockey some more.

Green Eggs & Ham

During "Not the Beatles", Jian: I don't know why I said that. I actually don't like The Beatles. They couldn't write a song. The Monkees, there's a band.
Jian: The Beatles stole everything they did from Bobby Vinton.
Many musical teases ensue.
"I'd eat them in my Calvin Klein underwear"
Closed with
Chatter

Jian thanks the crowd. "It's great to inaugarate this Rock Garden". Jian thanks the Planet radio station.
Dave thanks Grab Bag.
Jian: And the Revolving Doors as always.
Jian: Here's a brand new song we'd like to share with you.

Billie Jean Medley
Encore 1
Chatter

The guys use a door behind the stage that leads downstairs. They prop it open and wait near the stairwell before the first encore.

Love Potion #9 Medley

Ohio, Stayin' Alive, Jungle Boogie riff, Who Will Save Your Soul?, Love Shack, You Oughtta Know
"There's a band who rocks the kids to their cores. America, say hello to the Revolving Doors." (From what I understand, the RD's are a fake band started by Jude (from JAM) and some of her friends)
Encore 2
Chatter

The door that leads downstairs accidentally closes, so Mike has to walk downstairs, come through the crowd, and let the other guys back in.
Mike: We got locked out.
Jian: We went out this door here. And then it was locked. We ran around St. Catharines.
Murray: We had a coffee.

The Drinking Song

Some drunk girls come to the front of the stage during this one. They are removed by the bouncers about a minute into the song, due to their constant yelling.
---
Misc. Info
Some other tidbits from the performance include:
Feel free to help contribute to this section!
---

Back to the tour dates 1997 page