07/06/97
Sudbury, ON
Reviewed by: Chris O'Malley, Chris Traugott, Colleen Campbell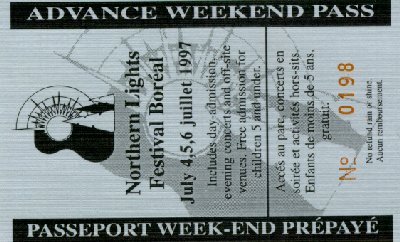 ---
The Details
Well, the second day of our fru-trip begins. We all woke up in Bracebridge somewhere in the vicinity of nine in the morning. We did our standard morning rituals and left Bracebridge at ten-thirty (after food and gas stops). The trip to Sudbury went by relatively fast and we got there by 1:30. We checked into the Days Inn (the same hotel that Chris, Zard, Laurie and I stayed in when we originally came here in March). Jenn (AJPenfield) met up with us in Sudbury, where she had stayed the night before.
(Side notes): Here's some stuff from the weekend that really doesn't fit in to any particular spot: The 12 of us came up with the lyrics for the "12 days of Fruvous", one of the running jokes from the weekend was the drastic difference in American and Canadian curreny's value, other things include microphone condoms, Don't pet the dog, and Ginger (this hilarious old man who sang (before Fruvous in Bracebridge) with the raspiest voice I've ever heard).
The words to the "12 Days of Früvous": 12 hours of travelling, 11 authors referenced, 10 pins o' bowling, 9 früheads dancing, 8 more hours of driving (at least), 7 crosswords puzzling, 6 pins in Marcus, 5 broken strings (all in Boston), 4 buskers busking, 3 french songs, 2 DAT-heads taping, and Wood, Bargainville, and B...
Half of the group went to the festival, and the other half stayed at the hotel (I was in the latter). The first group went to see Bob Snider's afternoon set, and afterwards they basked in the sun, massaged, talked with Marcus and listened to Moxy's marvelous sound check, which consisted of Lazlo, GitC, Indoor Fireworks (Elvis Costello, Chris T. was in heaven), and Michigan Militia.
The second group of us swam in the hotel's pool, went to dinner (where the six of us all ordered the same dinner, filet mignon!), and scaled a rock wall to go to KMart. Outside of KMart, there was small photo booth that the six of us crammed in to for a few pics. We headed back to the hotel, where we were joined shortly thereafter by the others, where we exchanged stories of our day.
We all headed back to the festival around eight in the evening (Fruvous was scheduled for ten, and things were actually running on time). Jason and I staked out a place high up to get a good arial view of the stage, while the rest of the gang sat down near the front row. Moxy came on a little after ten and did a *great* set. The audience loved them and there was a standing ovation to bring Fruvous back on for the encore. I absolutely loved the audience sing-a-long for 'The Drinking Song'; it was amazing.
We met up with Mike from the Nothern Lights Festival organization again. He was the guy who treated Laurie, Chris, Zard and I so wonderfully when we visited Sudbury in March. He invited us to a small party after the show, and thanked us again for coming up from America to see the festival.
After the show, the crowd thinned out pretty quickly, so we were able to say hello to the guys relatively easily. After many fru-stories, and a quick visit to the party Mike invited us to, we all trickled back to the hotel at various times. Ughh. Lack of sleep is just becoming a trend lately, now isn't it? :-)
Monday morning, we all said our final goodbyes, and I took Lisa, Colleen and Jason back to Buffalo so they could get their car and continue on back to NYC.
Wow, what a weekend... Can't wait to see everyone again (Falconridge most likely). It was just amazing to have everyone together. Fruvous and good friends, who could ask for a better time?
From Chris Traugott:
Got up early next morning to head for Sudbury and got there just in time to hear Bob Snider.(Zard, Colleen, Heather, Laurie and Craig, that is, everyone else stayed at the hotel to get a nap, losers! -- umm.... just teasing guys! We saw Tara Quinn at this set and had a chance to chat with her a bit -- hey Tara! You were right, Bob was great!) What a kick!! I really loved his performance, he paints such vivid pictures with his songs. One minute you are laughing at his wry sense of humor and the next you are feeling melancholy about a woman sitting at home alone on a Saturday night. He really is a folk singer in the best sense of the word. After his set he came to the merch. tent to sign autographs, and I went up to him and talked to him for a bit, asked for his autograph and told him how much I had enjoyed his performance. He signed my fruhead shirt, too, and once again I was grinning like an idiot. Zard and Laurie kept looking at me and laughing about how euphoric I was.
It had been pissing down rain right before Bob's set, but the rain stopped and before long the skies had cleared and the sun came out. We bought lunch and sat down on a grassy hillside to listen to the various sounds and to people watch. I had just finished indulging myself in an ice cream cone and we were all giggling about how tired we were when the fruvous van drove up. Jian was in the passenger's seat and looked a little disconcerted to see us all sitting there watching the van drive in, but we honestly had no idea that that was the way in for the performers, it was just a narrow unmarked road, more like a wide sidewalk. Murray waved (he was driving) and they drove past and down the hill towards the main stage behind us. We sat around on the tarp talking, Laurie and Craig went in search of a dolphin ring, Colleen gave Zard a massage while they talked with Heather about the Canadian educational system, and I lay back in the grass and fell asleep. It was a perfect Sunday afternoon. Had a chance to talk to Marcus about his broken arm. I can't remember if anyone here posted about this, but Marcus broke his wrist just before the Portchester concert. American doctors set it in a cast, but after a few bumps during the tour he apparently dislodged the bone and it had to be reset with pins. The contraption looked most uncomfortable, but he went right ahead with stamping, lifting insturment cases, and tying his shoes (well, sort of) and was quite good humored about it. Hopefully the pins will be out in six weeks, then a new cast will be put on, and hopefully therapy will start in earnest in the fall. Visualize healthy bones and cartilege everyone, arthritis is no fun (speaking from personal experience!)
We meandered around the festival and after a while went back to the hotel to prepare for evening festivities (actually to grab pullovers and warmer clothes!) We got back to the fair grounds and staked out some seats and most folks wandered off to shop or get something to eat. I stayed to listen to Dent de Lion, (Gaelic/Celtic music) and an American singer whose name escapes me. Around 9 we were all pretty much back in the amphitheater when we spotted the entertainment director, Mike, who had been so nice to us back in March and who had sent Laurie and Zard loads of info to help them plan for this trip. We went over to say thank you and to tell him how much we had enjoyed the festival.
A little more waiting around, great opportunites for people watching, especially the little kids in their "cat in the hat" hats. As soon as they announced Fruvous, of course, we all went down to the area in front of the stage to dance and watch. It was a terrific concert. They were all in really good form and seemed excited and pumped up for the show. They did the schtick about being in drama class, where they had all kinds of artsy-fartsy conversations where every sentence ended as a question. Such as "Um, Mr. Hollins made us take a test today?" Or, "Um,.. I need to make an 'I' statement?" They went back and forth on this for a while, Jian doing most of the talking, when Murray piped up with "Um,.. I think we are forgetting about our audience?" Jian looked like he was going to say something and then just laughed while the audience applauded wildly. Another really funny moment was during Green Eggs and Ham when they do the "not the Beatles" improv. Murray, Jian and Mike each did a little Lennon imitation, leaving Dave rubbing his head. Jian asked "Do you have a head ache?" and Dave responded, "Well yeah, I just heard three really bad imitations of John Lennon, and one of Yoko Ono!" The audience roared.
When they finished the set and were saying thank you, I felt this huge surge of energy behind me and turned around to look. The audience was on it's feet cheering and clapping! I grabbed Zard's shoulder and turned her around so she could see too. It filled me with so much joy to see a band for which I have so much respect and in whose music I believe get that kind of a response from an audience. The guys looked pretty happy about it too.
So all in all a terrific weekend, one of the best I have had in the concert going department. Thanks to all the fruheads who made it such a wonderful weekend, and of course to Fruvous for putting on terrific shows. The Sudbury festival was really a blast, if any of you all have the opportunity to go next year, do. You know how when you were a kid, Moms always used to say "If you keep making that face, it is going to stay that way."? Well, I grinned like a fool a weekend, and I still am! All small children should be required to go to folk festivals several times a year. It might make them nicer adults!
Sorry this post is so rambling, but my brain is scrambled eggs. ceecee, jason, zard, chris? ball's in your court kids!
chris
From Colleen Campbell:
Sunday, we slept a bit later (though still not long, having gotten in on the late side as well) and meandered up to Sudbury, where we encountered Jenn Pike, who we'd expected to join us the day before. (And I thought *I* had a lousy travel experience last time, with my plane leaving 9 hours late for home: Jenn missed Bracebridge entirely and got into Sudbury at 4 a.m., due to her plane's lateness.) The weather had momentarily turned cold and clammy, with a brief downpour, so half of the Fruheads (we were 12 people now, the Frufamily having peeled off after Bracebridge) decided to stay behind in the hotel and half of us went to acquire rain gear and go to the Festival. Naturally, 10 minutes after we got seated, it stopped raining completely, and by an hour later, the skies were clear and gorgeous. Laurie, Craig, Chris and Zard, Heather, and I were delighted to catch Bob Snider's set--as Dave had predicted, he charmed the dickens out of us, with his wry humor and languid style. He played "Ash Hash" second, and towards the end, my favorite, "What An Idiot He Is," which had us sputtering with laughter. Afterwards, I believe it was Laurie's idea to have him sign her Fruhead shirt, and, being the follower that I am. . . 'twould be neat, to collect siggies of people whose music Fruvous admires. :)
Afterwards, we partook of the again-surprisingly-good festival fare, bought some surprisingly-cheap festival wares (local artists), and lolled on a grassy hillside and giggled and massaged and whatnot. The Frubus wended its way through the crowd at about 5 or so, and about half an hour later, upon hearing a bass guitar, Chris scampered her way up the hill to catch a glimpse of what turned out to be Fruvous doing their soundcheck, below us. We weren't allowed in, but we hung out nearby and heard it perfectly, chatting with Marcus, getting our stamps, blissing in the sunshine. For some reason, there was a lot of smoke coming off the stage, so I teased Murray later about the guys "settling the stage on fire" or playing "Love Set Fire" or something. When Murray sang a beautiful Elvis Costello song, we didn't even recognize his voice, thinking it was Jian or Dave. . . (Not that I'm hinting that I'd love to hear Murray on lead more often or anything, not at all.)
We headed back to the hotel at about 7 to collect the other Fruheads and rehearse our piece of silliness, "The 12 Days of Fruvous," staking out a claim at the stage at 8 so as to have good seats for the Fruvous show at 10--seats which, naturally, we abandoned for the dance floor as soon as they took the stage. It was a terrific show and well-organized, the festival producers giving some sincere thank-yous while Lazlo set the stage for Fruvous in the background. The guys had a lot of fun with their banter between songs, parodying themselves at drama class in school, going into more-extended Beatles impressions in "Green Eggs and Ham," wondering who had stolen the Manitoba flag from the stadium, etc. The crowd was tremendously pumped for this, each half trying to out-scream the other, at Jian's urging; cheering for new material and old, responding loudly to Jian's monologue about the Harris government proceeding "Today's the Day That We Fight Back," appreciative of Mike's intro to "Nuits de Reve" in French, and finally rising for a wild standing ovation after the set. Fruvous themselves seemed touched by the response. Our group had all hand-jived and danced madly for the set (well, those of us who dance instead of taping), and we linked up in a single row and swayed and sang to the during the last song of the encore, "The Drinking Song," and it seemed much of the audience was of the same mind.
Afterward, the crowd cleared out with a startling alacrity, and we were left chatting with Fruvous almost by ourselves. After we sang our song to them (voices a bit hoarse from screaming but sincere nonetheless), they teased us for the excessiveness of the trip and our Fruheadism in general. We teased them in return about the fact that Dan Jablonski is a single stamp away from that dinner-and- dancing date with Dave (better learn the cha-cha soon, Dave!). Still, it was all congenial, and I think they genuinely enjoyed having some of their crazy Yankee fans at a very Canadian festival. By then it was quite chilly, and Mike (the organizer of the festival) had invited us to a post-festival party, so we all headed out. Mike made a big deal of introducing us at the party (artists and staff at the festival), which was probably doubly embarrassing for a certain publicity-shy member of our group and rather amusing to me: after all, we came to honor performers at the festival, not the other way around. Still, it was fun, especially for this celtic-music aficionado: there was a ceilidh in progress--fiddles, bodhran, accordian, harmonica, banjo, keyboard, and even a bit of step-dancing--and they even played my request for "St. Anne's Reel." A wonderful end to a weekend of music.
Morning came all too soon and the Fruheads piled their weary selves into cars and made a run back for the border. Chris O'Malley, Jason, Lisa and I shared a car, and of course we sang, chatted delightedly, and slept by turns on the way back to Buffalo; Jason and Chris used some phone booths as photo ops, playing on the running gag of them being Clark Kent/Superman to each other (rarely seen together). At Buffalo, Jason, Lisa and I transferred to Jason's car and hauled ass back to NYC, making it in at about 11:00, after 14 1/2 hours on the road. Ugh. But would I do it again? Hell yeah.
After each of these extravagant Frutrips, I think "This was it, the apogee of Fruphoria, I can't possibly top this." (And I still think the MIT show will be *it* for me, in terms of the perfect show.) But each time, I end up being gratified that there's more yet to be experienced, that each trip is wonderful in a new way. I was telling Fruvous how Fruheadism seems to have assumed a life of its own, how we've discovered a lot of commonalities aside from the willingness to make these insane roadtrips. Murray (I think) laughed and said, "First we were a reason, then an excuse, and now we're just irrelevant." Weelllll, I wouldn't say that, but there's definitely a pleasure to these trips beyond the couple of hours during which we were actually watching Fruvous on stage. The idea's been bandied about for a while now, of Fruheads meeting up without actually attending a Frushow, and I think it's a given that it'll happen--likely during a period when Fruvous isn't touring, when we're all jonesing for a fix.
Well, this write-up has come out longer than I intended, and normal life beckons (you know, gotta go to work, fund these psychedelic Fru-trips), so that's about it for me. I'll be interested to see what else any of my partners-in-crime have to say about the weekend. This is WXTcee, signing off. . .


---
The Pictures
Click the description to get the pic:
Thanks to Lisa Goldberg for these:
---
The Music
Opened with
Chatter

Jian, looking at the crowd in front of the stage, asks for security.
Mike leads in a quick tease of "By the Rivers of Babylon", and then "By the shores of Lake Ramsey" (filled with Sudbury references)
Murray introduces the guys. "It is my great pleasure to introduce a band who has a great deal to do with the success of this night. This is the band who invented concrete...Moxy Fruvous!"

Peace of Mind (Brand New Disc)

"our middle name is 'shameless-self-promotion', please buy our brand new disc!"
The Set
B.J. Don't Cry

Jian, during the drum intro: All right, it's Sunday night, there's no room for passivity!
"now on the scene, it's genesis"
"cupid and a brush"
Mike uses his megaphone for the "Now on the street..." section.
"every Thursday hit the Roxy"
"...own reflection, made him a seek and hider, but he'd rather be hanging out with Bon Snider!"

Chatter

Jian plugs the Northern Lights Festival.
Jian: We've played a bunch of other festivals, and they suck!
Jian and Dave jokingly slam some other folk festivals.
Jian: Look for our new album in 1998, called 'Effort to Pander'.

River Valley
Get in the Car
Chatter

Jian: Three cheers for Murray's shirt tonight!
Jian: We celebrate Murray wearing brown.
Murray: It looks washed out, like an old photograph.
Mike comments on the provincial flags circling the ampitheatre, and notices the one for Manitoba is missing. "Who has stolen the Manitoba flag?"
Jian: This is indicative of the insurrection against Manitoba.
Dave: The soil there is especially fertile right now, so if you're planning your attack...
Jian intros the next song.

Horseshoes
Chatter

Jian: The people are so nice here. I think you save it up. Only for there three days you're really nice.
Murray: I think it's a Government program.
Mike and Murray exchange statements which end and sound like questions.
The others join in.
Jian explains when they were in school, and how in the theatre department everyone talked with a question mark on the end of every sentence.
Jian: The whole premise was that everyone was sensitive to each other's needs, but we all hated each other.
Jian intros the coming song about working in a dog food store.

I Love My Boss

"Who knows what Inko will be bringing?"
Instead of "examples", Jian says "the townehouse" (I think)
Jian teases the crowd with the closing line.

Chatter

Mike: Featuring the 'I Love My Boss' dancers.
Dave: I can see a day when there will be no more bosses, no more violence, no more workplace. We're not gonna need 'em, cause we'll live on the moon!

You Will Go to the Moon
Chatter

Jian: This is a place where you can do this. How are the people over here doing? (Jian points to one side, the crowd cheers) How are the people over here? (the other side cheers louder)
Murray: Wow. They must have softer seats.
Dave: You can also do this? Everytime I ask a question, you say 'Pea Green Soup'. Whadya have for breakfast? (audience responds) Whadya have for lunch? and Whadya do all night?
The band goes into a 'Pea Green Soup' tease (kind of a rap/funk thing).
Jian, once again referring to the louder half of the audience: Either the seats are softer or their asses are harder.

The Incredible Medicine Show
Chatter

Mike speaks some French to the crowd, apparently an intro the next song.

Nuits de Rêve
Chatter

Jian goes into political mode, talking about Canada week, their US tour, Canadian nationalism, the band's Canadian and Ontarian pride, and the erosion of the very things that the band loves about Ontario.

Today's the Day that We Fight Back (sound clips available)

The audience goes *nuts* for this one.

Chatter

Jian: It's good to know that you can still be political at a festival.
Jian talks about how the next song is getting a lot of radio play in the states.
Jian: We don't sound like Mariah Carey, but they're still playing us on the radio.
Dave: But they're still playing Mariah.

Michigan Militia
Chatter

Mike: This song goes out to Cam, who served us some fine food tonight.

Johnny Saucep'n
Chatter

Jian once again asks halves of the crowd how they're doing. The right side of the crowd (while looking at the stage) continues to be the loudest.
Jian prepares the audience for a very special guest star.
"Is it the little child who hurt her ankle but still soldiered on to win the little horsie thing in the Olympics? No, thank God it's not her."
Here's the introduction! "Unfortunately, it *is* the little child who soldiered on. Ladies and Gentlelmen, the child soldier, the King of Spain!"

King of Spain

During the intro: A fallen man. Child soldier, baby woman.
"There's a tarp overhead. Give me five King!"
During the epilogue: Jian and Dave go from half to half of the audience
King: The hard bottoms are more interested than the soft bottoms.

Green Eggs & Ham

During "Not the Beatles": Murray: You know what you need is a woopin.
Jian does his John Lennon imitation.
Mike and Murray chime in with their John Lennon lines.
Dave: I've just heard three bad John Lennon impersonations.
Mike: Let's kick out Dave and make run with the money.
Murray: Who's in the band now?
Closed with
Love Potion #9 Medley

Jian, during the drum intro, thanks the crowd, the crew, and the organizers of the festival.
Ohio, Stayin' Alive, Jungle Boogie riff, Who Will Save Your Soul?, Love Shack, "I'm heartbroken...", You Oughta Know, "Would she go down on Meredith Brooks, that bitch!"
"Universal Honey stole the Manitoba flag"
Encore 1
Chatter

Jian tries to plug some area gigs that they'll be doing in the future.

Billie Jean Medley
Chatter

Jian: How are the people over here?
Jian: Well, since you people are so vocal, we'd like to end with a song from Bargainville, and we'd like you to sing along.
Mike: We're just waiting for the technical device that makes the acoustic guitar audible.
Jian does a quick tease with some drumming. "Technical".
Mike speaks some French, and recaps the day's performers.

The Drinking Song

During one of the choruses, Jian asks the crowd to sing the line, and they do so beautifully (nothing like a 1000 voices)
---
Misc. Info
Some other tidbits from the performance include:
Feel free to help contribute to this section!
---

Back to the tour dates 1997 page