8/24/97
Schwenksville, PA
Reviewed by: Chris O'Malley, Zard Snodgrass, Chris Traugott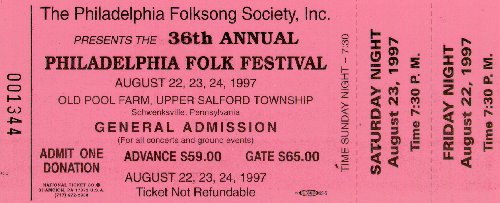 ---
The Details
Well, it was bound to happen. I never thought it would, but it did. Read on...
We all woke up Sunday morning around nine, did the continental breakfast thing, packed up and headed back to the festival. Moxy's first workshop was scheduled for noon, so some of us staked out seats in front of the Tank Stage. We also found out that the rows of chairs at the mainstage were accessible to anyone for the afternoon show, so we put some blankets on chairs there as well.
The "Keep on the Funny Side" workshop started on time; Moxy and Joel Mabus alternated, singing songs and telling jokes. It was the best time I had the whole weekend. Afterwards, we chatted with the band for a bit, got some food, and just walked around. Moxy's mainstage performance was scheduled from four to six.
Before the mainstage show, we rounded up as many of the fruheads as we could find (between 30 and 40), and took a bunch of group shots. Very cool! Can't wait to see how they came out.
We took our place for the mainstage show, and at four the first band, Bryndle, went on. They had a fairly strong country feel, which normally I don't care for, but they were very good. Moxy came up around 4:45, and played for about forty minutes. I wished they had more time in general at the festival; it seemed like they weren't given much stage exposure.
The crowd seemed to like Moxy, but I was just so distracted by the people sitting around me, squirting water guns all over the place, completely inconsiderate of the expensive camera that Jason was trying to keep dry during this barrage.
Right after Moxy's set, I said some quick goodbyes, and headed home. I left at six and managed to make it back to Rochester by eleven (damn good time, actually).
Although it may not be obvious from my writeup, I really did not enjoy myself at this festival. The vibe was not like Falconridge; people were rude, security was a menace, it was too rigid and structured. I don't think I'll be heading back to Philly next year for this little shindig.
So, yes, I had my first bad Moxy concert experience. Not because of Moxy, but because of the environment they were immersed in. Give me a Styleen's Rhythm Palace show anyday.
From Zard Snodgrass:
The next day's workshop was about the best I've seen. It was comedy, with only one other performer, which meant that everyone had a bit more time. Fruvous did (once again if memory serves correctly, ie: from the left, clear from the right (any of you old waitstaff recognize that!)) GMIA (?), Minnie the Moocher, Blow Wind Blow, and Dancing Queen medley. I think there was something else - can anyone fill in?? Very good, quick lyrics to Blow and Minnie!! Whee, and a lot of funny chatter! Quite a human treat, if I do say so! :) Despite Jian's illness (mainlining ex-strength Tylenol), they were in great form, playing off of each other well, and a little silly. Exhaustion seems to do wonders!
At some point after the workshop, around 3:30, we gathered a whole group of Fruheads together for a group photo. We had around 30 people, and there were still some missing off at other workshops and whatnot. It was fun, waiting as Lisa and Jason and Laurie ran back and forth with cameras (Lisa was doing auto-timer). We experimented with different poses, and hopefully some of these will come out well enough to go onto Fruvous.com!! Nice to hang out with all, but then we dispersed to diff. viewing points for mainstage.
Fruvous only had about 25 minutes to do their stuff, but put in a powerful, fun show of the standards. This time it was their turn for a spontaneous standing ovation! Susan from BLR got some shots of the crowd during this, and it was really gratifying. Fruvous came on and did Drinking Song as an encore, and at the beginning, Jian introduced it by saying "people traditionally sway along to this" which was kind of nice to hear "officially" as it were. non-Fruheads joined in the swaying, and they got another standing ovation at the end of the encore. We overheard people around us ooh-ing and ahh-ing, and felt quite proud and happy for the guys! (I really don't know what right WE have to feel proud, but I can't help it...) We stuck around for Trout Fishing in America, who were VERY good!! Love that song "My Hair Had a Party Last Night" - what album is that on??
After the show, as all went silent and people started packing up (at Philly they clear the field between the day shows and night mainstage), a dragon parade began, along with the booming apocalyptic strains of Carmina Burana - what a contrast!! But it scared folks enough that they packed and ran before the dragon could attack!
All in all, WOW!! What a weekend!! Friends, food, Fruvous, a birthday party, shooting stars, great music, squirt guns, sunscreen, massages... who could want more?! Thank you to everyone who shared this with me - it wouldn't be so great without you!!! It's been a great summer - hope to see you all again at shows this fall/winter/spring, but I also hope we can have these festivals again next summer - a whole new world has opened up to me, and I hope it's just a beginning! Take care!
From Chris Traugott:
Every morning should start with a bass solo. Sunday morning dawned bright and sunny, and as usual when I have a concert to go to I bounded out of bed and dragged everyone else out too. After much hustling, cajoling and finally begging everyone who was staying for day two of the festival got into the car and we sped over to the fairgrounds so I could see the work shop called Bass Off. Unfortunately I ended up missing most of Trout Fishing in America, but I did get to hear more Laura Love. Then hurried over to the tank stage to see the second Fruvous workshop which focussed on humor. The guys did a hilarious version of Blow Wind Blow; Dave's verse asked why the tank stage was called the tank stage when there were no armoured vehicles around, Jian sang about sleeping with Laura Love and Dan Bern (I think it was Dan Bern) followed by a muttered "I wish," and Murray's verse was a plea for coffee. We were treated to Marion Fruvous and Minnie the Moocher as well. Fruvous shared a stage with Joel Mabus (spelling?) whose song about medicine was especially apt considering Jian's raging cold.
Following that set the fruheads dispersed again, agreeing to meet up at 3:30 for a Summer of 97 photo opportunity (which drew quite a few stares when it happened, I guess it isn't often that folk festivals have thirty-odd people bunching together for group photos.) Zard and I wandered around, talked with a few fruheads we hadn't had a chance to talk much with earlier, bought cds and drinks, and wandered back to the tank stage to hear Herstory, a workshop of all women singers including Les Sampou and Suzy Roche. The women sang a beautiful version of People get Ready, which had the crowd swinging and swaying along with them.
Around about 3:30 the fruheads converged once again for the photograph, and then split to stake out preferred viewing/dancing spots. Laurie and I got into a water pistol fight with a bunch of power soaker packing youngsters and had fun chasing them around brandishing our gaudy yellow pistols. Before long we heard the fruvous sound check beginning and scooted to a place where we thought we could dance unobtrusively. Apparently we chose poorly because security made us move three times before we could dance in blissful oblivion without attracting the ire of the dreaded yellow shirts. The dancing group started out with Laurie, Zard and me, but we were soon joined by Craig, Rob, and tons of other folks who I had seen before and not met. By the end of the set, security had given up on trying to make us stay within the yellow lines (I felt like that car commercial where the voice over is of a preschool teacher admonishing "stay between the lines") and we were boogeying to Love Potion #9. The crowd response was great, when Fruvous finished their very short set (festival gripe, sorry) the audience was on it's feet. They guys came out for an encore, the Drinking Song, and Jian told the audience that it was kind of a traditional set ender for Fruvous and that folks often put their arms around one another and swayed to the music. He invited the crowd to do this and quite a few people did. Our group of dancers linked arms and shared a happy moment, and I think I saw Jian looking our way and smiling.
Trout Fishing in America followed Fruvous, so I finally got a chance to hear them, and then the festival sweepers came by; a long line of volunteers brandishing banners hung from ropes and literally sweeping festival goers off the grounds to the swelling strains of "Carmina Burana." Somewhere in the melee of folkies snatching up their blankets and personnel belongings, a paper tiger appeared,(easily 15 feet long and born on the shoulders of a dozen people,) and wended it's way through the crowd. Pretty surreal. Unfortunately, due to the sweepers and the rush to get everything packed up, the goodbyes among fruheads were hurried. I completely missed saying good bye to Jason and Victorria, and only managed a hurried hug with everyone else. We did hear that Fruvous sold out of cds and that the line to get autographs was long enough that they had to move it outside the festival grounds once the Trout Fishing set was over. Another PR coup! :-)
Despite a few unpleasant moments (like security people *everywhere,* I felt like I was in Germany or Switzerland) I had a wonderful time this weekend. Kind of a bittersweet event, as it is my last folk festival for the summer and I have no idea when I will get to see most of you wacky fruheads again; the shows I know about in Sept. and Oct. I'm probably going to have to miss. But it really was a fun festival and a great summer, I'm glad we have made the effort to get to know one another in person, and hope that we continue the trend when fruvous concerts move back in doors for the winter. Why, there was even talk of a fruhead reunion without the excuse of a concert! Now *there's* a thought! :-)


---
From the Philadelphia Folk Festival program (pg. 27):
Diversity has always been one of Moxy Fruvous' strongest calling cards. Hailing from Toronto, Mike Ford, Murray Foster, Jiam Ghomeshi and David Matheson are skilled songwriters and energetic performers who have been entertaining across Canada and the United States since their first release, Bargainville, in 1993. This spring saw the release of You Will Go to the Moon on Bottom Line Records. As those who have seen this band in action can attest, You Will Go to the Moon and back!


---
The Pictures
Click the description to get the pic:
---
Workshop - "Keep on the Funny Side"
The Set
Chatter

Joel Mabus takes the stage to start, and after a few opening words, introduces Moxy.
Jian: It's a slow start today.
Mike: Double cappacinos for the crowd!!
Jian talks about how a couple years ago in Canada there was a constitutional crisis. He discusses a 'Spicer' commission that went around Canada asking what people thought, but there was one group that wasn't asked.
Jian: Who were those people, Murray?
Murray: The bespectacle.
Jian: No, the bespectacle people were asked. David?
Dave: The boarders, man. The people on boards. Snowboards.
Jian: Do any of those guys actually land one of those jumps?
Mike: You know who it was, it was the people who perform laser surgery. They're very reputable.
Jian: No, these men are liars!! It was the Kids!

The Kids' Song

After "should Quebec separate?", the crowd responds with various answers, then Jian says, "It's one of Canada's provinces".
"Is there something you like? Barney!"
"squirt gunning my chili!"
"food that isn't chili!"
Instead of "tope", Murray says "red".
Murray says to Mike "you stink!" right before the closing line of the song.

Chatter

Jian: Good morning, Philadelphia...

Chatter

Moxy comes off the stage and onto the dirt road in front. Jian: We're coming to the people.
Jian: So we wrote a song this morning. It's called 'American Woman'.
Jian: What's it called, we don't have a title?
Dave: Let's call it 'The Philadelphia Folk Festival Song Society Blues Number 3'.
Dave: We don't know what's going to come out of each other's mouths.
Jian: There's no quality control.

Blow, Wind, Blow

Dave: Now usually I can figure stuff out, other times I draw a blank page. The main one's big, the grove's has trees and twigs, so why the hell is this called the Tank Stage? Dave speaking: I don't see any armored vehicles around.
Jian: Well, what a crazy night, I'm glad I'm here...
Jian's stops singing and starts laughing at this point.
Jian: I just wrote these lyrics, I can't remember...
Jian tries again.
Jian: Well, what a crazy night, I'm glad I'm here all right, I don't know what I was thinkin' of. I had too much to drink, my inhibitions sink, so I slept with Dan Bern and Laura Love.
Murray: Well, for Christ's sake, I'm only half awake, I feel my brain is made of toffee. So, here's somethin' you can do, before this workshop is through, someone get me a goddamn coffee.
Mike: Well, people say I'm uptight, that I always wanna fight, I'm in some kind of angry hurry. But it just ain't true, I became a peaceful guru, now it's time to pound the shit out of Murray. (Mike proceeds to chase Murray around)

Chatter

Jian mentions their mainstage performance later that day.
Jian: So, we hope you come by, don't go the bathroom too long.
Jian: It's early in the day, it's Sunday, and I think it's time for a sing along.
Jian introduces Grampa Fruvous.
Grampa (Mike) kicks a mic stand off the stage.
Grampa: That's OK, it was just one of the cheap mics.
Jian: Don't they have any buses or trucks today?

Minnie the Moocher

"Her favorite colors were tope, teal, and fuschia, Minnie had a heart bigger than the King of Prussia"
"Minnie had a good friend, with the name of Megan. She didn't touch me, that gal was a vegan. Lemme tell ya, when the cows came, she said 'Get along little doggie'. But she went kinda cooky crazy for a Philly style hoagie."
"There's a hoagie pyramid! Where have they got it hid? Grampa Fruvous ate it, he did."
"Move your hands like this! Gotham City dream sequence. George Clooney not included."
"Well, in your dream you could go to a picnic, maybe eat some fine chili. Or listen to smokin' music made by hillbillies. Or you could watch a bunch of men just holdin' their willies. On second thought, that last one sounds too much like the Phillies."
"We're very sad! about your ball team."
The band slows down to a crawl during the middle portion of the song. Jian is the only one still drumming. Jian says "Duracell!"
"Well, we've got the ingredients right here for a great day. Sunshine, fine music, maybe an appearance by Jean Shay (sp?). Yes, everybody's lookin' so happy and purty. And we got a big balloon full of poisonous gas that will explode at five-thirty."
"We're all going down! Yeeeehaaaa! Here comes the key change!!"
"Oh, that commercial radio music, it's so trendy and faddy. Too much Spice Girls, a little heavy on Puff Daddy. You know, that music, I'd rather be tooth flossing. Why can't they play more Joel Mabus and Salamander Crossing?"
"And Greg Brown too! That man is a guru! Take it home boys!"

Chatter

Joel Mabus takes the mic again: I'm honored to be written into that song. Did ya wake up early to do that?

Chatter

Murray: I got my coffee, thank you. Some of you thought I was joking. Fortunately, not everyone did. You must listen for these pleas from help.
Murray: We've forgotten our towels from home.

Spiderman '97

The band jumps into this one just to make sure all the instruments are working OK.
Mike jumps to the last verse.
"in the woods, that's just fine. You folks look divine"

Chatter

Jian: Well, we have a very special guest star coming up on stage. He's been on stage once before I believe. And that was in Denmark, for the Danes.
Jian: Oh, we'll just tell each other inside jokes for a while.
Jian: All the way from New York City, the poet of NYC, Lou.
Mike, as Lou: You know people say I used to enjoy the drugs alot, that's not true, that just gets me cussin'. But I'm tellin' you, I get one chubby, each time this guy mentions Robitussin.

Dancin' Queen Medley
Chatter

Mike: Here's Joel Mabusssssssss....
Joel tells a folk joke to end the workshop.
---
Mainstage Performance
The Set
Chatter

Moxy plays around with their instruments for a bit.

Peace of Mind (Brand New Disc)

"captialism's extremely bad, but please buy our brand new disc!"

B.J. Don't Cry

Jian, during the drum intro: Are you ready for some Canadian music? It's Sunday afternoon, there's no room for passivity. Our job is 25 minutes, and at the end of that, we want you rockin'. Somebody, somebody, somebody scream!
"hooka and a brush"
Mike uses his megaphone for the "Now on the street..." section.
"In 1774, Mozart releases The Magic Flute"
"every Thursday hit the Roxy"
"looked like a Christmas wreath...but he'd rather jam with Ezra and Keith"
"now he's shwinging in the yard"

Chatter

Jian: We got here a couple days ago, and saw all the flyers for the festival, and none of them mentioned us.
The audience moans.
Jian: No, that's OK. We never get press.
Jian: We were worried you didn't want us. But you look good, and it's great to back in Philadelphia!!

You Will Go to the Moon
Chatter

Jian: Maybe we can take this opportunity to thank the Lord, XPN. You're very lucky to live in the vicinity of such a great station.
Jian talks about using a port-a-potty, and how there was race graffiti inside.
The banjo isn't ready, so Mike makes a small song up to fill the space.
Mike: "That darn old banjo, oh it gives me trouble. That darn old banjo makes me feel constipated. Cause every time we wanna play, it turns out that we shoulda had a banjo with a cord that's silver plated."

Michigan Militia
Chatter

Jian: Anyone here like food?
Jian: That's an affirmative question.
Dave does a quick little "It's food" rap.

Johnny Saucep'n
Chatter

Murray: Bon Appetit!
Jian: It's our great pleasure. We have a question. We have a very special guest star.
Mike intros: Here's a guy that hangs around near port lounges, walks up to couples, and says, "Hello, fornicators!", the King of Spain!

King of Spain

"there's a roof overhead...I love you King!"
"it's laissez-faire, I'm not wearing underwear"
"let's give ALL of these people chocolate eclair!"
"Now the Flyers call me up..."
"Ladies and Gentlemen, I introduce to you Bobby Clark and the Clarks"
Before the epilogue:
Dave: Nine out of ten denizens want to know.
Murray: Dentists!

Green Eggs & Ham

During "Not the Beatles":
Jian does his John Lennon impersonation: "I didn't say that we were better than Jesus. I just said that Jesus was a better drummer."
Mike does his: "All we said is plant two acorns for peace, we never said put fucking ELO harmonies on 'Free As a Bird'.

Love Potion #9 Medley

Jian, during the drum intro, thanks the crowd, the folk festival, mentions a fall TLA show, and mentions the mailing list.
Jian: Come on, shake your butts!
Ohio, Stayin' Alive, Jungle Boogie riff, Who Will Save Your Soul?, Love Shack, "I'm heartbroken, she's outspoken, that's the kind of love to keep my love life rollin'", You Oughtta Know, "Would she go down on Meredith Brooks, that bitch?"
"I heard that they just called a snap election. Murray's been made president of the camping section."
Encore
Chatter

Jian thanks the crowd again.
Jian: Traditionally, for this next song, you grab the person next to you, with their consent, of course...

The Drinking Song
---
Misc. Info
Some other tidbits from the performance include:
Feel free to help contribute to this section!
---

Back to the tour dates 1997 page