9/26/97
Ottawa, Ontario, Canada
Reviewed by: Chris O'Malley, Hugo Rodrigues, Chris Traugott & Zard Snodgrass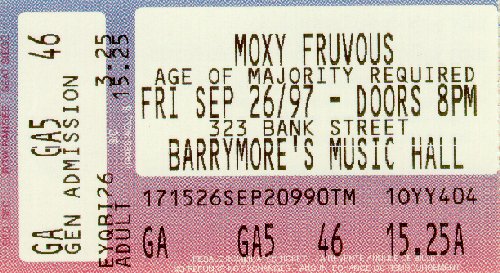 ---
The Details
WOW!
I'll start at the beginning, and let you be the judge. Jo, who I finally "formally" met at Niagara college, and I left Rochester by 12:30 and headed straight to Ottawa. We got there by five, stopped by Ticketmaster to pick up our tickets for that evening, and headed to the hotel to meet up with Chris and Zard.
Chris and Zard flew in from D.C. and made it to Ottawa way before Jo and I. We all met up at the hotel (in Eastern Ottawa) by six, and almost immediately headed downtown to the venue. We grabbed some dinner at a nearby pub ('The Royal Oak'), and then grabbed a place in line at Barrymore's. Jason, whom I'd met at the last Ottawa show I attended in May, was there and joined us during the walk upstairs to the concert area. Doors opened at around eight as planned.
Barrymore's is apparently an old theatre, renovated to a music hall. The seats are on an incline, so no matter where you sat, you could see the stage. Of course, we jumped right the front and grabbed some seats as close to the stage as possible. Hugo found us after not too long, and Dan and Jered (who drove in from Boston), showed up at that point as well.
The opening act, Susan Vanik, and her band, was very good. Jason thought that Susan sounded like Jan Arden (sp?). The played for a little less than an hour and were very well taken by the crowd. Heather, her friend, and Sarah Hoffman showed right before Moxy came on. Moxy didn't come on stage till almost eleven, but when they did, oh boy!!!
Moxy was on stage for almost two hours and did a set that was so different than what I'm used to. I was completely blown away. (see below for more details). Here's what was written on one of their setlists:

MESSAGE
POOR MARY
DOORSTEP
MICHIGAN
SAUCE
LAZY B.
BOO T.
MOON
ASH
SHIT
FELL
TODAY'S
MEDI
BJ-VIDEO
RIVER
CAR
GRUNGE
SIGNED

After the show, we did the standards: got our cards stamped, I bought a T-shirt, and chatted with the guys. I met up with quite a few people after the show, like Peter and Army who I'd both met at the previous Ottawa show. We didn't leave the venue till two in the morning, and finally hunkered down for some sleep around three.
I would have to say, content-wise, this was the absolute best show I've ever been to. Amazing songs, and a ton I've never heard live before to boot!! Keep 'em comin', Früvous!!
From Hugo Rodrigues:
Mary Lane. On her doorstep. A bluesy Boo. Chris and Zard's ecstatic reactions. Agressive Dave. Fell in love. Squeegee kids. Lazy Boy. A cappella 'message'. IS the floor bouncing? GE&H with intro. Acoustic 'shit'. WLUV. Murray's a liar. Wow. New merch. Is the floor still bouncing? The hand jive. Grunge. WOW! Barrymore's. Ottawa. Old songs. New songs. Rarely performed songs. WOW!! Signed, sealed, delivered.
That is a one-worded attempt at what happened last night in Ottawa at the start of the "Your new boyfriend" tour. It blew everyone off their feet, and that was only after the third song!
The doors opened at 8 p.m., and I entered Barrymore's shortly thereafter. Staking a post by the stage, Zard spotted my and I made my way over to where her and the gang were. By the end time the boys took the stage, the 'gang' consisted of Zard, Chris O., Chris T., Heather, Dan J. (posted the setlist), Jared, Jason S. and a few others whose names I regretfully don't know. While we were waiting Mike came out and asked us to keep an eye out for his wife... she was coming but he had no idea how or when. The opener hit the stage just after 9 p.m., with a solid, short set. Suzie Vinnick has amazing potential in her voice, and it was too bad that at times her accompanying instruments overshot her voice. I had seen her in a more intimite and acoustic setting and that was a better performance. Definately worth checking out. After she left the stage, a group of us went to stake out our places, since people had already been up and dancing for her last few sets.
The guys hit the stage around 11 as I'd predicted, and performed a 1.5 hour set that left us all in awe. I don't have as much show experience as some of the others who will post reviews on this show, but the guys are really whipping out the new and undone. I had the dancing spot right behind Chris and Zard, and was able to read their expressions of surprise that they kept throwing to each other and back to Chris O., who was guarding our stuff. When Chris, Zard and co. were talking about the set later with Dave, he said something to the likes of "I don't know if you guys noticed, but we were really working up there." I whole-heartedly agree. The guys knew the stuff cold (even the new takes on Message, Boo and Shit) but sometimes timing and harmonies were a bit off (I noticed during Fell in Love). Another thing I noticed is how much more they change instruments. The previous shows I'd seen, if say Dave picked up the banjo, you knew you were in for a string of three or four banjo songs. While every one of the usual instruments was played, Mike and Dave were trading instruments after practically every song. Mike even had to scurry once to change from electric to acoustic for B.J.
What made the show for me was the enders and the encores. They did Grunge of Spain and ended with Signed, Sealed, Delivered (both of which I had never heard). Encore one was a FULL (!!!) version of GE&H and the Billy Jean / Love fool / Blue jeans medley (which I also hadn't yet heard). Encore two was The Drinking Song, complete with arm-linked swaying. I had never done that before, and that topped the show. The guys were all out and about after the show, and we hung around until slightly before 2 a.m.
The new merch is also a little on the different side. Black T-shirts that say 'your new boyfriend (or girlfriend) in white on front with "Moxy Fruvous Fall tour 97" on the back. Also avaliable in baby-tee for those of you who want to show off your cute little bellies. A white tee with the YWGTTM "square" and Moxy Fruvous on the back is also for sale. I hear there are caps too, but they weren't out on the table.
All in all, for someone who hadn't seen Fruvous in a year, and hadn't seen a show with a full set of more than ten songs since 1994, this concert was fabulous. I hope to have the opportunity to see them again later in the tour when they have the new stuff down cold.
From Chris Traugott:
Words canít really describe my reaction to the Ottawa show, in fact for quite some time after the performance I was speechless. The show was held at Barrymoreís, unprepossessing from the outside, but with a turn of the century interior of white walls, gold gilt woodwork, large mirrors, and a working disco ball (well, *that* wasnít turn of the century!). To the side of the stage, sitting on a speaker, was a big, red, watching-football-drinking-beer-eating-chips easy chair. Zard pointed at it and said "Hey, this is the perfect place for them to do Lazy Boy." Ever the pessimist, I answered, "Well I wouldnít count on it, didnít Jian say he thought the song was too dated to perform again?" (HAH!) After milling around for a while, meeting Canadian fruheads Hugo and Jason, and checking out the merchandise table, a group of us (Dan, Jared, Heatherrrr, Jo, Lauren, Zard, Hugo, Jason and myself) staked out a place in front of the stage and prepared for a fru-show. Nothing could have prepared me for what followed.
The guys walked out on stage, Murray pulled out the pitch pipe, and I though "Hmm, ĎYou Will Go to the Moon.í" Instead, the fru-four launched into a beautiful a cappella version of Gotta Get a Message to You. I had heard an interview where the guys said they had had trouble with developing their own take on that song for the cd and only really had a version they were happy with on the last day of mixing. I guess their dissatisfaction with the song had continued with the live performances, because Message dropped out of the set list early in the spring tour. While I loved the funky, groovy Message, IMHO, theyíve nailed it with the a cappella version. Zard turned to me and said, "I could go home now, and be happy."
Then Murray pulled out a pick, so I thought "hmmm, Video Bargainville" (the only song for which Iíve ever noticed him use a pick ). Wrong again. It took me a few minutes to process the fact, but the fru-lads had fooled us again, this time with Mary Lane. Zard and I looked at each other, she looked stunned, and I know I was grinning like an idiot. I said, "Iím not sure I can take another surprise like that."
Then came On Her Door Step. I think it may have been about this point that the "permagrin" to which Dan referred set in. Zard whispered to me "Chris, itís the fruhead show!" I was too busy grinning to find a response.
At some point early on in the show, the line (or whatever itís called) to Murrayís bass fell out, making a tremendous THUMP. It sounded like someone had fallen from one of the balconies behind us. Jian asked Murray what the noise was and Murray shrugged and said "I donít know." During the chatter there was more noise from the bass and finally Jian looked over and said "*What* is going on?" Murray laughed and admitted that the bass had come unplugged and Jian yelled "You lied to me! I asked you what that noise was and you said you didnít know. Man, first night of the f*****ing tour and your already lying to me!" Murray laughed and said, "Jian Iím doing it to protect you, man!" "Murray is a liar" became sort of a mini thread for the evening, along with "aggressive Dave." I canít remember how that one started, but Dave sang a little improv about "Get out of my way!" and growled into the mic.
Michigan Militia and Johnny Saucepín followed, then Jian asked the audience, "So, you guys like having stereos that rock?" Something stirred in the dark recesses of my brainÖ.. "where is he going with this" I wondered. The audience clapped and Jian said "Well, yeah, who *doesnít* want a stereo that rocks, but what about one that *really* rocks" and looked over at the easy chair sitting on the speaker. Lazy Boy? You bet, and the audience went crazy. Heather said "This is like the Bargainville tour, revisted!" When they finished Lazy Boy I looked at Zard in amazement at the freshness of this set, and when I looked back up to the stage all four were wearing black hats; three bowlers and a fedora. They launched into a mellow, bluesy/jazzy version of Boo Time. I half expected the ghost of Cab Calloway to join them; what a great version of that song for a venue that used to be a music/dance hall!
The guys talked about radio stations that they listen too, including "WLUV" talk radio with advice for the lovelorn. Murray started talking in "radio voice" introducing himself as the host of the show. Jian was the first caller, and as he was trying to explain what happened with his girlfriend Murray began giving him all sorts of ridiculous advice. After some bantering back and forth Murray said, "If your girlfriend were on the line right now, what would you say?" And Jian began to sing, slowly and softly "Well it was me, you and Jacko and your new buddy TaccoÖ" Unbelievable! Right Wing Shit, sounding like a love song!
Then came Fell in Love. It was about that point that Zard lost it (sorry Zard, I had to tell!). Fell In Love is one of her favorite songs and she has wanted to hear it live for ages. As American fans, we missed the Bargainville tour, so we had never heard the guys perform this in concert. That one song made Zardís evening. I was pretty happy too! ;-) Heather said, "thatís it, it is official, Iím 16 again!"
A few more standards, then Grunge of Spain, one of Chris OíMalleyís favorites, (and mine too.) The fruheads up front danced with wild abandon, jumping around and "head banging" like the best Nirvana fans. Then, a few unfamiliar chords, and suddenly Zard and I were 16 again (or thereabouts! ;-) ) with "Signed, Sealed, Delivered." As the guys left the stage I turned to Zard and said "Nothing can make this a better show for me unless they come back out and play something by Elvis Costello." (We had gotten a few bars of the bass line of "Pump It Up" earlier, and I kept hoping. ;-) )
Well, I was wrong about nothing making the show better; the guys came out and did the full version of Green Eggs and Ham, complete with funny hats and cheesy scarf around Daveís neck. (no pun intended about the scarf!). Dave looked a little taken aback when the front row pointed at him during "Hey, *not* the Beatles!", and Murray and Jian sang a few lines of "Goodnight Sweetheart" as an example of the Beatlesí gift to the world of music. They followed GH&E with Billy Jian Medley and the last encore was the Drinking Song. Fru-friends old and new linked arms and sang along, at one point, at Jianís invitation, singing the chorus alone. After the show I was still trying absorb everything we had seen and heard, so I just wandered about a bit, rather aimlessly, and watched as the guys came out and talked to fans. Lots of folks stayed after to talk with them and get stuff signed, and the guys stood and talked with people for a long time. When I had regained a little equilibrium (Iím *still* glowing from this concert and it is Monday and Iím back in my Dilbert cube!) I went over and talked to Dave a bit and asked how much of the set list he thought would be retained for the rest of the tour. He said he thought they would do most of the songs for the duration and joked that weíd get sick of the songs and intros before the end of the tour. Not likely! So donít despair, folks, chances are weíll get to hear lots more of the deep cuts and re-worked songs throughout the fall.
Chris, Zard, Jo and I wandered back to the hotel late and stayed up reliving the concert until about 3. Next day I drove through the gorgeous countryside of Quebec to Plymouth, NH, for a wedding. The leaves were beginning to turn, rusts, reds, and yellows just tinting the tops of the trees, so it was a beautiful drive. Zard, Chris and Jo continued on to Burlington for the show, and I planned to meet them at the venue afterwards (the wedding was too late for me to catch the show). As I was driving into Burlington around 10:30 I was listening to 104.7 The Point and the DJ said "Well the Hammil on Trial/Moxy Fruvous show at the Metronome just ended, a great show and full of energy. Not a large crowd, but there was a group of fervent Fruvous fans there, singing along." !!!!! The DJ then went on to play a Hammil on Trial song. Hmph, how I longed for a cell phone at the moment! The DJ came back on and said, "Okay, I know I said I was going to play Jimi Hendrix next, but I just got a call from a Fruvous fan, so Iím going to play something from their new album." And he put on Get in the Car. I *finally* heard Fruvous on the radio! More specifically, I heard Fruvous on a *good* car radio as I was cruising down the highway at 70 mph. Okay, 80, but only during the song, then I slowed down! ;-) Caught up with Zard and company outside the Metronome and heard that the band played Alison. Yeah, the Elvis Costello song. Iím beginning to think I am fated to never hear them perform one of his songs.

I had a terrific weekend, once again thanks in large part to the fru-friends I got to see again, and those I met for the first time. And just for A.J.ís benefit, ;-) Ottawa is a beautiful city and well worth a visit whether or not your objective is a Fruvous concert. Zard and I didnít have much time to sight see, but we did walk around the Parliament Hill area and had a well drawn pint of Guinness at an Irish pub before wandering through one of the pedestrian walkways near Parliament Hill.

In Dan's review, he wrote:

>>(ever try explaining Moxy Fruvous and the Fruhead phenomenon to a customs agent?)

As a matter of fact, Dan, yes! In March, the customs agent in Toronto, stopped me for having $340 worth of Canadian cds. The conversation went something like thisÖ.

Agent: Why were you in Canada?
Me: to see a concert.
Agent: Where?
Me: Sudbury
Agent: Sudbury, Ontario????
Me: Yes.
Agent: You drove from Toronto to Sudbury to see a band?
Me: Yes
Agent: Which band.
Me: Moxy Fruvous.
Agent: What kind of music is MuxyÖ whatever.
Me: Um, alternative folk
Agent: Maíam, Iím going to need to search your bag.


Now I say I am visiting friends. :-)

Hope to see more of yaíll during the fall tour, and may your interactions with customs agents be short, and pleasant!

From Zard Snodgrass:

Okey, folks, I'm going to try writing this before I read everyone else's posts (already read Hugo's and Dan's) so that I can offer a fresh view on this, but that means I may repeat what you've already heard a bit. Sorry! But it was such a fantastic experience (both shows) that hopefully you won't mind living vicariously twice!

Chris Traugott and I travelled separately up to Ottawa - I was blessed with getting on the standby flights I wanted - the beginnings to a charmed weekend. Chris was there at the airport to greet me when my flight got in, and it's a great feeling to be met by a friend who lives down the street, when you're arriving in a foreign city you've never been to. We got our car and made it to the hotel, then found downtown, starting with locating the venue, then Ticketmaster (all-important), before strolling around Parliament Hill, getting in the mood for Canada as we enjoyed the bracing air, bright sunshine, and strains of a bagpiper coming from goodness-knows-where. After a peek over the St. Laurence at Quebec, we found a cute Irish pub for some fortification (Guiness = meat and bread!) and then went back to the hotel to meet up w/Chris O'Malley and Jo. We got to the venue and after they let people in, we grabbed spots by the front, and immediately found Hugo - thank goodness, because I'd forgotten my ng pin at home, and Chris had left hers at the hotel - sheesh, after all my griping about a way to find each other at shows, you'd think I'd remember. Bleah! Dan and Jered showed up, and we met Jason "wuga-dude" on IRC, and finally Heather showed up with some of her friends from there and Toronto.

Well, WOW!! What more can I say?! (Well, you'll soon find THAT out ;)) When Fruvous came on stage in Ottawa, Chris and I were right front and center, and they launched straight into A CAPPELLA Gotta Get A Message - POWERFUL!! I still miss the wa-wa, but I'm thrilled to have it back in the set list, and it's beautiful. During that, I turned to Chris and said, if I had to go home now, I'd go home happy! True ecstacy! THEN, they went straight into Poor Mary Lane!! THEN, they went into On Her Doorstep!!!! At that point, I turned to Chris and said "This IS the Fruhead show!! :-)" They went into some more normal stuff, MM, Johnny Saucep'n (where we introduced Ottawa to the hand jive), and then put on black fedoras and did a really jazzy, call back and forth intro (like in Minnie) which introduced a slower, jazzy version of Boo Time - VERY cool! They did Lazy Boy - and there was a chair on top of one of the big speakers (not one they had brought with them). Also did a slow version of Your New Boyfriend, with a full intro like a radio call-in show, where Jian calls up Murray for advice. I finally got to hear Fell In Love live - a definite highlight for me! I'd been asking for it since May... Wow! As one of the encores, we got the full version of GEH, including intros and "chk-che, chk-che" at the beginning when Mike gets everyone to make that noise. Whee!! Heather kept turning to me and saying "this is the Bargainville tour!! I feel like I'm 16 again!" They played Stevie Wonder's "Signed, Sealed, Delivered" at the end of the regular set - a kicking version!! - and I turned to her and said "now *I* feel 16!!". Jude and other Toronto folks were there, which was fun, and Terri was stamping, since Marcus was away. The new merch. is pretty nice, and they have Jian-style shortie-tightie shirts, with the ambiguous choice of "your new girlfriend" or "your new boyfriend" on the front. Mix and match! Only a limited run was printed, so get them now!! (I tried one on and decided it just wasn't me...)


---
The Pictures
Click the description to get the pic:



---
The Music
Opened with
I've Gotta Get a Message to You (A Cappella)
The Set
Poor Mary Lane
On Her Doorstep
Chatter

Jian: Good evening, Ottawa people! It's a special night for us, but we left our homes today for 2 1/2 months.
Murray: We set fire to our homes, and we're not going back till they're rebuilt, which'll take about 2 1/2 months.
Jian talks about how the new tour is mostly an American one.
Jian mentions that the upcoming song is getting a lot of radio play 'south of the border'.

Michigan Militia
Chatter

Jian: And now, something about food.
During the beginning of the song, there's a LOUD pop sound coming from one of the speakers.

Johnny Saucep'n
Chatter

The loud popping sound continues.
Dave: Now what in the world is that?
Mike: OK, the rave downstairs has gotta stop.
Murray explains that his bass cable came unplugged.
Jian: That's funny Murray, not 7 seconds ago, I asked you, "What is that?", and you said, "I dunno."
Jian: You lied, man. The first night of the tour.
Murray: I was lying to protect you.
The guys all do impressions of Jack Nicholson, "You can't handle the truth!"
Mike: You can't handle the pumpkin dance!
Jian: How many people really love their stereo rocking? Everytime you hear "I have a stereo that rocks", you gotta cheer.

Lazy Boy

Jian forgets the part "And I take calls in the bathtub...it's cellular". He starts to say "Empire!" and then realizes, so it ends up sounding like "Empular".

Boo Time (Jazz Version)

Mike: Walking, I am walking down, lonely, effortelessly, to Barrymore's. One Friday night. And I look up into a tree, and I see... I'm your hoot owl. I hear a hoot owl.
Mike, intro, audience call and response: Owl noises.
Mike: I hear a hoot owl, Lord Payton Powell, Mario Lemeaux throwin' in the towel, and old ?? ?? with a twelve foot jowel. And everybody know what time it is, time it is, time it is...
Mike & Dave call and response: Microphone playin'. I don't mind sayin' You don't mind sayin'. David, am I grayin? Yeah, slightly grayin'. It's time to start prayin'.
Mike & audience call and response: Whadya get, Whadya Get? Blackbird Hamlet! Blackbird Hamlet! Glausterfare (??)!! Hey, I don't care!
Final improv line (repeated 4x): Meet you in an hour at the Peace Tower!
Mike says "Morhouse!" during Dave's solo line.

Chatter

Dave starts to say something about being lucky, and his voice turns slightly angry before he even finishes his sentence.
Jian: Tonight we set the tone for the next 2 1/2 months, apparently you're going to be aggressive, and Murray's gonna be a liar!
Murray: For your sake!
Dave, pointing to the disco ball in the venue: This reminds me of hanging out with Maggie Trudeau. Back when she was somebody, and I was somebody.
Jian: Was that when you were in 'Eddie and the Cruisers II', Dave?
Jian tells the audience that they should look at the box for this movie to see Dave, but not to rent the movie, 'cause it's the worst movie.
Dave does his only line from the movie.
Mike brings up another film Dave was in, 'The Blue Line', and quotes Dave's line, "Screw you, Miles!"
Mike: It's great...it gave me a focus in life.
Jian: You don't expect Dave to be that way, he's so clean...
Dave explains how he did the voice for some of the 'Stay Real' commercials.
The other guys thought he was joking.
Dave: No, I really did the voice. They said 'If you're high within three years of doing these, you don't get paid'.
Jian: What an irony that is.
Mike: If you get caught, you have to sing the 'No No' song.
The guys do a quick tease: 'No No No No, I don't ... no more'.
Dave gets back on track: It reminds me of the god damn moon.

You Will Go to the Moon
Chatter

The guys sing a couple musical teases.
Jian segues into an imitation of Barry Gibb.
Jian: He had that beard and that chest hair for something.
Jian does an imitation of Barry singing very softly and then immediately singing very loudly, while grabbing his chest.
Jian: He doesn't have to do that, he's got a great voice. That's his shtick. James Bee has Smirnoff. Jewel has...
Mike: Alaska.
Jian: Yodeling.
Dave: Here's a song that Bob Snider wrote. And it's a cautionary tale, and it's certainly not about us, and it's certainly not about him.

Ash Hash
Chatter

Dave: I think Murr and Ji did the radio interview today.
Murray and Jian talk about the station.
Jian: It was great, but I think we got bumped for Jan Arden.
Murray: What goes around comes around.
Dave: There was one year when we were bumping Jan.
Jian: So to speak.
Jian: Ya know what they played when we were there, Pop pop music.
Jian and Mike discuss some of the lyrics.
Dave: It's a good station, but it's nothing like a certain station we have at home, WLUV. I listen cause sometimes I get frustrated with love, sex, and relationships.

Your New Boyfriend (Slow Version)
Fell in Love
Chatter

Jian talks about the new tour and how it's mostly in the states, resulting in the fact that they don't often get to do the next song.
Jian discusses the band's Canadian pride and Ontarian pride.
Jian: It's been difficult lately, cause it feels like the things we care about are being eroded, I'm talking about education, welfare... This isn't even about the deficit anymore. One great thing that's come from this is a growing movement that's crystallizing, and everybody is becoming a part of it. Things are just happening a little too fast.

Today's the Day that We Fight Back
Chatter

Dave, putting on his accordion: Thank goodness he's got the accordion. It's gonna be a good show after all.
Mike and Dave talk about Dean Martin for a few seconds.
Jian: Murray, or Elvis Costello, whoever you're supposed to be, do you want to intro the next song? (Jian is commenting on Murray's glasses)
Jian: Ladies and Gentlemen, Marshall Crenshaw!
The guys do a quick tease of an Elvis Costello tune.

The Incredible Medicine Show
B.J. Don't Cry

Mike yells "Achtung!" during Dave's accordion solo.
Mike uses his megaphone for the "Now on the street..." section.
"every Thursday hit the roxy"
"looks just like Infil...but he'd rather be hanging in Kemptville"

Video Bargainville

Jian does the "Says we can pay one price for TWO!" line twice, to get a better audience reaction.

Chatter

Jian: Ya know what's cool about being in Ottawa?
Jian says a quick 'Hi' to the people in the 'bleachers'.
Jian: They think they're watching TV up there, they're being passive.
Dave: They can't come to the show and just sit on their butts. It's not like watching golf.
Mike: All this week on Broadway, you get aggressive Dave.
Jian: Watch for when aggressive Dave says...
Dave: Rrrr!!
Jian starts drumming: Watch for the aggressive Dave theme.
Dave: Rrrr!!! Stay outta my way! Get outta my way! Move away from here! Get outta my sight!
Jian: The aggressive Dave theme, entitled 'Get outta my way!'
Jian: They have squeegie kids here in Ottawa. I thought this was a big city pheomenon (Jian catches himself)
The audience boos.
Jian: And clearly it is! What I meant to say is, "I didn't know Ottawa is having the same social inequities that terrible cities like Toronto face".
Jian: The one squeegie kid was very well kempt. I love squeegie kids. If you're gonna be a squeegie kid, ya can't look too good. This kid looked a little clean.
Murray: He was headed for law school.
Jian: If you're gonna be a squeegie kid, at least use the money for drugs. Don't get all high falutent, no one wants that. Take the money and put it up your arm.
Mike: What does aggressive Dave say?
Dave: The only social inequity a squeegie kid faces is which party to go to Saturday night.
Jian: Excuse me!
Dave: There are white kids in Canada, they're doing well...
Mike: Get a load of Clair Hoyt.
Dave: Here's a song about savin' the rivers, all right?

River Valley

Jian and Dave change some of the lyrics to fit the discussion before the tune started.
"though he's got to make a living, or buyin' squeegies!"
"this is my squeege, this is the car, ..."

Get in the Car
Grunge of Spain
Closed with
Signed, Sealed, Delivered

Jian, during the drum intro, thanks the crowd for coming to see the first show of the 'Your New Boyfriend fall tour 97', plugs FDC, and thanks the opening act.
Encore 1
Chatter

Mike comes out and gets the crowd do mimic him doing a "shhh" sound in tempo. He then proceeds to rap over top of the audience accompaniment.
Mike: You have been a very crazy cook crazy audience, I love you more than one great big big box of jumbo Junior Mints, the time has come for everyone one in here to get real loose, Murray introduce the song we wrote with Dr. Suess!

Green Eggs & Ham (Full Version)

Jian adds Honduras to his list of countries while he's imitating the pope.
During "Not the Beatles", the guys do a quick tease of "Goodnight Sweetheart".
Jian: The Beatles wrote a lot of Sha Na Na stuff.
Jian: You're wearing an 'I Love Cops' hat. Do you also love meter maids?
Dave: I love a meter maid whose name is Beulla.

Chatter

Jian starts singing and drumming along, "Who's that playin' those nasty songs? Nasty boy, nasty boy."
Murray: Who's that playin' that nasty golf?
Mike: Who's that drivin' that nasty K car?
Jian: Ya know, I hate to be nostalgic, but wasn't it great when you just knew there was gonna be a new Janet Jackson video comin' your way? Weren't those the days? She was still a child, before the whole belly button thing...
Dave: Who's that makin' that nasty rice krispie squares?
Jian: Of course, she had a really cool brother, too...

Billie Jean Medley

Jian, during the drum intro, says "It's friday night!"
Encore 2
Chatter

Jian thanks everyone again, mentions how they do things at a grass roots level in Fruvous, plugs the Burlington show.
Jian talks about the tradition that's developed with the next song, to sing along, and sway along with the person next to you.

The Drinking Song
---
Misc. Info
Some other tidbits from the performance include:
Feel free to help contribute to this section!
---

Back to the tour dates 1997 page