11/5/97
Ann Arbor, MI
Reviewed by: Josh Woodward & John Bommarito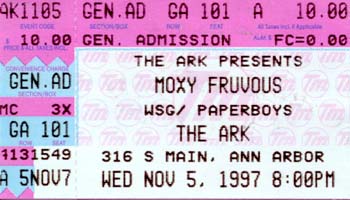 ---
The Details
Hello again, all! This is the full review of the 11/5/97 show in Ann Arbor that I promised.
Me and two of my fellow Bowling Green Fruheads arrived in Ann Arbor about 6:00. Johanna was crippled (she had a nasty fall last week that left her on crutches for a week or so) but she braved the cold. We were the first in line, followed second by a second-time local Fruvous fan named Liam. He, along with a really nice guy named Bob with his wife and amazingly smart kid, kept us company in the cold. When the doors finally opened, we took our seats, front row, stage Murray this time. The Ark is just a great little place, small and intimate, and staffed by volunteers. It's a seating-only atmosphere, so there was no dancing or anything, but that didn't take away from the excitement in the room.
The opening band, The Paperboys, were great! Anyone who likes Great Big Sea should like them as well -- it's Celtic pop from a different slant. Very fun music. At one point in the show, the lead singer noticed my friend's shirt: one of those mock ad T-shirts which had not M&M's, but S&M's. He loved it, and had her come on stage to show it off. After what seemed like a fairly short set, they left, but the crowd demanded they come back for a well-deserved encore. In all my concert-going times, I've never seen an opening band encore, and I've rarely wanted one to. Very impressive stuff, though.
Then came Fruvous. The set started out fairly standardly for the YNB tour, opening with an acappella Gotta Get A Message To You, moving in to Poor Mary Lane, and then to It's Too Cold. Jian gave a plug for Wood and moved into Horseshoes. I'd decided at this point that Dave was on fire -- every song, Dave's voice was just inspiring. The others were very good as well, but for some reason Dave was really standing out for me.
Then came a bit of a suprise; Kids Song! I know they play it infrequently but consistently, but somehow I've managed to miss it the last 6 shows, and this was my first. Great! Michigan Militia was next, as was an explanation that Ann Arbor seemed to be an oasis because the rest of Michigan would lynch them for playing that. Luckily, the crowd loved it. Banjo in hand, they moved into Present Tense Tureen. Dave's big oops of the night was forgetting to start singing at the beginning, so they played a little instrumental section, mentioning that this was the "talking Present Tense Blues". A ripping Saucep'n was next. Lazy Boy and the supercool jazz Boo Time followed, with Mike's mention of the infamous naked mile. Mike just shines on this song, I love it. Then, Moon. WLUV>Right Wing Shit (slow) was fairly good.. not too contrived but I've seen better, in Columbus. Fell In Love, as always, was more than a treat. Truly perfect.
It had been a fairly typical show so far, but the end was a big suprise for me. First came No No Raja, for the first time in the tour. That segued into none other than Jockey Full of Bourbon! Yes! This really made my night, since I'd never seen it and yet it's one of my favorite songs that they do. Very well-done. Typical King of Spain followed, and then a super-playful Darlington Darling! A (recently) fairly rare tune that I always love to hear. Then came Psycho Killer for the set closer. It was my first time for this, and I haven't decided what I think of it. My initial instinct is that I don't like it as much as the other covers, but it's new to me. I'd rather have seen Signed, Sealed, Delivered though.
Encore 1 kicked off with a great full version of Green Eggs. A fairly forced version of Fly was next -- I think they were still pumped from GE&H and had a hard time adjusting to the slowness of Fly. Authors closed off the first encore.
For some reason, the crowd was a little timid about the second encore, and the house music came on and the lights went on. But we kept cheering. It seemed like an eternity, but after awhile, a suprised Fruvous came back out to the half of the crowd still there to treat us with the rare gem, Alison (the Elvis Costello cover). I'd seen this once before in Cincinnati, and bought the EC CD because of it.. now that I know the song well, I really appreciated the fact that they did this for us.
All in all, this even topped the 7th House show from last month. Great performance, and an amazingly strong set. Jian commented after the show that he was really excited about this set, so we can possibly expect more of it to come in the future in this second half of the YNB tour.
The hours tick away until the Cleveland show tonight.. yay!
From John Bommarito:
As expected the show was wonderful. Just wanted to report on the new bald look seen on stage on the head of Dave.
Covers I've never heard them do in the 8 shows I have attended until the Ann Arbor show were "Psycho Killer"(Talking Heads) & "Alison" (Elvis Costello).
I also have rarely been to a show where the lights were turned up and music played after the show was 'over' and the band came back because of an enthusiastic crowd. This happened last night. WOW!
The crowd was the biggest ever for a Detroit/Ann Arbor Fruvous gig that I have seen.
What a sight, what a night.


---
The Pictures
Click the description to get the pic:
Thanks to Josh Woodward for this one:
---
The Music
Opened with
I've Gotta Get a Message to You (A Cappella)
The Set
Poor Mary Lane
It's Too Cold
Horseshoes
The Kids' Song
Michigan Militia
The Present Tense Tureen
Johnny Saucep'n
Lazy Boy
Boo Time (Jazz Version)
You Will Go to the Moon
Your New Boyfriend (Slow Version)
Fell In Love
No No Raja
Jockey Full Of Bourbon
King Of Spain
Darlington Darling
Closed with
Encore 1
Green Eggs & Ham (full)
Fly
My Baby Loves a Bunch of Authors
Encore 2
---
Misc. Info
Some other tidbits from the performance include:
Feel free to help contribute to this section!
---

Back to the tour dates 1997 page