11/6/97
Cleveland, OH
Reviewed by: Doug Levy & Josh Woodward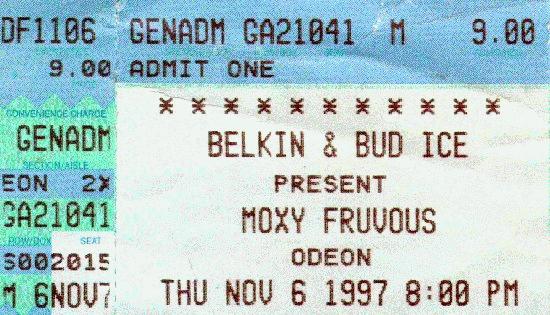 ---
The Details
Another great show by the Fru four in a terrific theater. Possibly the best sound I've heard so far. Good lighting, too. Thanks Murray, Jian, Mike and Dave for making the trip worthwhile. (And a nod to Marcus, now sporting Dave's hairdo.)
From Josh Woodward:
After a bit of a rocky start :), we headed off to the land of Cleveland, where I had never been. We arrived in decent time (7:40) and there was oddly enough space left in the front row, stage Murray. So we staked it out, sliding a chair over for our resident cripple, Johanna. :) I wasn't sure what to expect for an opening band, having been truly blown away after seeing The Paperboys the night before. Last night, we got a band called Angrysalad. My personal opinion is that they were nothing interesting. They were a band that played songs. Mostly typical FM radio "we're a hard rock band" cuts that don't stand out in any way. The two redeeming features in their set were a joke involving Fiona Apple's record contract and a banana, and their last song -- the 80's gem "99 Luftballoons" or however it's spelled. They made note of the fact that they'd never heard Fruvous until soundcheck, and "they sing their asses off. You may be wondering why the opening band kinda sucks!" I wouldn't say they sucked, but it was a mismatch of styles with Fruvous. But once finished, their equipment came down and made room for the FruFour.
Now, the Odean is a big place. It's a tall, wide, and long room. The stage is huge. You have to picture Fruvous with their super-minimal setup on this giant stage in a huge room. It was unique, but it gave them plenty of room to do their thing in. The sound was a little bit reverberated in there because of the size, which helped some songs and hurt others.
After a long wait, they came out, grabbed their microphones, and treated us with the acappella "Gotta Get A Message To You". The crowd, a couple hundred or so, was really into the clapping and snapping. Then, a nice version of Poor Mary Lane, which sounded really nice in the Odeon for some reason. Then, to throw us a curve, they went into Lazlo. On Her Doorstep, came next, and we agreed that it was a little bit off last night. I really think it was the venue, but that's ok. The next song was a treat for us, a playful version of Spiderman. The middle section, our Spidey proclaimed he needed a drag of a front row lady's cigarette, so he helped himself. He then proceeded to "hump the stage". (yes, insert visual here) It was quite a hoot. Michigan Militia was next, which ended followed by Dave breaking right into You Shook Me All Night Long, which he now knows the words to correctly. ;) Lazy Boy was fun as always.
The running theme of the night, at least at the beginning, was drugs. Jian had been walking around in the flats looking for some espresso. Everyone he asked would say something like either "fuck you" or "go to Hooters'". At this point we get Dave popping up front with two strategically placed hats in his shirt. Jian decided he needs stronger drugs, and Boo Time begins. Then, to point out the "darker side of drugs.. yes there is one", Ash Hash! Another theme started out around this point: how the use of the word "Fuck" should be encouraged among all. "It adds so much emphasis, imagine if newscasters used this.. 'there's going to be a front coming down from Canada which will make things fucking cold'." WLUV>Shit>Fell In Love was next. Very good improv, and a truly beautiful Fell In Love (isn't it always?) No No Raja was next! Twice in a row.. it looks like more of this will grace us. And once again, after this, we get a Jockey Full Of Bourbon, with a long intro. Yay! Another unexpected thing I haven't seen recently was next - Video Bargainville. Present Tense Tureen was a little more stable tonight, though less in tune. Banjo in Dave's hands, Jian picks up the tin whistle and we're on our way for some cuisinary delight: Johnny Saucep'n. King Of Spain was next ("king, how are you such a genius.. there's a hat on your head.. aaaughhh!!!") Mike teased a bit of Jesus Christ Superstar after this, and then it was time to Get In The Car. Psycho Killer closed the set, and I'm starting to slowly warm up to this song. I still found myself craving a good LP#9 or Billie Jean.
Encore #1 featured a cool full Green Eggs, a tease of Bee Gees' "Too Much Heaven", moving into Fly. The problem from last night vanished as the playful but beautiful TMH tease segued the two extreme songs fairly well. I was expecting to hear Authors here, but no! Instead we got Darlington Darling! Yay!
Encore #2 was a simple but always wonderful Drinking Song.
These last two nights have been particularly interesting sets for me - fairly organic and light with a suprising mix of songs. The guys were very on during both shows. I definitely enjoyed last night's show in Ann Arbor more, but that's the selfish side of me that likes the smaller, more intimate shows. They played equally well both nights. Authors was oddly missing, which was fine by me (gotta make room for all those gems), but I found that odd. And still no Marion Fruvous. (no, of course I didn't expect it, but it's my life mission to see this song live)
That's all until Cincinnati. :-)


---
The Music
Opened with
I've Gotta Get a Message to You (A Cappella)
The Set
Poor Mary Lane
Laszlo's Career
On Her Doorstep
Spiderman
Michigan Militia
All Night Long (banjo pseudo-ad lib)
Lazy Boy
Boo Time
Ash Hash
Your New Boyfriend (Slow Version)
Fell in Love
No No Raja
Jockey Full of Bourbon
Video Bargainville
The Present Tense Tureen
Johnny Saucep'n
King of Spain
Get in the Car
Closed with
Encore 1
Green Eggs & Ham
Too Much Heaven
Fly
Darlington Darling
Encore 2
"Burning Donna"
The Drinking Song
---
Misc. Info
Some other tidbits from the performance include:
Feel free to help contribute to this section!
---

Back to the tour dates 1997 page