11/22/97
Minneapolis, MN
Reviewed by: Dorothy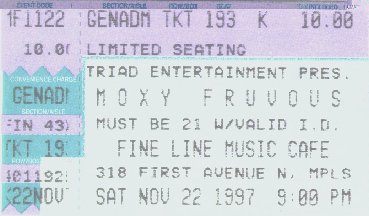 ---
The Details
I don't post here often but i had to say something about this show.
um.
It was REALLY good!!! it was my sixth fruvous concert. and i think it was my favorite. they were totally on the ball musically.. NO technical problems at all (which i think as a first for when I've seen them) and they were energetic as always.
they explained to us that they'd had a very bad day.. the fru-bus had broken down in eau claire, wisconsin (something about "uh, you got no transmission here, guys") and they'd spent a lot of time in a rest stop type place and were told that they couldn't get it fixed until monday because everyone was out deer hunting. they poked fun at deer hunting for a while.. it was hilarious, of course... and basically just told us they'd had a shitty day and were glad to be here after such a grand list of setbacks.
the setlist was similar if not identical to the milwaukee show. they did close with the drinking song however. i think it was the best version of that i've ever heard. oh.. and a comment on the new versions of gotta get a message to you (a cappella) and green eggs and ham.. i applaud!! i LOVED the a cappella one to start the show out. way cool. i also highly enjoyed Fell In Love.. i don't think i'd seen that one live before?? hm. i also laughed heartily at the beginning of Lazy Boy. Jian: "who here has a stereo that rocks?" "who here doesn't have a stereo that rocks?" "who here WISHES they had a stereo that rocked?" "who here is just cheering about stereos that rock?" hehehe. that was funny. also.. it was a really long show. i think it was almost over two hours? hm. i was just very impresseds are away at college. it was rather depressing but i still had a good time. if anyone was there.. i was the one in the tshirt that said Bitch Goddess on it.

oh. um. did ANYONE tape this show??? i dunno if you guys do that. but. if anyone did. i'd like.. sell my soul to you. or whatever. i was gonna tape it but then i would feel stupid cheering or anything cause the tape would pick it up so loud. anyways. it was my last moxy fruvous concert for a while because i'm moving out to California in a month and they don't come out there. (but they SHOULD! they SHOULD!) anyways. email me if you taped it... i'll uh..trade anything you can think of.. or pay whatever...

bye bye

dorothy


---
The Music
Opened with The Set Closed with Encore 1 Encore 2
---
Misc. Info
Some other tidbits from the performance include:
Feel free to help contribute to this section!
---

Back to the tour dates 1997 page