11/6/98
Buffalo, NY
Reviewed by: Jason Hare, Amy & Mike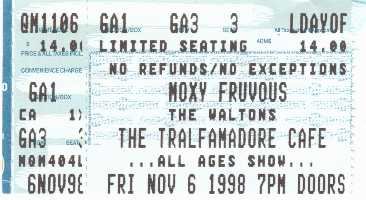 ---
The Details
Hi everybody,
I'm coming out of lurk mode to briefly tell a bit about this weekend with the shows at the Tralf. I have already seen a few in-depth reviews so I will just mention a bit.
I think the Buffalo Fruvous experience worked best if you got to see both shows- Friday night was more of a mainstream night, whereas Saturday was more obscure and gave the well-rounded FruFan an enjoyable weekend :-)
Friday was PACKED with people of all ages. It reminded me of when I took my parents and my 11 year old brother to see the band at Tramps in March of 97. The show was great- although I think the guys looked a bit tired- but they did enough of the songs we've come to expect with a few nice additions. This was my 10th Fruvous show and with the exception of one in-store, it's yet another concert where I heard songs I hadn't heard before live. This night, it was a full version of It's Too Cold and Nuits De Reve. I had always hoped to hear the latter live. It's also always nice to hear stuff like Laika and Marion Fruvous, which I also had not heard before.
From Amy:
I managed to drag my poor car back to Fredonia by 2:30, just enought time to pick up Greg, a recently discovered Fred-fru-head, and get on the road again by 3:15 ish. Initial plans were to pick up some tix for the Sat show and then find some chow before the show. HA!!! We got to the Tralf at 4:00 ish and found that we weren't the first to arrive. So we stayed and chatted (caught up) with Andi (Mom!!!), Kim and Kris. Fru heads started to slowly trickle in around 5ish and I was so happy to see faces I hadn't seen since Fru MIles weekend and start placing faces to all you wonderful people on the NG.
Doors opened at 7 and I quicked got my frucard stamped before joining Kim up front stage Jian/Mike. Waltons opened again at 8 and played a more high energy show then the previous nite. Very nice. Our heros graced the stage around 9:30 and played an amazing set full of firsts for me. Started with Message (my second fav opener). I finally got to hear It's too cold, No No Raja, Laika and Nuits de Reve!!!!!!!!! *happy fruvous bouncE!!!!!* hearing KitA and Right Wing Shit was a special bonus...haven't heard them in over a year. Also heard (a bit) of Girl from Iponima (sp?)!!! WOW!!!! New song for me was half as much...I hope I'll be able to more of this one!!! The running gag through the whole nite was the feud between the balcony dogs, standing cows and chickens, and the seated rich..all of whole had their own calls which Jian promted us to call out every now and then. Biggest treat of the night (both nights)...real piano on stage!!!!!!!!! Horseshoes and Boo Time we extra lovly with this!!!! Way to go Dave!!!!!
From Mike:
Friday night... arrived with the Entourage outside the Tralfamadore Cafe, met up with the other Entourage, and were let into the club without much of a wait. The Waltons put on a great set that lasted around 40 minutes, and were followed by Fruvous at around 9:15 without too much of a delay.
The back of the stage was shrouded in a black curtain covered with white Christmas lights that would be turned on/off at certain key points during songs, much to our (and sometimes the band's) amusement.
The set:

I've Gotta Get A Message To You 
B.J. Don't Cry 
It's Too Cold (one of my all-time faves!!! I wasn't expecting to ever hear this
again after the Mercury Lounge). 
Horseshoes (with a real piano, which would eventually be utilized on more songs
later in the set) 
Laika 
- Dave plays a short tease of "Candle In The Wind" ("sorry, I couldn't
resist!"). Mike then makes up a verse, followed by Murray, who only sang
"you've lived your whole life like a janitor in St. Louis" before stopping. One
of them says that at this very moment, a janitor in St. Louis is listening to
RealAudio version of this concert on someone's website, and is thinking
"heyyy... I *am* a janitor in St. Louis!!!". 
Sad Girl 
You Will Go To The Moon (with the Christmas lights turning on during the middle
"orbiting rondelle", to great effect) 
Kick In The Ass 
Get In The Car 
Your New Boyfriend 
- "The Girl From Ipanema"... Dave sang the first verse, and they stopped when
Jian forgot the words to the 2nd :) 
Fly 
Boo Time (with the Live Noise lyrics... and the crowd STILL has trouble
following along! :P ) 
He's Misstra Know-It-All 
- long off-tangent bit defending cabbage during the intro to Marion (brought on
by the crowd booing when one of them mentioned cabbage... I've forgotten how
the whole thing came up in the first pace). 
The Ballad Of Marion Fruvous 
- "St. Thomas Theme" (this is what I wrote down, although I can't for the life
of me remember what it was ;p ) 
No No Raja 
Nuits De RÍve (!!! I was so extatic over finally being able to hear this
live... if they'd followed with Bed & Breakfast or Follow The Road, I probably
would have melted =] ) 
King Of Spain 
Green Eggs & Ham (short) 
Michigan Militia 
Johnny Saucep'n (which seemed very out-of-place this late in the set...) 
Love Potion #9 medley 
--- 
Psycho Killer 
--- 
Drinking Song 

A great set, similar in feel to the fall '97 tour... the Tralf is truly a wonderful place to see Fruvous.


---
The Pictures
Click the description to get the pic:
Thanks to Jeff (Gobo) for this one:
---
The Music
Opened with
The Set
Closed with
Encore 1
Encore 2
---
Misc. Info
Some other tidbits from the performance include:
Feel free to help contribute to this section!
---

Back to the tour dates 1998 page