2/5/99
Washington, DC
Reviewed by: Kate Bunting, Anna, Arabel, Aleigh, Kate Leahy & Chad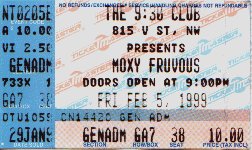 ---
The Details
After waiting for seemingly a long time (esp. to me-- I have the attention span of an autistic gnat!), Fruvous finally took the stage around 11:30. Note: I enjoyed Jess Klein's set. However, it seemed to me that the 9:30 Club as a venue might not have been right for her performance. I found the chatter and background noise really distracting, though, which detracted from it, unfortunately. I'm curious to hear what folks on the main floor thought about it.
Without further ado, the setlist as I recorded it (hopefully not too many errors!):

Sahara
Laika
Video Bargainville
Horseshoes
YWGTTM
Sad Girl (introduced as "new", but it's been played at the last few shows
	I've seen)
Splatter Splatter (also "new", one I hadn't heard yet; I liked it-- great
	commentary on horror movies!)
Get In the Car
I Love My Boss
Minnie the Moocher (sing-along; they donned the bowlers, and I actually
	wrote down "Boo Time" in my notes, expecting it to be the "hat
	song."  whoops!)
Too Careful ("New")
Michigan Militia
Johnny Saucep'n
Fly
Independence Day ("New")
Spiderman
King of Spain
Green Eggs & Ham
Psycho Killer

1st Encore: Dancing Queen medley with much extra stuff; I wasn't the only
	one dancing...  =)

2nd Encore: Drinking Song

I leave it to other folks to post about the imrpovs and banter. All in all, I had a really good time; sitting up in the balcony was *very* comfortable, and gave a good view. Many thanks to the other ng folks I met (I was the Kate wearing the black leather jacket)-- so good to finally start putting faces to names!
From Anna:
Okay!!! I'm sitting here at work with absolutely nothing to do - so I figure I will tell my story - a long story - one that you will be telling your children, and your children's children, and...uh...maybe not :)
Anyway, the first chapter of this story is "The DC Show" or "How I Made Off With Murray's Stuff"
After a bit of confusion as to how I was getting back to Columbia to pick up the Fruvous-Mobile (the new name of my car!) I found myself happily traipsing off to College Park to pick up my friends and head down to DC.
As usualy, I was flipping out. Everyone wanted to hang out in Georgetown before the show, and show up after the opening act. I was vehemently against this, seeing as I was set on getting good standing room stage Murray! Additinally, I didn't want a repeat of New Years (getting lost and missing half the show)
Eventually, I convinced them that since they didn't have tickets, they would have to get there early anyway. My plan worked, and we proceeded to stand outside in the cold.
I was looking for Mollie, Arabel, and Matt James, none of whom I had ever seen before, and finally ran into them inside the club. Everyone was very cool (what else would you expect?) and we chatted for a while about this and that. Matt's friend Rob had come down from NY and Arabel's boyfriend was there too. Eventually, I went back to hang out with the kids I had come with and by eavesdropping, I realized I was also standing next to Mindy (Fruchild) and her friend Darcy. They were both super-cool as well.
Soon enough, Jess Klein came on. She had a nice voice, but her songs were a little monotonous. The sentiment from the crowd around me was that she was just like Dan Bern, but without the spit. I didn't comment, because I like Dan Bern :)
She sang for a while, not too long, and then Cal came on and began setting up the stage. My friend Melanie leaned over and whispered, "Wow! Who finds a roadie that looks like that!?"
After another wait, and some cool intermission music (The Posies! Yay!) Fruvous hit the stage. Or rather, half of Fruvous. Jian and Murray came out, picking up dumbek and bass, repectively, and began "Sahara". They played the intro for a minute or so, warming the crowd up, and then Dave and Mike came out. Let me tell you, that was the single most amazing opening I have ever seen from any band...ever. It was awesome. Wow.
The rest of the evening went like this, according to Murray's setlist, which I managed to make off with! (But more on that later…)
*Sah (Sahara)
*Laika - I was soooo psyched to hear this song, because it's one of my favorites. They did it really well, and a few of us who knew the ending harmonies (...it toubles me, troubles me, troubles me sooooo…) sang it, even though I don't think the band did :)
*Video (Bargainville) - Another song I really enjoy, and was glad to hear. Very nicely done, Jian had a good deal of energy, and it showed.
*Horse (Horseshoes) - Yay! I was hoping they would play this, and they did. Like the last few shows, they've been letting the audience sing the second chorus (Look straigt and the coming disaster…) but I think the audience was a little lost on this. My friend Beth was singing quite loudly when the hush fell, and Jian pointed right at her with his drumstick, which made her wildly happy.
*Moon (You Will Go To The Moon) - Very cool. I wasn't expecting this, and it was oodles of fun to see at the dancing, especially Jian and Mike.
*Sad (Sad Girl) - Oh. My. Goodness. This is the first time hearing this, although I've had the lyrics memorized for a while, because I love them. Wow.
*Splatter - New song, and regardless of what anyone else thinks, I love it. The guitar part is awesome, and the lyrics are smart and catchy. I've had what I remember of it in my head all day.
*Car (Get in the Car) - Nice. I wasn't expecting this one either.
*Boss (I Love my Boss) - Again, really nice. The harmonies were right on (but then, they've been doing this one for six years!)
*Minnie (Minnie the Moocher) - I was expecting Boo Time when I saw Cal put the hats on stage, but this was cool too. The audience got into the call and response quite nicely. Some of Mike's lyrics…(Melanie got the cheat sheet…but I don't have it here, so this is what I remember.) "Last week you all had your Superbowl Sunday, maybe Canada will catch the hype someday. Two football teams sent TV ratings soaring, but could that game be anymore fucking boring!?" and something about people going out and doing things, him wearing a derby, and "some people stay home and jerk off to their Furby!" (At which point I went wild, 'cause my nick on IRC is Furbish, and I take a lot of bad Furby jokes!)
*Too Careful (You Can't Be…) - Not bad. I like it a lot, but I think it will grow on me a little more one it comes out on the album. I like the lyrics a lot.
*Michi (Michigan Militia) - Nice and fun, as usual.
*Sauce (Johnny Saucep'n) - Fun. I wasn't paying attention to the handjive, and so I still don't know it!
*Fly - Cool, as usual.
*Indy 500 (Independence Day) - Kick ass new Murray song!!! I love it, love it, love it! Another great song to get stuck in your head. Murray was singing with *such* emotion, it was enough to make me almost cry. I'm a huge sucker for lyrics, and from what i remember, this was a wonderfully written song.
*Spidey (Lounge) - Kinda fun, though I think I prefer the a capella, because I can sing along. They change they words to do it this way. Still a good song though, and the lounge beat is fun.
*King (King of Spain) - The people yelling for this one were finally satiated. Nice and energetic, and generally good fun for all. It went right into…
* Green (Green Eggs and Ham) - I wasn't expecting that, since I've heard they've been laying off it a bit. It was super-fun to see. There was a very long interlude during the Beatles break. Jian started in on how he "missed the old Mr. Cheese." (He almost said 'Dave' but caught himself just in time.)And went on that he didnt like this new Mr. Cheese who looked like the singer from the New Radicals. Then Mike started in on some very, very strange monologue about the old Mr. Cheese, who apparently taught him some dance which involved him lying down on his back, throwing his legs up in the air, and making very bizarre noises. Unfortunately, he was lying down behind the drum kit, and I couldn't get a good picture.
* BJ (BJ Don't Cry) - Didn't play :(
*Psycho (Psycho Killer) - This was fun, I'm not sure I've seen it live before, and I enjoyed it very much.
Encore #1
*Dancin' (Dancing Queen) - Fun to see again, pretty standard. My friend Katherine looks at me and excaimed "This is ABBA! They're playing ABBA!"
*Drink (Drinking Song) - Wow. A great way to end the show. Very pretty and the band definitly looked very into it.
Okay - I don't remember when these incidents happened during the show, so I'll just add them as afterthoughts...
Someone (from the NG, though damned if I can remember his name! Actually, it was Kevin! Nevermind :) gave Murray a box of Canadian Smarties, which are baiscally American M&Ms. Murray commented, "These are Canadian! I could get these when I get home on Sunday. I'm in the US, why are you giving me Canadian Smarties?"
At this point, Jian started to make fun of Murray, calling him ungrateful. So Murray opened the box and began to eat a few, then began tossing them over his shoulder singing "I'm Mr. Ungrateful, I'm Mr. Ungrateful" (this, by they way, was the single most amusing this i think i have ever seen.) Jian suggested that he give some to the audience, and he began handing them out to us, the denizins of stage Murray. Mike ran over and asked for some as well :) Then Murray threw the empty box out into the audience, I made a half-hearted attempt to catch it, but only ended up falling on my ass. My friend Ben caught it, and offered it to me, and I was really happy for that one :) That's the first thing of Murray's I obsconded with.
There was a whole big thing about "Rock Supergroups" and how all the members of Fruvous were actually all from old Canadian supergroups. Murray clamied to be the drummer from a band called Todd (this said as he was at the drums before Sad Girl) and Mike piped in with the fact that Todd was actually spelled with seven d's and the last one was capitalized. ToddddddD. Hmmm.
Umm. Yeah, I can't remember much else. I'm getting the two shows confused!
One of the people I went with, was being kind of a jerk. He was standing right in front of me, and before the show started, I asked if he would try to grab Murray's setlist for me. He told me that if he got it, he was keeping it for himself. He did grab the setlist. Thinking quickly, I asked if he got two setlists, if I could have Murray's. He said yes, so I prompted him to stretch a little more and grab Jian's. Once he got that, he willingly handed over Murray's. Heh. Score number 2 :)
After the show, the kind folks at the 9:30 Club let us chill there for a while and talk with the band. Jian and Murray both came out, and I got them to sign my poster. I asked Jian for a picture, but the flash on my camera wouldn't work, and after three tries, I let him go :)
I was thrilled when Murray came out. He was so incredibly nice. I got a picture taken with him and we chatted for a bit. Later, he was talking to Melanie and she was gushing and telling him how much she loved the show. She told Jian that she had brought about 10 people to the show (this is true, we came in three cars) he called her "the Fruvous Catalyst, and wrote it on her poster. Murray asked about that and thought it was hilarious. She then told him how she thinks Fruvous is up there with Les Claypool and Primus and Einstein. (Where Einstein came from, I am not sure) anyway, he wrote on her poster "We're no Einstein(s)!"
Later still, as we were still bumming around, my friend Sonia decided that Murray looked so huggable, and she wanted to hug him. Unfortunatly, she was too shy to go up and talk to him. While she wasn't looking, Melanie asked him if he would go over and give her a hug. He started walking in her direction and then stopped as she ran the other way (not knowing what was going on). Melanie gave Murray a little push towards her, but I guess he was unprepared because he ended up slamming right into her from behind. He didn't seem to mind, and Sonia certainly didn't. We told Murray we were going to 7-11 and that he was welcome to come. He asked me "Do you always hang out at the 7-11?" and I told him we were getting Slurpees, and that he really ought to come. We were halfway to the door, but he decided not to go. Honestly, I think my friends scared him. :)
Then we went outside, and after seeing a disparaging remark (i just like to use that phrase) about Cal written in the dust on the van, we proceeded to personalize it was some of our own writing :)
The high point of my evening was getting the setlist, smarties box, *and* pictures. The fancy new camera took me four rolls of film!
Okay! Whew. As far as Friday goes, thats all I can think of to say. I'm exhausted. Let me get my act together for the Sat. review. :)
From Arabel:
The Weekend of No Sleep:
Jason and I got to Mollie's house at 6:30 AM Friday morning, greeted by a somewhat disheveled half-awake Mollie. Excited about the trip, we made a quick run into the Circle K next door for beverages, and then started carrying our bags and pillows into her apartment. We thanked our ride and said our goodbyes, and then proceeded to start packing the rental car that Mollie had parked out back.
We were on the road at 7 AM, getting onto I-40 and leaving Nashville, focusing our minds on Washington DC. We made the trip in very good time. 10 hours or so after starting (which was more like 11 hours due to central vs eastern time zones) we were getting into line at the 9:30. Mollie had canape (sp?) to share, and we met several of you in line, so many names floating around that night. I would start mentioning them, but certainly I would leave one of you out, and I would probably mention at least two or three people twice simply because I don't connect their real names with the ng/IRC name. To those of you I met, I love you. You are the excitement, the freshness, the essence of Fruvousing.
We got in with no problems. This was an amazement to me. We can't do that locally -- there is always something holding the line up. And for Washington DC I was expecting nazi's at the door. Jason didn't even have picture ID for this trip because of an accident with the laundry service only two days prior. We were pleasantly shocked, to say the least, that there were absolutely no problems with this throughout the weekend.
We claimed spots roughly 2nd row, stage Mike. We talked with those surrounding us, and we watched the clock. I wondered why it's called the 9:30 club, or if the people who work there are simply inable of telling time. The wait seemed unending. Jess Klien took the stage, and my first response was "Joan Osborne influenced us all." I was cynical, but that's how Nashville is. Everyone you meet on the street is a replica of another singer who made it somehow. Every waitress is certain she'll have a record contract next year. You have to be careful of who you praise in this town.
Jess' voice had me transfixed. My only negative comment is that she needs someone to help her write songs, and especially song titles. Don't take this the wrong way, because I would buy her music in a heartbeat. I simply believe she is in that phase which we all pass through at some point, where everything is so profound, and nothing is right. I often attribute the fact that most singers today only get 1 or 2 albums out to that... they pass out of that phase and no longer have much to write about.
Fruvous finally came on. Jian, Murray, Mike, and Dave. I think in that order. I think I was in a trance, I didn't move until halfway through the show. I filled two rolls of film before we had left. Not an excessive amount, because I was secretly holding out to do more at Philly. Each time a lad went a capella, they stood close enough to the edge that I felt I could reach out and grope someone. Murray got imported Canadian smarties, and they did more old tunes than I had expected to hear. They did GE&H and it wasn't the end of the show, only to be followed by the Love Potion medley. That alone was shocking to me, fruvouless for nearly three years. The set ended. Lou greeted us for encore #2, and there were rather loud requests for Freebird. "You don't know skynyrd like *I* know skynyrd" was Lou's response, and they followed up with the drinking song. Jason nudged into the front row immediately after the drinking song to get me Dave's set list, but was stopped by an asshole stagehand who picked up the two remaining setlists and looked for pretty young 16-year-old types gullible enough to give sexual favors for them.
We waited for the lads, and talked to Jian first. Then Dave, and Murray. We eventually sighed a heavy sigh and collected our group to go out for food and eventually back to Matt's place. BTW, Matt, Jason's blue camoflauge hat is probably still on your rocking chair.... :) We initiated some fruspace on Matt's living room floor, and were the three most snoringest people that Rob had ever heard. The trip had worn us out -- none of us lasted long after lying down.
From Aleigh:
After finding out about this concert on Christmas day, I had been thinking about almost nothing else! (Hey, college apps are in and I'm just cruising now…) :-) This was to be my first Früvous show, and I was very excited.
I bought tickets a couple of weeks ago for me and one of my friends (who was coming because I was making her, she'd never heard them before), but found out the day of the concert that two other people wanted to come as well…neither of them had heard Früvous either! So it was a good sign :-)
We took the metro from my house in Arlington to the club…the metro stop is about 2 or 3 blocks from the club…I had walked it before many times, no problems. But this time, this scary guy starts following my group as we walked out of the metro! He walked up to us and said "I'm not going to hurt you" gruffly (I'm thinking…yeah right…get as far away from this guy as possible!), and then started lecturing my friend Andy that he can't let us (the three girls) push him around, and then he walked up to us and demanded we give him some change. We complied…and then he followed us all the way to the club, and eventually disappeared after asking a few other people in line for some change. I think I'll be getting a car ride to the 9:30 from now on, thank you.
We got there a little before 8, doors weren't until 9. We stood in line for a while, met some very nice NG früheads (one bearing cookies!), and had a jolly old time. When doors finally opened, we went to stake out a nice floor spot, but as my friend Adrienne had a headache, we decided to go for the aerial view from the balcony (which was better than the floor would have been, at least in my opinion…I was right at the edge, stage Dave, and had an amazing view of the guys with no 6 foot tall person standing in front of me, as there almost always is at the 9:30).
Jess Klein came on at 10:15 or so. She was dressed all in black, her hair was cut short and was wavy, and she carried a guitar. She had been described to me while waiting in line as kind of "Indigo Girls, or Jewel-like"…that's a pretty accurate description. The people in the very front of the floor seemed to adore her, but most of the other people in the club talked right through her set. She was all right…not my cup of tea, but nice.
By the time Jess Klein had exited, the club was getting pretty full! Now, this club is not small…it holds about 1200 people! Where on earth did all these Früheads come from?? They get no radio airplay here at all, the only written thing I saw about them was in the smallest font possible in the ad that lists all the acts in the 9:30 club in the Washington Post…I was just amazed! It was wonderful!
On with the show!! (using kate's setlist)

Sahara-long into as various members of the band walked onstage at different
times
Laika
Video Bargainville - got a great reaction from crowd…we had to shout out "one
price for two!" twice because Jian was just not satisfied with the first one! 
:-)
Horseshoes
You Will Go to the Moon-
Sad Girl -
Splatter Splatter - The vocals were a little unclear on this one, but what I
heard was clever!
Get In the Car
I Love My Boss
Minnie the Moocher- grampa fruvous came out, and the guys put on bowler caps…a
few D.C. related lines "You know, this city was built on a swamp"…fun for all!
Too Careful ("New")
Michigan Militia
Johnny Saucep'n
Fly- This was one I really wanted to hear.  I was expecting more of a reaction
from the crowd than it got, but _I_ loved it.
Independence Day ("New")
Spiderman - with instruments
King of Spain - one guy had been yelling out for this before, and the guys
threatened to turn on (and off) the "hoses they had strategically placed around
the club"…outroed to -
Green Eggs & Ham - short version
Psycho Killer

1st Encore: Dancing Queen medley - entire crowd was singing along and jumping
up and down
2nd Encore: Drinking Song

Some banter about "Rock Superstars" and how the Frü-guys were all from different supergroups that joined together.
Some Mel Gibson thing that led to a song compilation thing where they were going to mention a few Gibson movies, but only came out with singing "give me back my son!" over and over…and said that when they saw the movie in the theater, everyone cheered when that line was spoken
Someone in the crowd gave Murray Smarties (the canadian kind) and he said "I'm in the US and you're giving me Smarties? Is this in case I feel homesick? I'm going home Sunday, you know!" and he gave some to Mike, and then handed them (not threw-handed) to some audience members)
It was wonderful. There was one lady near me in the balcony who looked like she was having a wonderful time dancing, and I was pretty much the only other one dancing that I could see on that side of the balcony, so I didn't feel all alone :-)
The crowd was wonderful! No moshing like at TMBG! They didn't come just to hear one song! (Well, with the exception of the "King of Spain" guy)
I had told my friends! I had told them! I said "You'll thank me for this! You'll love them! You will say, 'Aleigh, you are amazing! How did you ever find this wonderful band?'" Well, two of my friends are wet blankets (well, one had a headache), but the other one, it was her first concert ever and she had an amazing time!! She fell in love with Jian and Murray and just had a ball. And she did tell me "I love you! You are amazing! I love this band! You must make tapes for me!" mwahahaha…my second convert…this is getting fun!
From Kate Leahy:
hey everyone. i figured i'd take my sweet time writing my first review(s), so here it is, long thought out :).
after a late arrival at loyola by my sister, i (along with fellow loyola früheads linda and claire) commandeered her beloved shit plant (i.e., 1985 brown honda accord), pumped my own gas for the first time ever (i'm from new jersey—cut me a break), and put in a quart of oil-—and we were on our way. after an interesting trip through baltimore (thanks for the directions, doug!), we motored down the baltimore-washington expressway toward the fair capital city. the 9:30's directions aren't the best, though-—it was completely by chance that the rt. 50 exit we took happened to be new york avenue. with the capital building in view, we proceeded toward the club, parked the car in a free, unmonitored lot, and ran to howard university hospital to use the bathroom (suspiciously familiar—-previous to my last früshow [1/1], i had gone to visit my friend christie's sister in the hospital; leslie [the patient] was supposed to come with us to the show, but [five-months pregnant, mind you] had gotten hit by a drunk driver and cut out of her car. she and the baby are both fine). we got in line at about 8:20, behind a large group of obviously stoned young adults who talked loudly about the fact that the only song they wanted to hear was "michigan militia," at which point someone yelled that you could hear the soundcheck through the back door, and that the band was indeed playing "michy." they got really excited at that point, and began creating their own lyrics for the song, at which time i decided it was a good idea to go get my tickets out of will-call and converse with lisa, wendy, and other assorted ammfers who were standing a bit ahead of me in line. BTW-—i actually did speak to michael of "barney" fame in middle eastern affairs today. he looked a little embarassed :).
okay, so the doors opened a bit after that, and i sent claire, linda, and beth to my usual outpost, slightly left of center (not just a political stance anymore :)!!!) and headed to coat check. after a while, jess klein came out.
i adored her; kind of a cross between ani difranco and jewel—-but in a way far better than the way in which jewel is like jewel. anyway, i would have appreciated her set significantly more if the entire crowd (including many people directly in front of the stage), had been a little more respectful to her. hey, i was there to see früvous too—-but i came away with a newfound musical like, and i think that many others would have as well--but what can you do.
anyway, after another wait, the boys got their introduction, and murray and jian wandered out on stage. my sister (beth, a former früvirgin), asked if there weren't supposed to be four of them. i responded that i had always thought so; but jian settled into that familiar syncopated dumbek rhythm, and i knew i was in for . . .
sahara (extended version)
the first time i've heard it live. wow. i've always loved this one, but it 's my sister's favorite (aside, of course, from "king of spain.") i was really glad she got to hear it in full effect :).
laika
where did this come from?!?!?! rockin'. great to finally hear it live after the mean tease on my MIT tape.
video bargainville
another "first-time live" for me. when jian made us do it twice, my sister got a little worried. we were fairly close to the stage, and i had told her on the way about the mocking out i got from jian at my first show, when he heard something that i said to the person standing next to me. she has a really loud voice, and was afraid she had been saying the wrong thing. not to worry-—we met ji's standards on the second try, and all was well. it's not hard to tell that these guys take an interest in musical theater—-they have incredible expression when they sing. jian's faces during this song case in point.
horseshoes
i like this song more every time i hear it. the seamless trade offs on lead is yet another incredible testament to the guys' vocal talents. thanks to jian, the second "look straight" was all ours, and those in my vicinity were wonderfully on key.
YWGTTM
they've now done this at every show i've seen, and i have yet to get sick of it. nice segue by dave concerning the manner in which humans are consuming valuable resources like supergroups. jian and mike were again an agile horn section (vocally and physically). more testament here to the musical theater tendencies—-i can't get over the coordinated hand gestures ("and when the tourists come in droves") and powerful closing notes.
sad girl
i didn't like this song the first two times i heard it, but it's growing on me. i still don't think it's really lyrically as strong as some of the lads ' other new stuff, but i'm getting into it.
splatter, splatter
as someone whose father has an ever-growing collection of steven segal films, i appreciate this song a great deal (wow—-i've just been appreciating mike left and right lately :). it's got a catchy beat and mike's voice quality is perfect.
get in the car
the one beth calls the volkswagen song. i can't help but agree-—it's so perfect for a beetle commercial :). this is one of my favorites, so beatles, so fun. one of the better versions i've heard, probably the best having been the one at the gazebo in king of prussia last summer.
i love my boss
well, i'll take anything a cappella, and i hadn't heard this one live yet, so it was a treat. jian's dance moves got a better response in philly, but were just as good here. the bill gates references were a welcome addition.
minnie the moocher
i know when the hats come out i'm getting one of two things, and i was hoping it would be "boo time," as i've heard minnie quite a few times before—but no complaints. the clinton bits were especially poignant, as was mike's NAFTA reference, and especially the superbowl comments. give me a hockey game any day.
too careful
this reminds me of another band whose name isn't coming now because my stereo is pumping out peter gabriel's "games without frontiers," which will kill any thought patterns. i like it, but i need more time to get to know it :).
michy
tons of fun. glad the dudes in front of us got what they wanted.
johnny saucep'n
that makes it a straight run—-i've heard this one at every show i've been to. always fun, and i'm glad that i'm not alone in not having the lung capacity for it-—even jian has to take a breath every now and then :).
fly
one of my favorites. jian wasn't as into it as i've seen him be previously (and would consequently see him the next night), but moving nonetheless.
independence day
this song reminds me of the same band that too careful does. goddamn you peter gabriel!!! i adore this, however-—and i let murray know so after the show.
spidey (lounge version)
great twist. i've never heard this one a cappella, though, but hope to get the full effect this summer at a folk festival, complete with mike in the audience :).
king of spain
even the people who didn't open their mouths or adjust their stance all night went nuts at this one. it's becoming their "if i had a million dollars"—-but in a good way, since it doesn't cause mass arguments and injuries . . . usually.
green eggs and ham (short version)
i hadn't heard this since baltimore in november (not counting the abridged version on 1/1), so it made me happy. beth was impressed with jian's statement about dave looking like the lead singer of the new radicals, as she had been under the impression that she was the only one thinking that. great fun.
psycho killer
this one was amazing. i've never seen the guys get so involved in a song, with jian shoving the mic out of the way to go nuts, murray playing the bass like he'd never get to see it again, and dave and mike just kicking ass. fantastic.
encores:
dancing queen
three cheers from beth who knew all the words and was incredibly impressed with herself. that made up for her discomfort when she didn't know any of the words to . . .
drinking song
another first for me. i couldn't take my eyes off the guys, who looked so thoughtful. the song has always had special meaning to me; i've lost seven friends in drunk driving accidents (one this past new year's eve), and it was cathartic. thanks for that, guys :).
great moments in früvous banter:
the guys implored the people in the balcony to find some martyrs who would agree to be thrown over the rail as a demonstration of their appreciation of the music-—and die so that the band would get some press when the story hit the papers
one of the guys (jian?) commented on how beautiful the audience was, which murray followed by expressing how intimidating it was to play before a bunch of people who look like something out of "mad max beyond thunderdome." he and jian proceeded to play a tease from music apparently from the movie, and a very loud man in the back of the room yelled out a line from the film. jian mentioned that he was afraid that a lot of their audience was comprised of fans of german industrial metal bands who had seen the name moxy früvous and mistaken them for a daachen clone, and therefore felt obligated to play some metal, if not death metal, at every show. dave objected to jian's call for the man to come on stage and help out with that aspect of the performance (seeing as how he had, in jian's words, a "really good death metal voice"), saying that he could would have to come up with a far better quote-—perhaps something about mel gibson's private life, or about tina turner. this devolved quickly into a mel gibson movie quote fest, with the band singing "give me back my son!" and jian relating a story about his experience seeing "ransom" in a movie theater where he and the rest of the audience were generally apathetic toward the film until that line came up--at which time he and the rest of the audience cheered. the jam continued, and jian inserted "you can't handle the truth," the jack nicholson line from "a few good men;" he immediately realized his error and perverted it to "you can't handle my son." the jam ended thusly.
murray at one point noticed a box of canadian smarties by his monitor and postulated why someone had given him something from home when he was going to be there in two days anyway. jian called him ungrateful, and an "i'm ungrateful" jam followed, with murray eating some smarties, throwing others over his shoulder, and making amusing faces. jian suggested he throw them into the audience instead of over his shoulder, and murray said that he would hand them to us. i personally ended up with two, one of which i gave to beth and the other i split with linda. beth still hasn't thrown hers out; she says it's because "five people have touched it," but i think she's got other motivations :). he gave a few to mike too. murray then threw the box into the audience, and a mad scramble ensued on the floor in front of me. i think anna came up with it eventually.
the band started discussing the fact that they were a supergroup at home; actually, it ended up that each member was part of a different supergroup at home (with murray being the drummer for TodddddddD). this led to aforementioned YWGTTM segue.
the wonderful 9:30 club graciously allowed us to stand around afterward and talk to murray and jian; as i was facing a rather long drive back to school, i played groupie and joined the throng pushing toward jian rather than standing back and waiting for the masses to disperse. i commented that i noticed he had gotten a haircut in the previous month, because that night was the first time i'd ever seen his hair longer than mine. he laughed, signed my poster, and thanked me for my support, saying that he looked forward to seeing me the next night. i then wandered like a dumb sheep until claire gave me a shove toward the corridor leading backstage where murray had set up shop. i did the groupie thing again as did lisa (with a similar trek weighing on her mind, i believe :). while talking with murray about how much i loved "independence day" and how excited i was for the new album, he started signing my poster, writing "dear kate" before even asking my name. this freaked me out a little—-until i noticed that jian had included my name in his signature as well. i laughed, and murray said that i looked like a kate. on the way past the van, beth yelled out a goodbye to cal, with whom she had become relatively infatuated that evening.
thankfully, my car was still in the lot when i got back to it, and the gates were open, allowing me to take it home without many problems, except of course the oil leak. we had to put another quart in it before getting out of the city.
that was ass long. i'll try to be more brief in my troc review :).
From Chad Maloney:
The 9:30 Club is nestled in the middle of downtown Washington DC in not one the best neighborhoods, but I braved parking my car on the street and it all turned out fine. The Club itself is a really nice place. Large and spacious, the stage was one of the largest I've seen them on. It was a real rock club. Lighting, sound, the whole nine yards (~3 metres).
When you walk in, you have to choose between the balcony and the lower floor. We walked out into the lower floor and it was huge. We weren't too far back in line, but most of the people ahead of us were upstairs sitting or up near the stage. Even with the probably hundred people in the place, it seemed spacious and I couldn't imagine having been in the middle of the lower floor watching the show, packed with people around me.
We went up to the balcony after checking out the front of the stage. Yes, the polish keyboard is still working. Genuine polish craftmanship I guess, though their reputation doesn't precede them. The Balcony had a bar (there were 3 bars in total, one on each side of the lower floor and one in the back of the upper balcony) plus a little coffee/cigarette guy in a booth and a coat check. The balcony made a U, so you could be closer to the stage along the walls. Plus there were movie theatre style seats in the middle with a small (maybe 4 feet) walkway in front of it.
We ended up standing in the middle of the walkway on the front of the balcony right above the soundboard. It was an incredible place to see a show. We had a wonderful view of the full stage and all instruments on it and could see the entire crowd on the floor as well. Boy, was it ever great to see the place packed solid for Moxy Fruvous.
Jess Klein opened. The place kinda ate her up. She played well and pockets of the crowd payed attention. She interacted some of the people in front of her. Hopefully in the 1200 people there she made a couple fans. But she looked so small, one woman and her guitar, in the middle of the huge place.
Finally, Fruvous. The dumbek was setup and a stool was placed, so grins started to form as various asundry Fruheads starting getting the picture of what was gonna take place. The lights dimmed, and announcer announced, and the droning keyboard started up extended Sahara.
EXTENDED SAHARA
Boy, was this hot! The lighting, the screaming fans, the wall of sound. This was a real concert. This wasn't a little folk show where the electric instruments sounded out of place. This was a rock show where things screamed and shouted. Extended Sahara rang on and you could tell the guys were into this (Bargainville time flashbacks?). They were grinning and moving to the music jamming along not getting too sloppy wild, but letting themselves go enough to bring a musical presence to fill the room. They didn't waste time doing anything and the timings were pretty much on the whole night. Sahara went from just Murray and Jian then added Dave and Mike rather quickly, but didn't leave things under developed. Very nice. Murray was adding some crisp bass fills and Dave's electric was adding a lot of body helping to fill out the song.
LAIKA
Extended Sahara led straight into Laika. Laike drove straight on with Murray adding a little buh-bowa-bowa-bow-bow at places. The bass really helped fill this one out a lot. Mur was playing around a little and was doing well/getting lucky and it paid off. The show had started really aggressively and the crowd was really into the music ingeneral straight off. Good song placement.
VIDEO BARGAINVILLE
Murray was really enjoying the beginning of this one playing with his pick and picking at notes and sliding them around, sometimes strumming. The beginning slowed things down a bit, but not really. Things were kept up pace. The crowd did well singing the first "2" but Jian asked for another and this one filled the place up and got the crowd proud of themselves for screaming so well. Normally, I kinda zone through Video Bargainville, but with a combination of set list placement and general energy it kept my attention. Jian losts the lyrics a bit in the 'behind the excersize video rack' and just started mumbling in rhythm for a bit and brought it back in for 'Disco double pack'. Murray got the headbanging in during the bridge and really drove the bass line coming out of the bridge.
After the song, Murray and Jian both said "Thank you, thank you very much" at the same time. Then Murray quipped on how it was really weird to play to a crowd that looks like the cast of Mad Max behind Thunderdome. Some guy in the audience yells out "Four will enter. None will leave" which pleases Jian who liked his metal voice. It was pointed out that some people see Moxy Fruvous and the umlaut and think it a metal band like Dokken so they have to toss in a little metal each night to make them happy. Jian wants the guy to come up on stage (not realizing the guy was in the back of balcony *Grin*) and Dave calls him on. Dave didn't think some guy screaming out some line from the movie was worth inviting him on stage. Murray asked him what you would have to scream out to get on stage and Dave said maybe some dirt on Tina Turner's private life. Murray thought that that was a very People Magazine approach to things. Jian just liked the some dirt on Tina Turner thing.
This turned into a Mel Gibson jam which Mike started by screaming out Give Me Back My Son! to Jian's drum beat. They each joined in, while they through of other Mel Gibson lines. Jian was the first to try his new one, "You can't handle...". At about that point he realizes that was Nicholson and drops it and goes back into "Give me back my son". Murray takes it and runs with "You can't handle my son". Dave draws them off into Tequila Sunrise (son-rise ;) which Murray takes into American Woman. Jian brings it back around to "Give me back my son" then stops it so he could talk about the movie Ransom from which that line is from.
He said he and all his friends were seeing that movie and hated it until Gibson up and roared "Give me back my son!" to which they all stood up and roared, which Jian did very visually, tosses his arms over his head and exposing his belly button much to the delight of the audience (who weren't, despite what anyone else may thing, at all cheering for the line from the movie or Mel Gibson at all).
Now, they'd been talking for like 5 minutes at this point. In about 75% of the shows they do, the do this. They break after the 3rd song to screw around. And in about 50% of those, it ruins all timing in the show and they gotta start over. Not tonight! No! They kept all the talking upbeat and kept the pace up and actually gained momemtum in the banter! Whoa! How cool is that?
Jian instantly, without letting things drop, started up Horseshoes. This was almost perfect. One of the best 3 + banter's I've seen them do. Sharing the stage, each one was on in their own way and together it really took stuff.
HORSESHOES
Normally the polish keyboard slows Horseshoes down so they could really put feeling in it. I like the slowed down version a lot because it develops differently. But this time, they kept it upbeat, but still had the feel that polish keyboard gives them. I guess what I mean is normally I'm going along at a fast pace at this point in the show and then, assuming my vibe was doing eighth notes, Horseshoes would hit in at half notes and it would string me out a bit, you know? More than likely you don't know and I'm just looking like a fool, but these are the things I think in terms of when I'm listening to a show that I really like and am trying to figure out why I love it so much. Anyways, this time, Horseshoes wasn't at half notes. It was more quarter notes which didn't slow me down too much. And the crowd sang "Look Straight at the Coming Disaster" reasonably well.
After the song, Jian asks the people in the balcony how they are doing and points out that there are other ways to show you like what's going on than just clapping. If you want to, after one of the more upbeat songs, he said the balcony should just throw someone off. "We love that song." "Awwwwwwwghgngh". But it was pointed out that the person thrown off would have to be thrown off willingly. All it takes is one martyr. Then the press coverage would take off. Jian pointed out that it worked for the Who. (Cue one of my favorite lines the whole night) Murray: "Who were they, pardon the pun, who were they before Cincinatti?" Jian: "They were a huge supergroup actually before Cincinatti"
This led into a talk of huge supergroups which Dave starts fitting to some song I didn't recognize. The others join in singing about filling the whole world with huge supergroups. Mike starts putting names of supergroups like Asia and Yes and Genesis into song and it drops into another song they sing for awhile that they end up teasing Mike about not knowing "his" part for.
YOU WILL GO TO THE MOON
Dave takes this really well into an intro to moon and how we are using all the resources up on the earth, like supergroups. And Dave, often being very paranoid, wondered where he would go when he had used a lot of stuff of and everyone was chasing him. Generally okay Moon version. Seemed lower than normal by maybe a step? Dunno. They did take their note off the bass though. I guess no one has bought Murray a new pitch pipe yet.
After the song, Jian starts pandering to the audience and admitting it. He more or less seemed amazed that there were this many people being here seeing a Canadian band that doesn't get lots of exposure down here. Murray thanked us because it makes them feel good because at home, they are all in different supergroups. Murray is from a band called ToddddddD with 7 albums. Dave is from an inuit band called Nuck-ti-tuck-tuck. Jian is from the Alanis band back when she was a dance queen. And Mike is from the Incredible Kick-up-a-fuss Rhythm, Commerce, and Maple Syrup Collective which is, you guessed it, government sponsored.
This all broke down into an attempted intro to Sad Girl which failed miserably (well, a funny sort of miserably). The pace had kinda broken down by now but it was still a good show. But the first 4 songs were incredible. Anyways, Mike brought the intro to Sad Girl to a complete halt with some pops on the bass. Murray picked it up instantly and using every ounce of his drumming prowess started hammering sixteenth notes on the hi-hat. Nothing else, just the hi-hat *grin* He points out that he was the drummer in ToddddddD. Jian then kicked them into 16/9 time which pretty much ground that whole thing to a complete halt. Murray said the ToddddddD fans would love that one.
SAD GIRL
Good Sad Girl. Mike is getting stronger on the bass part and keeping it smooth and doing a bit more with it and Murray is looking a little more comfortable on the drums. Jian's voice is really doing well sticking to the song too making the whole thing seem a lot stronger. It still isn't as good as a "real" song where they actually play their instruments, but it's much better than the first time.
Near the end of the song, Murray noticed a box of Smarties on the stage. Jian asked if they were American Smarties or Canadian Smarties and Murray pleaded ignorance of the whole American Smarties thing (which in my ever so humble opinion suck). He was semi-happy he had the good ones, but wondered why he got them here when he could just pick some up for himself on Sunday, not that he wasn't happy to get them. Jian thought he sounded pretty ungrateful which led into Mike singing "He's a very ungrateful man. He's dressed up like a pumpkin to-night" (sidenote: Mike's shirt looked more Orange than Murray) This went into the Smarties song (so, do you eat the red ones last). All during the song, Murray would toss Smarties over his shoulder whenever he echoed the "I'm a very ungrateful", but then he changed to eating one or two when he rhymed 'man' with "I'm eating what I can".
Mike took the candy road into movies into...
SPLATTER SPLATTER
This is one of my favorite new songs. Good driving tunes and sounds different. Semi-eerie at time and good movement throughout the song. I think it's kinda about cookie-cutter horror movies. Mike describes different contrived scenes in a horror movie leading into the chorus "This is the best I've ever seen. I wanna see it again and again and again". Polish keyboard pounding adds a lot to the song too. Mike's voice goes really well too.
Mike moves right along to another movie where people drive Lambourghini's like the movie Splatter Splatter and are embarrassed at parties. Someone from the audience guesses Rain Man which entertains Mike a lot. He laughs at the people in the audience trying to guess what he's talking about while Dave does Dustin Hoffman impersonations behind him. Mike brings it back to the parties and complaining about people getting pissed and running out onto the lawn and yelling...
GET IN THE CAR
Kinda out of place. Didn't seem as upbeat as usual for some reason. I think I'm sold on this song as an end-of-the-set-driving-toward-the-finish song (did I use those hyphens right?) and not meat for the middle. Anyway, it wasn't bad or anything, just a little misplaced.
This went immediately into...
I LOVE MY BOSS
Good crowd pleaser, but kinda got lost in the large place. Musically pretty on though. Who knows what Bill Gates will be bringing from dear old boss (Bill Gates).
Right at the end, Murray starts into a slow bass line and everyone shrieks at Grandpa Fruvous. Granpda reminisced about driving around the beltway squashing cats the size of the rats with some old guys and some actor. He then griped about CNN and how everyone just sits around the house and doesn't know the value of good sing along. Grandpa then asks politely if everyone wanted to do a singalong and after the crowd roared their approval, he tossed in "Eh, whatever" and kicked into...
MINNIE THE MOOCHER
Mikey did a great job with lyrics tonight. He played into the hand of the nations capitol really. The first was a comparison of Minnie's heart and Peter Bondra, probably the best player on Washington's Hockey Team, the Capitols. The next verse talked about Washington being built on a swamp, but Mike didn't write the last two lines of the verse, so he took a sip of his Mexican Beer. He then tossed in Nafta while holding up the beer before the Gotham City Dream Sequence (George Clooney and Val Kilmer not included). The next verse talked about people scared about that Y2K bug and others who just give it a shrug. Others who are scared of the millenium derby and some that just go home and jerk off to their Furby. Jian really hammed up the Energizer thing and came out for a bow after it much to the delight of the crowd. Mike's next verse had to do with the Superbowl and how Canadians didn't understand it. The game sent TV rating soaring but could the game be any more f**king boring. Last verse was the Lesbian hooker verse about Clinton. All in all a very good Minnie. Mike got really into it. He brought it out with Impeach Hyde! And all those other f**king dead white guys! Take it home boys! Take it right home!
After the audience response sutff, the crowd was really riled up. They started yelling out songs and stuff. Dave's response was that they weren't going to play Lighter Shade of Grey (or something like that) until the encore. Jian chipped in, hinting that they might play Freebird now. Then he started comparing the show at this point to a union workers meeting. To this, Mike started rambling off in the character of a lathe worker from sector 37B and wanted to know what this meant for the little guy.
This led into a short improv about joining the Canadian Communist party which led straight into...
YOU CAN'T BE TOO CAREFUL
Liking this one more and more. To me, this is probably the song that benefitted most of the rehearsal break between the New Years shows and Windsor. The guitar work is really good and it has lotsa nice texture through out the song with a couple change ups thrown in. This is one of the new songs where I can ignore the words and really enjoy the music or I can listen to the words and not be disappointed either. Splatter Splatter musically is like that as well for me.
The crowd is still yelling things at this point, so Murray threatens them with the fire hoses they had set up. Jian said that they'd turn the hoses off if they kept acting up. This more or less a cover for the banjo getting into the mix, so everyone cheered, so Dave did a tune on the banjo.
"Well the same old news in Washington. They can't leave it alone. It's the biggest rock, The president got blown"
Gotta love the banjo. Dave, talking about string cheese from Wisconsin, then jaunted next door to Mich-igan (pronounced Mitch-igan)...
MICHIGAN MILITIA
The unruly crowd went right along with this one. Bass was a little low in the mix (but maybe I'm a bit biased on that one *grin*) but all in all a good version. Not too fast and the crowd enjoyed it.
Right after Militia, Jian introduces the Pro-food movement and their pro-food mascot. Murray encouraged people to, even if it is Smarties. Jian teased him about eating them now where he was ungrateful before and Murray started tossing them over his shoulder again. Jian said that Murray had audacity to do that and Mike broke off into a verse: "He's captain audacity. He's wearing an orange short. He's captain audacity. Giving me some Smarties wouldn't f**king hurt". Jian wanted Mur to throw the Smarties out into the crowd but Murray said no, he was gonna *hand* them out instead. Jian pleaded the case of the people in the back, the poor people while Dave told a joke about how to get 4 Canadians out of a pool (Please get out of the pool). Jian steals a couple Smarties and heaves them out into the audience before Dave gets back on track with the Saucep'n intro.
JOHNNY SAUCEP'N
It was Johnny Saucep'n. It was like a minute long. People liked it.
After Saucep'n, Jian apologized for the length of the show and Dave broke out into a song. Jian called Dave a tease and launched off into some story. During the first sentence of the story, Jian couldn't remember someone's name, so he asks Murray who Johnny Davies's girlfriend was in like 9th Grade. He tries sounding it out. Asks Mike if he knows by relating it to Patty Davies, Johnny Davies older sister. Finally Murray comes up with Camela Ross and Jian asks if he remembers her. He then calls her a tease and compares Dave to Camela Ross. Mike goes off into a senate hearing style "Does the senator remember Camela Ross? Ich bin ein Camela Ross" which Jian takes off into "Ich bin ein Springfielder" and Mike goes into the "I'm sorry Springdon, there will be no encore". That's 3 Simpson's reference for the night ;)
FLY
Dave, with a little get on with hinting, starts playing the Fly guitar intro in the background and Jian gets back on track. I won't complain any more about Fly being misplaced in Set Lists. You know I do it, so imagine it here. The version of the song was actually pretty good and the crowd didn't get too restless during it. Straight into...
INDEPENDENCE DAY
Still loving this song. Not as long as Fly. I don't know of a lot songs that don't really have any action in them really. If I could paint, I'd like to paint a one picture scene that is this song and the song would be describing it (with children flying away of course). I could also see a great video for this one in my head. This is probably my favorite of the new songs. Great use of chordings, imagery, polish keyboard, bass, guitar, and drums all together. Maybe a better ending (another verse before the chorus leads out?) and some more bass noodling up high would improve it, but it's definitely a keeper to me. Straight into...
SPIDERMAN (LOUNGE VERSION)
Jockey started up again. Murray was playing around up high in the beginning again. I still like this song flow wise from Independence Day. It doesn't immediately jump back up into high-speed. Good polish keyboarding in the song as well. Ending was kinda funny. Jian dragged it well after Murray thought it was gonna end so Murray had to draw out his ending to coincide with everyone elses.
After Spiderman, Jian talked about the respect he had for all the crowd for their predescessors becoming a Republic, the republic of the USA, the RUSA. He introduced the member of Moxy Fruvous inc. as very anti-monarchy and they join with the Austrailians (who it seems have been going through some referendum for over a year to overthrow the monarchy) in wanting to displace the monarchy in their home. And now, the sexiest ex-King ever... Mike Ford. Mike then introed a guy who was wearing a patch with Orrin Hatch and whose cutlet was purloined with Strom Thurmond, the King of Spain.
KING OF SPAIN/GREEN EGGS & HAM
The King was a big fan of Jewel's shit poetry, but only because he had trouble sleeping. Mike pointed out that he's knowm internationally as "That badass King". Murray was so entertained with Jian's "King, why are you such an asshole?" that he laughed through his entry for what the people say. Mike said "Fruvousgate!". The Caps did call the King up to drive the zamboni.
This led straight into the short version of Green Eggs and Ham which the crowd very much enjoyed. The crowd screamed at Mr. Cheese for not liking the Beatles, fueling one of the best "Hey Not the Beatles" sections I've heard in a while. Jian accused Mr. Cheese of ruining the show. Ever since he got into the "I look like the lead singer of the New Radicals" thing, he'd really changed. And not in a good way. Jian felt that he wanted the old... at this point he stared at Dave and thought. He knew not to call him Dave. No, not the King of Spain. Finally he came out with Mr. Cheese. He just wanted the old Mr. Cheese back, you know? What happened to the Beatles-loving fun, Norwegian Wood sort of guy we used to know and love? Mike: This bird has flown. Norwegian Wood [this bird has flown [Good Guy] ]. Jian came back in asking where that Mr. Cheese went and Murray wondered if he could just click his heels (click click) and he'd come back. Mike appealled to the sensible side of Mr. Cheese, remembering the good times and how precious he was and the dance the old Mr. Cheese taught, the old Norwegian Wood [this bird has flown [good guy]], which consisted of writhing on the floor to a hot dance beat that Mr. Cheese joined in on. At this point, Mike rejoiced at the return of the old Mr. Cheese, but Jian called him on it saying don't be fooled. Murray pointed out it's not that easy and Jian kicked the song back in with "You don't like green eggs and ham?".
After the end of the song, Dave picked up the accordion, looked over at Jian as Murray was playing the Psycho Killer lead for the last song, and Dave took off the accordion and got the electric. I'd guess we skipped BJ or Darlington Darling. Jian plugged grassroots over the top of the beat and thanked the crowd, the club, and the record label VelVel/Bottom Line.
PSYCHO KILLER
Nice rocking ending. Dave was playing harmonics before the beginning which was pretty neat and he crunched chords on the first of the two Fa fa fa's on each verse which was great. It was the right place to end with a rocking song like this. They got back to filling the room again after the less instrumented pieces and Dave really got the electric working for him through the whole thing.
ENCORE 1:
Good crowd reaction. The place was loud with applause and screaming. That felt really good to be in the middle of. When the guys came back out, it got quiet again and some people started yelling requests again. Jian said it's a very special night and introduced a guest from New York City, former leader/singer for the Velvet Underground, the poet of New York City, ladies and gentlement.. Lou! It was pretty funny. Instead of being on stage with his back to the audience, Lou entered from off stage. That threw Jian off a lot, but Lou walked on when called for to screams of LOU from the audience.
Dave invited Lou to say something, and he brought on some poetry about the mods and the rockers and about some ass outside the Smithsonian who sold him blublockers. Dave said Lou still had the poetry, and Lou retorted with "Not that you need to tell me that". He then called them to do this thing that they do. Someone from the crowd yelled for Freebird and Lou came back with "You don't know Skynyrd like I know Skynyrd. They were my boys". Murray then picked up the bassline to...
DANCING QUEEN MEDLEY
This went over really well. A lot of the non-dancers in the back of the floor were getting into it. A couple of the people by the bar that had been talking all night grinned big and got into it as well. Another good set list choice for the place. The audience really picked up the clapping at the end.
Encore 2:
The crowd stayed in it for this as well. A couple shows the second encore has been painful to get, but here it was no problem at all. The crowd roared and screamed Fruvous and clapped and banged, screamed Moxy Moxy Moxy and clapped more the whole time. The band came back out to another loud roar when they realized all the work was being rewarded with a second encore.
Jian thanked the crowd for keeping with them, even though they have lotsa things to do, since this is the heartbeat of the nation. This and Flint Michigan. Jian thanked everyone for coming and Dave tossed in afterwards "Yeah, thanks so much. We came too" (the other really great line of the night). After a couple Pittsburgh cracks and a short intro, they closed with...
THE DRINKING SONG
Lotsa people arm in arm and good singing levels in the place. We had the whole front of the lower balcony swaying arm in arm and the floor looked like it was pretty lined up as well.
This was a great show. Really, this was the first Fruvous show that looked and felt like a rock show with professional everything for me. It felt good to enjoy a show with 1200 other people and I think the guys performance lived up to what those 1200 people wanted. The first 4 songs were possibly one of the best set of 4 I've seen and they controlled themselves, saving up great banter to all use at once and just got down and played the music well when they had to. The feel of the show was exciting and I came out of it excited for them and where things are going. All in all great stuff, ladies and gentlemen!
From 'Volume' (9:30 Club advert):
Moxy Fruvous began in 1990 as a busking (street performing) band in Toronto. In the early days, they performed almost entirely a cappella and developed their knack for four-part harmony as well as a street-level guerrilla theatricality and audience rapport that remain a part of their live show today. Moxy Fruvous have since made genre-hopping their calling card, from soca a cappella songs to Middle Eastern-inflected epics to three-minute pop gems. Moxy Fruvous' lyrics are as challenging and diverse as their music, from humorous to heartfelt, from whimsical to political -- all infused with a sense of sly intellectual fun. This eclectic package is sewn together by a few common threads that run throughout their music, such as diverse musical instrumentation featuring banjo, accordian, melodeon, harmonica, and strings, usually on top of a solid bass/drums/acoustic guitar combo. Get ready for their raucous and unpredictable live show!


---
The Pictures
Click the description to get the pic:
Thanks to Anna for this one:
---
The Music
Opened with
Sahara (extended version)
The Set
Laika
Video Bargainville
Horseshoes
You Will Go to the Moon
Sad Girl
Splatter Splatter
Get in the Car
I Love My Boss
Minnie the Moocher
You Can't Be Too Careful
Michigan Militia
Johnny Saucep'n
Fly
Independence Day
Spiderman (lounge version w/ instruments)
King of Spain
Green Eggs & Ham (short version)
Closed with
Encore 1
Encore 2
---
Misc. Info
Some other tidbits from the performance include:
Feel free to help contribute to this section!
---

Back to the tour dates 1999 page