2/20/99
Toronto, ON
2nd Annual Frühead Convention
Reviewed by: Chris, Bridget, Cameron, Phil, Irene, Trace & Lori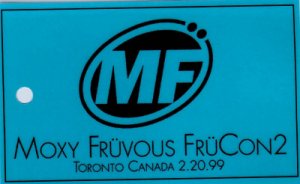 ---
The Details
Click here for the IRC log from frucon2 (thanks Jenn!)
Short review...
Saturday morning...had to get up early so we could get ready for Frucon!! Woohoo!
Woke up around 7:30, had breakfast with Zard and Rodney. Mary and I needed to get our tickets for Sunday night's show, so we ran to Sunrise records on Yonge Street at ten, while talking about the guests for the con so I could prepare things to say during my MC duties (not Marie-Claude, but Master of Ceremonies :-)
Got back to the Ramada by 10:30, in time for crazy preparations going on everywhere, and the first guests starting to arrive.
As far as the con goes, I won't gab too much...I'll leave that for others. Needless to say, things went well...everyone seemed to have a good time. The raffle was a success and in the end about 250 people showed up. Things ended pretty much by five on the dot, and by 6:30 we had cleaned up the room, and everyone had left.
Between the con and the show that night, Vika and I hit an EXCELLENT Italian restaurant on Bloor Street called 'Serra'. it's about 3 blocks east of Lee's on the North side of Bloor. Definitely check it out!
From Bridget:
Frücon day!!! The 'con was a blast. I thought it was very well organized, the planning committee did a great job. My favorite part was being able to watch some of the video footage. Truth be told, I could have sat in front of the TV all day, but had to pry myself away from that room and force myself to be sociable. My only complaint was that I didn't win any of the raffle prizes *grin*. So, if we could change that next year, it would be much appreciated!! The turnout was great, the count I heard was somewhere in the neighborhood of 290 people. I guess we'll be looking at reserving a bigger place next year, eh? It was just a lot of fun meeting some of the people who post on the ng. I now have a lot of faces to put to the names... Probably the highlight of the day was watching the kids do "Boss" for the lads (the 2 boys who dressed as Budgie dogs in NoHo). I have never laughed so hard in my life!! They absolutely nailed it... bumps, grinds, and all... So anyway on to the review...
From Cameron:
get up at 10:00 and have an un-eventful trip to the Ramada, and say hi to the few people that I know that were there. Then I went in, sat down, and started reading through the propaganda.... whoops, paraphenalia :).... well... the pamphlet's :). Planning on what to do, then I went around to look at all the different stuff, decided to leave off trying to solve the questions for the crossword for a little late, it was early, and my brain was numb :). Checked out the fanart table, some amazingly kickass stuff, went to by the first 10$ worth of tickets for the day. Then I gravitated towards the IRC connection, which was just being connected up. That reminds me... That screensaver with the FruCon 2 logo, any chance of that becoming available on FDC, cause I want it :). Then I went to the Crossword puzzle, and I actually thought I had one, "On which cd did fruvous play along with the Rheostatics," since I noticed it on the Raffle table, I was sure that it was NOMEGA, makes sense right? Of course I manage to be wrong :). After I while of trying to guess some, and actually getting some right, I go over to find out where my puzzle piece goes (for those who didn't know, there were 4 jigsaw puzzles, one for each of the guys, and everyone got a piece when they got in. I got this nice day-glow yellow piece, so I check at the table asking a few people 'which one has a day-glow yellow shirt?' it turns out to be a boring backdrop, and I can't even remember who it was. After this I saw that the channel was set up and Jen was behind the computer, so I went to see who was online, pretty empty, just Arbie was on. I then went over to the sing-along, and... well... sang along. Repeat these things for a while and you have a general gist of what I did, include a small portion of staring down at 'the Cat' Pixel's car... Whoah... and the Science Video, I wish we had that in my Science class... :) Then there was the Q/A's, then the guys came on. A bunch of speeches, of which I can remember nothing except for Jian saying "Yes I do like the Dave Matthews Band." and something about his scent :). Then they started drawing for the raffles, my $30 of tickets got me nothing but a sympathy story, my $20 set of tickets went from 80-85... the winner from the dumbek, 86, but I'll survive. Other then that, I would say that is it for the FruCon review
(my note: My god, I never had any idea how long it was to write one of these things, and this is a fairly small one.... I'm shocked that people do this so often.)
From Phil:
I'll warn you now...this is an unorganized post and it's kinda lengthy...
I'm not going to do the song-by-song critique of the concert...I haven't been to enough concerts lately to compare individual performances of each song, and there are enough reviews out there already. I will say that the Saturday night performance ties with the CWRU show as my favorite. That show was the first time in a long LONG time I actually closed my eyes and truly felt the music flow right through me. It was an undescribable feeling. I was completely blown away also by Susan Werner. I've been a big fan of Phil Keaggy all my life (hell, I was named after the guy...my dad's good friends with him), and she's the first person I've seen to truly rival him in what she can do with that guitar. Granted, I have limited exposure, but I know good guitar playing when I see it.
Jian, Mike, Dave, and Murray...thank you for such a wonderful experience!
On to the rest of the weekend:
My favorite quote of the weekend:
"Well, if I'da known they were gonna be shootin' the shit, I'da filled the thing up!" -A rude Esso attendant who got a little pissy when Lynne decided she DID want gas after I was already done and we were about to leave.
My favorite moment of the weekend:
Laying on the bed on Saturday night in a room full of extremely intoxicated Fruheads with two very sweet female friends of mine, one of whom I had just met, the other of whom I shared the same joy last year. I love you both...really, you guys totally made my weekend!:)
But where was Caitlin.....? :)
My second favorite moment of the weekend:
The reaction I got from Jian when I handed him a copy of the GWS score. Thanks, man, for appreciating the work that went into that!:)
Biggest missed opportunity of weekend:
When Tobey stopped by our room Friday night and I had just fallen asleep. Next time, man! I'll have a bottle with your name on it!!
Best food of weekend:
Shepherd's Pie at JJMugg's. MMMMMMMMmmmmmmm........ Washes down well with a Gin & Tonic too:)
Biggest disappointment of weekend:
Not enough singalong action at the Con. But there was so much going on, it didn't really matter:)
Moment I'm most glad I missed:
Brad, Neil, and friends getting stuck in Ramada elevator for 30 minutes until the fire department came to rescue them.
I was afraid that this weekend would be disappointing in comparison to last year...that I would inescapably end up making a statement like "FruCon(X) was better than FruCon(X +/- 1)." But I realized by Sunday that they were two completely different experiences, both of which I can label as the best time I've ever had (second only to my wedding). To all of those who travelled with me, stayed in our rooms, ate with us, drank with us, enjoyed the concert with us, sang with us, or shared any other part of the weekend with us...thank you so very much for making it so enjoyable. You are all people of good character and I salute you.
From Irene Gaspar:
The Frucon started at 11am the next day. As I only managed to drag my carcass out of bed at 10:30, I failed to make it on time. I got there at 2pm.
By that time, the gathering was in full swing. There was a crowd of people watching videos of past performances, and there was a panel discussion going on in the other room. I meandered around, talked to people, added my puzzle piece to Mike's face, bought some raffle tickets.
The Frufour showed up for the raffle. There was no singing this time. At first I was disappointed, but I recovered quickly, for the raffle proved to be highly entertaining. It started with a Thank You speech from each of the guys. Mike and Dave gave rather serious speeches. Murray, on the other hand, started his by stepping forward and saying, "Hi, I'm Murray." Jian's speech was the longest (he had a few points to clear up); his speech was marked by the fact that throughout most of it he had at least one foot in his mouth. ;) All of the speeches were very sincere, and I liked them for that.
From Trace:
Yep, it certainly was a blast, and kudos to the committee! Here is what I remember from the con. Upon entering, con-goers received an awesome, keepsake ticket which was laminated and made to look like a "pass" that is hung around the neck. It was blue with the FruCon II logo and date on it. Three cheers for whoever came up with that idea. Con-attendees also recieved a bag full of goodies, which included a very nicely done program outlining the events, containing bios of the lads, an article about the band, and space set aside to write down the names and addresses of Fruheads met during the con. Great idea! Also in the bag was a questionaire, a raffle ticket and a puzzle piece (more on that in minute).
There were stations around the convention area with activites and/or displays. There was the raffle table, where items to raffled included a dumbek (to be signed and personalized to the winner by the band, congrats Kevin), indie tapes, indie cds, wood promos, posters, Tobey's jacket, and t-shirts among other goodies. A late entry to the raffle was Murray's old, non-functional pitch pipe. Yay! I bought 9 tickets myself, which brought my grand total to 10, including the one that came in the goodie bag. Other cool raffle items were puzzles, which brings me to the next station...
The Puzzle Tables. Pictures of each of the lads were blown up and turned into puzzles, the pieces of which were included in the goodie bags. Con attendees' jobs were to assemble the puzzles to form the pictures. When completed, the puzzles were to be raffled off. Sadly, at the time of the raffle, only Jian's puzzle was completed. I believe 5 puzzle pieces, belonging to the Mike, Dave and Murray puzzles were lost or thrown away unknowingly during the afternoon. Luckily, the lost pieces were not overly crucial, with the exception of Dave-o's shoulder going awol. My 10 tickets came in handy as I was fortunate enough to win the Jian puzzle.
There was a giant crossword puzzle about the band for attendees to fill out (and btw, whose idea was it to make the Flyers Jian's favorite hockey team? I nearly died laughing!). There were areas for singalongs and jams. There were display tables for artwork, and the Larry and Barry costumes from Halloween. There was a large map of North America, with handy star stickers which Fruheads were invited to mark their homes with. There was a video section where the band's videos, the science videos and tapes of the Ark and Halloween shows were played. There was the Q&A features with the peopel from BLR etc. And there was the scrapbook table, with pullout pages that Fruheads could decorate with artwork, messages, pictures, etc, and which was presented to the lads after the raffle. They flipped over it. It was a really nice keepsake. Oh, and there were *lots* of friendly Fruheads! What a blast! I can't wait for FruCon III :)
From Lori Martin:
Well, it's time to do the rest of the impressionistic review, before yet another week passes. Hey -- it's March! Into the studio with the lads! Way cool!
FruCon itself: I got there 11ish, and promptly gravitated to the crossword puzzle, which Cameron and I began solving entirely too much of before deciding maybe we ought to leave a few clues for the other Fruheads. Proceeded to Video Bargainville, where it seemed like 100 people were grouped in a long narrow hallway, watching science and other videos and giggling helplessly. As I had never had the opportunity to see these babies before, I found a seat with Frunique and Kevin and zoned for awhile, enjoying mightily the sight of Mike Ford in heavy eyeliner. Eventually figured out that if I sat there all day i'd miss the rest of the Con, so I found my way into the main meeting room, where Chris O was welcoming us. (Mindy and Bridget thought he had called us all together to display his tattoo, but I guess they'll have to wait for that. )

After that the day sort of became a blur, and I wandered from section to section chatting with assorted Fruheads. I'd really like to know what the last 4 answers to the crossword puzzle were, though -- especially the Creeggan Brothers clue. A bunch of us puzzled over that for a LONG while. CeeCee? Help us out here? Pretty please? :)

A coupla notes: the scrapbook was REALLY a great idea, and a lot of people went to a lot of effort on this little offering of love and memories. Rosemary did some gorgeous artwork with just a few felt-tip pens. Me, I can't draw with those things, so I just pasted in a few photos I figured would amuse the guys.

Once the speakers took the podium the room got pretty quiet. Quite informative and inclusive of the fanbase in marketing strategy ... although Steve and I were feeling a bit put-out for our Brit friends when one of the BLR people pretty much dismissed that market. It wasn't quite clear whether this is Fruvous' doing or BLR's -- can I say I have my suspicions though?

(Anyway, don't give up, RichardJonRossetc. If you can't find stuff there and need a fix bad, we can arrange a transatlantic something. Of course, dubs and commercial CDs aren't quite the same as the boys live, but even I have limits to my powers ... :) )

Did I mention that this was a really long day? And then we had a concert that night? So for awhile I headed over to the relative quiet of IRC to talk to Richard, zone out while propped up against an obliging wall, and ponder the ineffable wisdom presented by Pixel's now sadly-missing backpack. Then Fruvous entered the room, seeming a bit overwhelmed by the crowd, and did an impressive job of addressing and entertaining the assembled while not uttering a musical note. These guys know how to handle a stage even when they're the guests of honor! I'm impressed. Although somehow I felt just a *bit* alarmed when Jian, after acknowledging that we were insane, named us "ambassadors". Umm .... Meeeee? The people *I* know? The trouble trio, the infamous New York fivesome ... the mob at the Troc? Ohhhkay ... we'll do our best here, Ji!

Cheers to all who won door prizes ... Gorbitron, I am sooo jealous of you with that pitch pipe! And Kevin, I'm thinking of filing for joint custody of the dumbek ... you did neglect it in its infancy, after all, so I think the instrument welfare society would support my case. :)

Cheers also to the Con committee: you guys did an amazing job,and it came off pretty much without a hitch! (Well, except for the party poopers who didn't play fair with their puzzle pieces ... no muffins for them.)


---
The Pictures
Click the description to get the pic:




---
Misc. Info
Some other tidbits from the performance include:
Feel free to help contribute to this section!
---

Back to the tour dates 1999 page