5/7/99
Providence, RI
Reviewed by: Chris O'Malley & Katie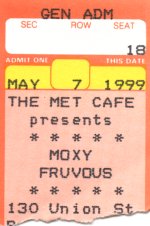 ---
The Details
Short review...
I wasn't 100% psyched for Fruvous' return visit to the Met Cafe, only because of how horrible the crowd was there last time (12/6/97). Even though the crowd was just as obnoxious this time, Fruvous put on a fine show nonetheless.
George, Vika, Colleen, Vicka and I all grabbed some dinner at Bread & Circus in Boston around six in the evening. Vicka left for Providence by herself, and the rest of us huddled into my car and made the hour journey down to Providence. We got there a little past eight, when doors were slated to open. Turns out, they already had, and we entered the venue to find about 100 people there just hanging out and chatting...it wasn't very crowded.
Hellos to everyone, including those who surprised us: Jen, Mary, Caiti, etc... I spent most of the evening before Fruvous' set catching up with people I hadn't seen in a while. I don't remember his name, but it was just him and a guitar...he went on stage at nine, and played for about 45 minutes. The crowd didn't seem to be that enthralled with him. Jess Klein hit the stage at ten, and also played for about 45 minutes. By then, the crowd was larger and seemed more interested. Lots of people were talking though, including some drunks by the bar.
Fruvous came on stage around 11:15, and played for a little less than two hours. Their set was really good, and slowly but surely during the set, they won more and more people over. Lots of people were still talking, however, during some of the quieter songs, too, which really bugged me.
Murray's setlist reads:

Michy  -\
Jockey -/
Splatter -\
Horse    -/
Hold
Kids <-(crossed out) Rush
Moon
Turin
Sauce
Boo
Sad
King
Pisco
Early
River <-(crossed out) Authors
Car
Boy
Psycho
-------
Billie
-------
Drink

After the set, the venue didn't give us much time to hang out with the band until they started kicking us out. I think we were finally booted from the Met Cafe around two in the morning. George, Vika, Colleen and I headed back to Boston; George, Vika and I made it to our apartment by three in the morning or so...not too bad.
I'm still not 100% sure how I felt about this show. Musically, it was great...the guys were "on". But, the crowd really made it hard to enjoy things.
From Katie:
well, kevin and i made the trek to providence for the show--and what a show it was. i spent all day thursday baking up scores of cookies and packed some away in a star wars gift bag left over from my father's last birthday and some in a big ziploc bag and we motored toward rhode island. upon arriving in providence we promptly got lost then righted ourselves and headed over to the venue. we headed inside to inquire about purchasing tickets and found cal and tobey readying the stage. i handed tobey the cookies, and he promptly shoved aside the purple tissue paper to look at them and announced "cal--cookies!" cal seemed pleased. after decrying jersey turnpike food and using the met's restrooms, we were told that the tickets available at the bar were sold out but that there were plenty available at the door.
so kevin and i jaunted off to get some food then rejoined the line already in progress. i ran to the car passing by a crowd forming for tower of power at ludo's (sp?) and gave some of the club employee's hanging around outside the door a couple of the snacks. i got back in line and distributed them freely, in the process meeting michelle from boston, bearer of the lawn gnomes. we discussed susan werner and such things, and watched jian attempt to bust open the locked club door by force of his weight and mike walk by stuffing his face with cookies. eventually we were let in and claimed some space stage murray. we then waited for an eternity and were joined by norg, cee cee, vika, caitlin, and chris. marc cutler, the first opener, was amusing, and jess klein was lovely as always. just before früvous' set started, colleen claimed a chair by tobey at the merch stand and chris and vika retreated to the middle of the room for taping purposes. norg and i talked first frü-experiences and chapman sticks and eventually the guys took the stage. they seemed in good spirits, though jian seemed a little down and was rubbing his eyes quite a bit. allergies, perhaps. regardless, his mood couldn't have been helped by the two very loud drunk men who shouted something just as the guys came on-stage. the first words out of jian's mouth all night were "macho drunks here to ruin our night." sucky way to start a night.
according to murray's setlist (the medium of which will be discussed later):

michy
jockey
splatter
horse(shoes)
(i will) hold (on)
rush [greatest man in america]
(you will go to the) moon
turin [present tense tureen]
(johnny) sauce(p'n)
boo (time)
sad (girl)
king
pisco
early (morning rain)
authors
(get in the) car
(your new) boy(friend)
psycho (killer)
e1:  billie jean [ed. note:  according to COM, FDC does not recognize the
alternate spelling 'billie jian' :)]
e2:  calling on the chia pets, a full rendition of david bowie's 'kooks'
from "hunky dory" (according to jian, his third best album, behind any two
of the 1977-78 releases, "heroes," "lodger," or "low" though "lodger" came
out in '79 :).
drinking song

the crowd was pretty damn disruptive, though not quite as outrightly rude as the utica crowd. most of the shouts from the audience got an "okay" from jian. chris had an irate tale of his attempts to tape as a bunch of people yakked their heads off around him. they got theirs when the band asked where the webmaster was and chris raised his hand. up in front things were fine, but apparently as one approached the rear of the venue the crowd got successively noisier, talking during 'early morning rain,' even. the crowd turned a new ear, however, after GMIA and were substantially more cooperative. one pair of men at the bar, however, were so loud during the 'psycho killer' intro that jian encouraged the crowd to be quiet and listen to their conversation.
notable banter:
after 'jockey' jian took an informal location poll. he noted that at their met cafe shows the crowd tends to be drawn primarily from places other than rhode island. they asked for people from NJ, MA, NY, and CO (yes, colorado). someone asked why not CT, and they answered that they dislike CT for political reasons--for what they did to jim morisson in new haven, specifically. then someone shouted that they should play a song for rochester, to which they replied that all of their songs are for rochester, and in fact, moxy früvous means 'i love rochester' in gaelic. they mentioned that it's obvious that the shouter is relatively unfamiliar with the band because he didn't know that they play in rochester after every other show. somehow they got on the subject of being glad that they didn't like johnson city, TX as much and began a jam about the birthplaces of shitty presidents. it was decided that millard (pronounced millARD) fillmore was their favorite president, and (after much deliberation) that rutherford b. hayes was america's only non-white president. "bring your kids to früvous for a lesson on the presidents."
they noted that the sun cutout on the wall of the venue was neither smiling nor frowning, and that the masks on the reparatory theater around the corner were similarly non-committal, leading them to dub providence the "city of ambivalence."
there was talk of being able to hear tower of power through the shared wall. when they came back on-stage to do the first encore, they discussed how nice their fans were, leading jian to make what i perceived to be a newsgroup reference when he sang "nice is different than good" and noted that the encore would be the libretto of 'into the woods' at which point i screwmed my fool head off. mike noted that all the sondheim fans were in the first row.
there was a lot more, but i'm freakin' tired. all the guys came out to talk afterward and stuck around forever, long past the staff yelling at us all to get out. i had grabbed murray's setlist and inquired about the paper on which it had been written--a page torn out of a very strange magazine. he ran to his bag and pulled the magazine out for me to page through as he signed the setlist. it was called "weird NJ" and was concerned with weird things in new jersey. nothing about medford, alas. murray encouraged me to check out the website (www.weirdnj.com), so i guess i'll encourage you to do the same.
we finally got out of there around 2:00 after saying our goodbyes.
that's it :). hoboken review as soon as i get around to it :).


---
The Music
Opened with
The Set
Closed with
Encore 1
Encore 2
---
Misc. Info
Some other tidbits from the performance include:
Feel free to help contribute to this section!
---

Back to the tour dates 1999 page