10/12/99
New York, NY
Reviewed by: Sally & Jordan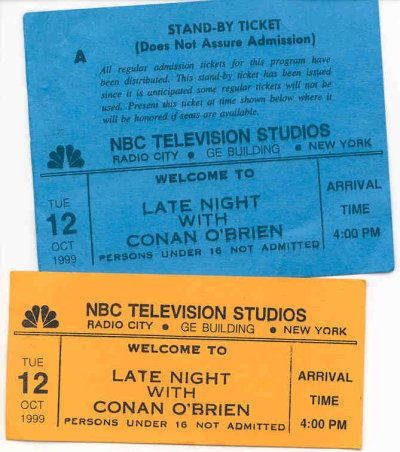 <!pic from jordan>

---
The Details
Okay...I was happy that the guys were going to be on Conan O'Brien. So happy that when I found out, I had my heart set on being in the audience and watching them perform "Splatter, Splatter." "New York City is only two, maybe 2 1/2 hours away, lets do it! I can miss school. I'm an A student. It'll be fun!" or so I thought. There was only one little, minor, insidious, thing that got in my way: The announcement by my guidance counselor that the PSATs were being held on October 12th, no makeup date. :*( So, I wimpered and set my VCR three weeks in advance to tape the show, secretly praying for there to be another date to take the test, possibly the weekend. That never happened.
The 12th strolled around and I wore my "I <3 Canadian Boys" tee in memorial of what the day should've been and while I sat in the testing room, I looked at my watch at 9AM, the time they would've reserved my standby ticket, let out a little whimper of jealousy of all you lucky früheads who got to stand outside in the cold getting my damn ticket. The procter, my guidance counselor, gave me the oddest look and came over to tell me "Its okay. They're just the PSATs." I said "If only you knew," then had that song in my head for the remaining two hours.
Got home thinking "Okay, I'll stay up and watch it while I tape it." Baseball and tylenol sinus knocked me out. I slept through the night and so the idea was pretty much scratched. I woke up at 6am the next morning, turned on the VCR, freaked out when i rewound it a bit to see Jay Leno's face and thought i didn't program it long enough to get the guys. But I went a little further and Conan just announced their details about playing at the Troubadour in California in a few weeks. Hmmm...OKay...He shuts up, I hear Murray, Jian, Mike, and Dave singing "In the Year 2000" the theme from one of Conan and Andy Richter's skit of the same name. Way to go Früvous for being able to have a national performance on a show that only lets them sing one song. Love how they sneaked that in as the insight to not-yet-fans of how truly amazingly talented they are doing anything a capella. Jian really ripped on the drums and it was great to wake up to a closeup of his face on camera. I had no idea how fast that man could drum before last night. I woke up to the studio version "Splatter, Splatter" and was blown away by how fast they went last night. Was Jian on speed or was he just nervous? Or was it both? I don't know but it was so energetic and set me off on a good note for the day. The camera guy must've really loved Dave and his accordian moves :P He did seem to need to move to relax. Murray seemed most nearly sedated on stage in terms of seeming nervous. The only words I can find to describe Mike (Mr. Cool)'s appearance was that he seemed nervous, must've thought that Jian's rapidity was hilarious, and then just moved with it. Altogether, the look on his face when he finished the guitar solo just screamed "YES!" The camera guys definitely got the right angles of all of them, though I wanted to see more of Jian. Well, no matter how many times they would've shown him last night, I'd still want to see more. Now, musically, Moxy seemed pretty much on most of the time but were, as with any live show, recorded or not, they were shaky at some points. To be expected, but I'm not disappointed with their performance one bit. Just wish it would've been longer. So, that's all from me.
And no matter what sort of minimal school or whatever type function I have the next time Früvous is in my area, I think we both know where I'm going to be.
From Jordan:
HEy HEy kiddies!!!
well, i got up at 5am... got on the subway by 5:30am and was at the NBC studios around 6am. totally exhausted and wandering around in the dark - we managed to get there a little bit delirious (come on - i'm working on like 2 hours of sleep max) but allright.
So when we arrived there were only a few crazy people in line already... we knew it had to be fruvous fans, since well, there aren't any other people that are crazy enough to a)get up that early and b)stand in the cold for 3+ hours just for a slight chance that we may get to catch the show. But it was that chance that we were all hoping to get a piece of so we were willing to endure...
We all chilled in line (literally and figuratively) for quite some time - highlights of the morning were first and foremost, meeting all you other crazy frufans! You guys are awesome and it was great chatting with you! the time just flew by! Other than that, I'd have to say... when my bud emily went down to dean and deluca to get some coffee and while wandering back to the conan line managed to get herself on the today show! oh yeah! Next highlight included seeing Mrs. Brady... sorry, don't really know her name Florence something or other. that was cool. Havign that other Rosie guest stop and say hello to us, her adoring fans - even tho none of us had the slightest idea who she was. *shrug*
Anyways, a little after 9am they started handing out the standby tickets --- for myself and my friends we ended up with number four, six, forty-eight, and forty-nine. After that i ran back to the subway station got back downtown and ran to class... making it on time with only minutes to spare.
I got taken out to lunch - which totally made my day as well... especially since i'll be living on ramen noodles for the next few days! oh yeah- college life baby - i'm living it up! :D Anyways, had my second class of the day - where i managed, somehow, to keep my eyes open and follow along. Got out of class at around 3pm, ran up to work and told them "i just can't stay today" got some pretty harsh words back from my boss... but just ran out of the building. found my bud Jill, and we headed uptown in the beautiful sunshine that is so untypical of new york!
Waiting in line until about 4:30 when we found out that, yes, we would get to see the show! so they start taping at around 6pm - Jim Breur was really cool - i had fun seeing him because (making a really long story short) i used to do impersonations of him and had my own "goat-girl" skit going on. the guy from buffy was just detarded (no offense there), and oh yeah - i think there was a musical guest on the show. what was their name... oh yeah, Moxy Fruvous *cheer*
Before the show conan came out and chatted with the audience for a little while and every time he mentioned fruvous we all were screaming like maniacs. He noticed - no doubt and said something along the lines of "so all i have to do is mention the band's name and i get applause?" so that was cool.
They played (don't read this if you want to be surprised later on tonight) Splatter... which was totally rockin. The lads looked excellent and - oh yeah, sounded great too!
We all got herded out of the studio which was fine with me cuz it was ass-cold in there. And the psycho's (yes, i include myself in that bunch) all waited around in the lobby for them to come on down. While we waited we got to see Tom Brokaw which was just weird but groovy.
The lads were all cool, and yeah we all know that i didn't really care about saying hi to anyone other than Jian - cuz he's a sweetie and always seems to impress me with everything from his mad sense of style to just how nice of a guy he is. :D but hey, it's all good. i'll stop being a nut. *grin*
Anyways... all i can say is i'm more than depressed that i won't be able to fly home for the october colorado gigs :( this was such a teaser. I'll definately be at the december 1st bowery ballroom show (sigh - that seems so far away!). anyways, any plans for that show? feel free to start e-mailing me now :D


---
Misc. Info
Some other tidbits from the performance include:
Feel free to help contribute to this section!
---

Back to the tour dates 1999 page