11/21/99
Boston/Somerville, MA
Reviewed by: Chris & Kaitlyn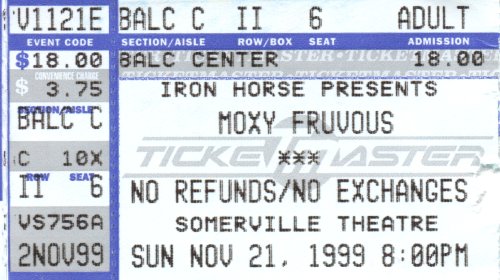 ---
The Details
I'm writing this review weeks after the show, so it's gonna be VERY short and sweet. :-)
I attended this show with Vika...not a far drive at all from our apartment in Norwood, and the first show either of us had seen in over three months. The opener was Sarah Slean, and she definitely impressed me way more than the other time I'd seen her, at Lee's Palace during Frucon 2. She has a very strong Tori Amos influence, IMO.
Fruvous' set was very good...this was during the no taping week, and you could tell the lads were relaxed since they didn't have to worry about mics in the crowd. Vika and I had balcony seats, way up in the stratosphere, but the view wasn't bad. Some of the highlights for me were an amazing performance of Nuits de Reve, the 'adding one band member at a time' openers and hearing 'You're Gonna Lose that Girl' for the first time. There were definitely more improvs than I've seen at the typical show lately, which was nice.
The show started around 8pm and ended around 11pm. I didn't hang around for but a few minutes afterwards. Mark Greenberg (who was staying with us) and I headed back to Norwood and went to sleep around midnight. Vika stayed behind with Marie-Claude (who was also staying with us), but they weren't home till like two in the morning.
Nothin' beats only havin' to drive 30 minutes to see Fruvous... :-)
From Kaitlyn:
In case anyone ever had any reason to doubt it, I love these lads!! Another great frütrip, another great concert!
(I apologize for my depth... Feel free to skip to the end for a straight set list. And I apologize for any errors... it is, after all, four in the morning.)
First of all, the opener--as in Philly Friday--was Sarah Slean. I really enjoy her (especially tonight, when she demonstrated one of the "rock poses" she had been practicing").
But the boys... another high energy show with lots of fun twists and turns!
It was a great start when Mike came out alone and wooed the audience with Gord's Gold--a fun rarity!
Then Jian joined him and they hit Homeward Bound.
Then Murray trickled onto the stage and the three of them did Spiderman (which made me really happy, by the way).
Finally, Dave joined in and we got River Valley, which I think is a wonderful opener.
Then it was New Boyfriend, which featured a really cute little dance by Mike and Dave.
The banter after Boyfriend was awesome... Somerville also doubled as a movie theater and since Früvous was playing in the theater being used for The Matrix, we got a whole line of quips about that. Murray did a pretty stellar Mr. Smith impersonation (although he told us after the show that Mike does it better). Then Jian made fun of Dave's shirt, which he claimed made him look like Linus. So Dave, of course, grabbed a towel and sucked his thumb a la the Peanuts strip, while Mike spoke for him... Linus' famous speach from "Charlie Brown Christmas." So awesome!!
Then it was You Will Go to the Moon, complete with the classic mime trombones.
Then Jian did a "shout out" (Is that a way to get stains out of clothing? Or eating chocolate syrup off of snow?), which went to the people in the really crappy seats up in the back of the balcony; Jian promised that by the end of the show he would find a way to get those people down to the floor... more on that later. : ) When the guys discovered that there were four empty seats near the front, it was explained that those were reserved for the lads' parents, who always have seats but never come to the shows (Murray's parents think he's a professional baseball player).
That went into a trio of Thornhill songs: Half as Much, Independence Day, and Sad Girl. They're still using the weird echo effect... I think they like to hear themselves reverberate. Between Indy and Sad Girl, Jian tried desperately to tell a story about doing crossword puzzles and Selena Kansas, but it took a while to get started, as Murray kept ignoring him to set Mike up with the bass... he ended up using the fender ("Frosted Lucky Charms" bass). We approved highly. I'm in agreement with Mike... the other one looks like a satellite.
Lazyboy was a treat after the Thornhill triad and the Grandpa Früvous intro to Minnie the Moocher was, of course, great. I'm psyched because I got a great treat at he end of the show... Mike's Minne notes. So if anyone wants all the rhymes/jokes let me know. The highlight, in my opinion, was the line about America being the land where everyone's entitled to life, liberty, and a f**ing sport utility vehicle. (That and George W. and nose candy.)
Then we found out that Murray's Fender is actually named Todd.
Then it was No, No Raja, which is wonderful to hear.
Another highlight for me... Dave doing The Way You Look Tonight, accompanying himself on accordian. *sigh* Jian then tried to top it with bits from Sound of Music... close.
To round out the accordian songs was Splatter Splatter, which was introduced when Mike said, "Seriously, though, we love the way you look tonight... but we think you'd look a lot better if you were covered in blood."
Then Jian started the movement to have four people from the balcony actually come down and take the four empty "parent" seats. As the audience waited for the people to take their new positions, the lads sang a Procession... it was great. I love these guys.
Then it was Disco Bargainville, with the usual three or four false starts.
Jian introduced I Will Hold On as a "conundrum" and finally decided that the mix-up was due to his equating hopeless romanticism with inevitable sadness.
After IWHO, someone in the audience asked how D.C. was. It was a nice little conversational moment. Then Mike introduced Nuits de Reves with the story of Jian singing it to them in London.
After Nuits de Reves was Greatest Man in America then Authors, wherein Murray replaced "short works of fiction/ pulp fiction" with "my crucifiction." : )
With a quick nod to frütripping, Mike started up Get in the Car and they went right into Psycho Killer. Of course, there were the usual number of false starts. I was really entertained when an audience member fed Jian the first line, pretending that that was the reason he wasn't starting the song. It was hysterical.
For their first encore, they did Michigan Militia.
Then they came out for number two and did King of Spain (the "close" dictator was George W. Bush), then Green Eggs and Ham. KoS was preceded by Dave singing a bit of New Radicals (You Got the Music in You), which was funny because he definitely looked just like that guy. In the middle of Green Eggs and Ham, Mike demonstrated his sudden ineptitude at playing Beatles, which had even the other lads cracking up.
Their final encore was You're Gonna Lose That Girl and The Drinking Song, which were, of course, lovely. A huge portion of the audience was singing along and swaying with arms linked for The Drinking Song... such a classic beautiful Moxy moment.
I was, for those interested, able to shout out my cheer for Big Fish... the crusade continues. Their reaction: "Ooh. Good one." After the show, I got several promises that they would work on it for Frücon, which means I'll have to drop everything and motor to Toronto in February.
Phew.
For right now, however, I think I'll just go to bed instead.
Night all. Sweet Früdreams.
Kaitlyn
Set List

Gord's Gold
Homeward Bound
Spiderman
River Valley
New Boyfriend
YWGTTMoon
Half and Much
Independence day
Sad Girl
Lazyboy
Minnie the Moocher
No No Raja
Splatter Splatter
Disco Bargainville
I Will Hold On
Nuits de Reves
Greatest Man
Authors
Get in the Car
Psycho Killer

Encore 1: Michigan Militia
Encore 2: King of Spain, Green Eggs and Ham
Encore 3: Lose That Girl, Drinking Song

---
The Pictures
Click the description to get the pic:
Thanks to Jared Irish for this one:
---
The Music
Opened with
The Set
Closed with
Encore 1
Encore 2
---
Misc. Info
Some other tidbits from the performance include:
Feel free to help contribute to this section!
---

Back to the tour dates 1999 page