Warner Music Canada, #93134
Atlantic, 82563-2 (UPC # 07567825632)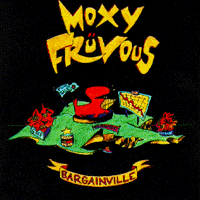 Release Dates: Tuesday, February 8, 1994 in the U.S. (WEA/Atlantic) and
July 20, 1993 in Canada (Warner Music Canada)

The Lyrics

Total Time: 52:07


From the Liner:
Welcome to Bargainville...
Dream Rates, Values slashed, binge binge binge. Stuff Dredged up from the harbour at noon is on the shelves by four.
Items priced so low they're practically worthless. Integrity "R" Us. Killing spree in aisle #7. Just do it...
And when the last capitalist has chopped down the last tree, you'll still find our "Pine-Scent"tm Air Freshener in Aisle 3.
Bargainville... Where the future is cheap, and there's plenty to go around.

All songs written*, performed, and produced by Moxy Früvous.
Associate Producer and Engineer- Doug McClement
Recorded at Dreamland Studios, Woodstock, NY.
Additional recording at Comfort Sound, Toronto
Mixed by Moxy Früvous and Doug Clement at Comfort
Assistant Engineers- John Yates, Andrew St. George, Mike Stanutz, Gabe Lee, Scott Keenan
Mastered by Bob Ludwig

All photos - Graham Kennedy
except
Booklet-back montage - Sidney Tabak
"B.J." + "Video B-Ville" - Genevieve Acuna
"River Valley" - Xander

All Original Artwork by Mike
Penmanship by Jean and a bit by Mike
Design and Layout- Keith Tufts and Mike
Mac 'n' Stuff- Keith Tufts

*"Irene Goodnight" Segment in "The Drinking Song" written by Huddie Ledbetter! and John A. Lomax, and "Spiderman" by Stephen Lemberg.


---
Order 'Bargainville' online!
This and other Moxy Früvous releases are available online. Check out the following sites:
---

Back to the discography page...