The Bottom Line Record Company, 63440-47304-2
BMG/VelVel/Bottom Line #47304
UPC: 63440473042
WEA CD23269 - 1998 Clebdon Holdings Inc.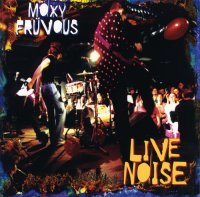 Release Dates: Tuesday, May 19, 1998 in the U.S. (Bottom Line Records)
and Tuesday, May 26, 1998 in Canada (Warner Canada)
The Lyrics
---
From the Liner:
In the future, what we think of today as a "live album" will actually be a human-interface computer chip that plugs directly into the brain. The purchasers of such a "live album" will experience the "live show" through all five senses, not just one, and the bonus tracks won't be songs but genuine road experiences like "Smell of the Van, Week Four", "Hacky-Sack with the Guys", and "Hotel Wake-Up Call!" But that sort of technology is years, perhaps even a decade away, so until then the live experience will have to be crammed into your brain through your ears. To compensate, we've tried to fill this album with all the spit and sweat, all the Rocky-Horror-vaudeville-glam-folk, all the witty asides and broken strings that is a Fruvous show.
This album is a snapshot of that show, Autumn '97. We selected performances from the middle of a mostly stateside tour that took us from Maine to Manitoba to Missouri to Georgia and just about every metropolis inside that polygon. The album is not as long as a Fruvous show, but we've tried to include every aspect of our multifarious band personality. We've included several snippets of between-song banter from those shows, because the banter is as integral to our shows as the music, and for many repeat viewers of Fruvous it IS the show.
Many of the songs on this album are staples of our live show, but there are also a few included here because they took on a new life after they were originally recorded - like young hockey players, they bloomed into fine two-way defensemen after a disappointing rookie year. Much of the banter here takes its cue from the road experiences of the day, from a Trivial Pursuit card in Providence inspiring an improvised quiz-song about geographical elevations to the distinctly cortex-heavy ambiance of an afternoon's stroll at M.I.T. engendering an on-stage squabble that night about chess-playing supercomputers.
In addition to the local crews at each and every venue, we would be officially Nowheresville without the purple heart heroics of our own carry-along 2 Live Crew. On logistics, merchandise, ninety-eight per cent of the driving and assorted grunt work, the inimitable (despite constant attempts) Marcus Tamm. Providing us with Fantastic Live Sound, working equipment and the occasional shot of sour mash, Colin "Cal" Stanutz. Because of these two we are alive and relatively sane, to them we proffer our eternal thanks and dedicate this live collection. Our thanks as well to tour comrades of the past: John Shotwell and Peter Arseneau, merch fellows Brain "Dookie" Corbett and Chris "Blakey" Blake, and all the others who've endured life in the van with us to ensure that the show goes on.
You're heard it all before and it's all true: life on the road is often a drag. The highway food, the living unglued, the hotel grind, the losing your mind. Being miles away from loved ones is cruel and, for us, quite usual punishment. But we do get to PLAY, for some of the most enthusiastic fans a band could hope for, and that's amazing. Now we get to take home some snapshots. And so do you. Hope you enjoy.
Murray, Jian, Mike & Dave




Moxy Früvous would very much like to thank:
Jack Ross (our agent-star-manager); Judith Coombe (for her long hours and smiling help);
Stephen Traub (our creative and cool sound engineer);
Steve Martin, Phil Jacobs and the whole gang at the Agency Group in Toronto and New York;
Stan Kulin, Dave Tollington, Kim Cooke, Candy Higgins, Randy Stark, Steve Jordan, Steve Waxman, Tara Luft, Jeff Storry,
and all the folks at Warner Music Canada;
Allan Pepper, Hank Medress, Kevin Kiernan, Susan Tanner, Sarah Hoffman and all the groovy cats at the Bottom Line Records in
NYC;
Emily Lichter (our fave NYC hipster); Danny Greenspoon (and his fabulous recording mobile);
Paul Acosta (for the sound advice and equipment); Michael Wrycraft (our favourite art-boy);
Michaela Majoun (for the voice that starts the disc); Lisa Pollack (for the pics);
Artie Kwitchoff & Marcel Thimot at Delsener-Slater Entertainment in Buffalo; the Tralf in Buffalo;
Theresa Chambers and the Mercury Lounge in NYC; Geoff Gordon at Electric Factory Concerts in
Philadelphia; the TLA in Philadelphia; Joao Carvalho and Umbrella Sounds; Studio 306;
Dorothy McAuley at On Tour; WBER, WXPN, and WFUV; Hammel on Trial; Tory Cassis; Chris O'Malley; Jason Reiser;
Therese & Jacqueline; and finally to our fans and Früheads, friends and families...thank you.




Produced by Moxy Früvous
All songs by Moxy Früvous Früvous Publishing (SOCAN)
except "Jockey Full of Bourbon" Tom Waits, Jalma Music (ASCAP), "I've Gotta Get A Message To You" B. Gibb/M. Gibb/R. Gibb, Gibb Brothers Music (BMI)
"Psycho Killer" D. Byrne, Bleu Disque Music Co. Inc./Index Music Inc. Administered by WB Music (ASCAP),
"The Drinking Song" Moxy Früvous, Früvous Publishing ("Irene Goodnight" Huddie Ledbetter/John A. Lomax)

Mixed by Stephen Traub & Moxy Früvous at Studio 306, Toronto
This entire album was recorded live in concert, with no studio overdubs, at:
The Tralfmadore, Buffalo NY October 3rd & 4th, 1997
by The Audio Truck, Toronto, Danny Greenspoon (Lil Thomas, asst.)
and at The Theatre of Living Arts, Philadelphia PA November 14th, 1997
& The Mercury Lounge, New York NY November 15th, 16th & 17th, 1997
by Paul Acosta, Audio Chef (Music First Productions, asst.)

Mastered by Joao Carvalho at Umbrella Sound, Toronto
Moxy Früvous live sound by Colin "Cal" Stanutz

Art Direction, Design & Layout by A Man Called Wrycraft, Toronto
Photography by Lisa Pollock with gracious thanks for additional photos from fans and friends

For Fruvous Info & Ideas:
Web Site: www.fruvous.com email: moxy@passport.ca
post: P.O. Box 90005, 1488 Queen St. W. Toronto, ON Canada M6K 1M4
Management: Jam Entertainment
59 Berkeley St., Toronto, ON Canada M5A 2W5
(416) 368-5599

© 1998 The Bottom Line Record Co., LLC.
---
Track Listing
(Total Time: 69:56)
Michigan Militia
[3:29] - Philadelphia, November 13th


Jockey Full Of Bourbon
[3:06] - Philadelphia, November 13th


Intra-Pennsylvania Rivalry
[1:21] - Philadelphia, November 13th


Horseshoes
[4:24] - Philadelphia, November 13th


Good Date Band?
[1:28] - Philadelphia, November 13th


Fly
[5:23] - NYC, November 14th


Boo Time
[3:52] - Buffalo, October 3rd


Kirk King Intro
[0:44] - NYC, November 16th


King Of Spain
[3:14] - Buffalo, October 3rd


The Lowest Highest Point [Improv]
[3:10] - The Met Café, Providence, R.I., December 6th (recorded by Jason Reiser)


B.J. Don't Cry
[3:21] - NYC, November 16th


Johnny Saucep'n
[1:27] - Buffalo, October 3rd


Nature Sounds
[0:48] - NYC, November 15th


I've Gotta Get A Message To You
[3:24] - Philadelphia, November 13th


My Baby Loves A Bunch Of Authors
[2:49] - NYC, November 14th


Naked Puppets
[1:02] - NYC, November 14th


No No Raja
[3:02] - NYC, November 14th


Video Bargainville
[4:10] - Buffalo, October 3rd


Kasparov Vs. Deep Blue
[3:26] - M.I.T., Boston, MA, April 13th


Psycho Killer
[4:27] - NYC, November 15th


Losers
[0:09] - Buffalo, October 3rd


King Of Spain [Cranky Monarch version]
[5:18] - Buffalo, October 3rd


The Drinking Song
[6:05] - Buffalo, October 3rd


---
Misc. Info about this release
The bulk of this album's content was culled from Fruvous' recording of six shows from the 'Your New Boyfriend' tour in fall 1997. The shows that were recorded are as follows:
Also, some miscealleous bits were taken from the following two shows:
---
Pictures, Pictures, Pictures
Look for scanned Live Noise pictures in the picture gallery.
---
Reviews of 'Live Noise'
For press releases, newspaper articles, and the like, check out the news section.
---
Reviews by fans
---
Font
According to Michael Wrycraft (the artist for the album), the font used for 'Live Noise' is called 'Walkie Talkie'. (this little nugget of info was revealed at FruCon 2)
The font can be downloaded directly from FDC or acquired at: http://www.fontfreak.com/fonts-w.htm.
---
Fun Stuff
Fellow Frühead Chris (Moz) has provided these wonderful scanned images:
This is a scanned Trivial Pursuit game card (from the Genus Edition). Note the Geography question:
Thanks for the great addition to the 'Live Noise' information page, Chris!
---
Order 'Live Noise' online!
This and other Moxy Früvous releases are available online. Check out the following sites:
---

Back to the discography page...