LSC Sponsors Concert Featuring Eclectic Canadians - Moxy Früvous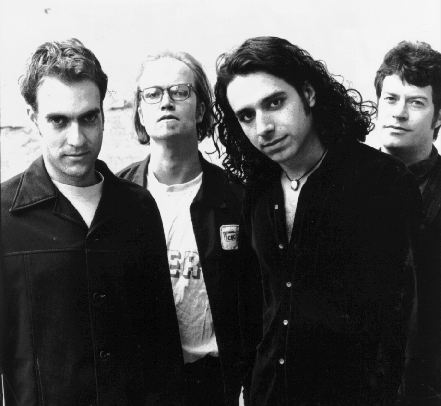 Photo Courtesy of Moxy Früvous
Moxy Früvous will play in La Sala de Puerto Rico on Saturday at 8 p.m.
---
By Dan McGuire
NEws Editor
"We wanted a gig with no amps to carry, so we learned to sing the whole works," said a member of Moxy Früvous, the band playing at a Lecture Series Committee-sponsored concert in La Sala de Puerto Rico Friday at 7 p.m. Honest Bob and the Factory to Dealer Incentives will open for them.
"They seem like a band that would be well received here. They have intelligent, humorous lyrics," said LSC Executive Committee member Jacob B. Schwartz '97. "They have quite a following here...When they play at the Middle East, its packed and there are a lot of MIT people" in the crowd, he said.
"There will be a lot of people who are die-hard fans and there are a lot of people who will be dragged along with their friends," Schwartz said. "We think that they'll all have a good time."
Honest Bob is "an old MIT band," Schwartz said. "They won the battle of the bands in 1992, although it might have been under a different name," he said. "They don't play for money, they play for enjoyment," he said. "This is a great opportunity for them to get some exposure at MIT," he said.
Schwartz said that LSC thought it could fill La Sala. "The room will hold 500 people," he said. "At least we'll get 400. I suspect that 500 will be too small," he said. So far, LSC has sold 120 tickets and will need to sell 275 to break even. "We're doing pretty well in sales considering that The Tech ad and the poster haven't gone up yet," he said.
"Because of exams we couldn't get Johnson [Athletics Center]," Schwartz said. "Walker would have been good" but the party ban prevented that.
Originally, LSC did not even have La Sala and the event was scheduled for the Lobdell dining hall. "The Tech Squares were very nice and switched with us. La Sala is nicer and we're thankful that they were willing to make that trade," Schwartz said.
The event will have metal detectors because it is a concert, Schwartz said. The metal detectors "are probably overkill. Nevertheless, it's nice" to have a level of security, he said.
Concert helps fill band gap
The idea to bring the group to campus began more lightly, however. "Moxy Früvous has a little gimmick where you get a Frühead stamp" every time you attend a concert, Schwartz said. "At 24 stamps you get to go bowling with the band," he said. Someone suggested "Œwith enough stamps can we get the band to come to MIT?'," he said.
"A lot of LSC members happen to be fans [of the group] and asked around" to see whether other students would be interested in seeing the band, said LSC Chairman Christopher C. Marchant '97.
"Generally the way that a lot of events happen is that people make a suggestion and it's tossed around. The ones that seem well received are more closely examined," he said.
The suggestion began to look practical, however, after recent events. "After the program board announced that there wouldn't be a concert and once it began to look like it would become more feasible, we decided to look more closely at it," Marchant said.
The date for the concert was a matter of convenience for both Moxy and LSC. "Moxy came to us and said ŒWe'd love to do a concert. How about the weekend of the 17th?' So we really didn't have a choice [on the date of the concert] other than ŒYes, we think the students would enjoy the concert' or Œno'," he said. "Their schedule corresponded with ours and we said ŒWhy not?'," Schwartz said.
Events like the concert, however, will probably not be sponsored by LSC on a regular basis. The concert complimented LSC's movie offerings, and looked economically sound. "It looked like we could hold the concert without losing any money," Schwartz said. "They were going to be in the area and offered to do [a concert] cheaply," said Marchant. "They're really excited about doing a concert at MIT, which helped make the arrangements easier," he said.
Moxy Früvous is available on the web at http://wwwcsc.cornell-iowa.edu/~jcragun/fruvous/. Honest Bob and the Factory to Dealer Incentives is at http://www.users.thecia.net/users/dfan/hbob/.
---
Copyright 1997,96, The Tech. All rights reserved.
This story was published on May 13, 1997.
Volume 117, Number 26.
The story began on page 1 and jumped to page 12.

This article may be freely distributed electronically, provided it is distributed in its entirety and includes this notice, but may not be reprinted without the express written permission of The Tech. Write to archive@the-tech.mit.edu for additional details.



---

Back to the News Page...