No Mega-CD
---
No Mega-CD
Protest Boy Records, #PBR97001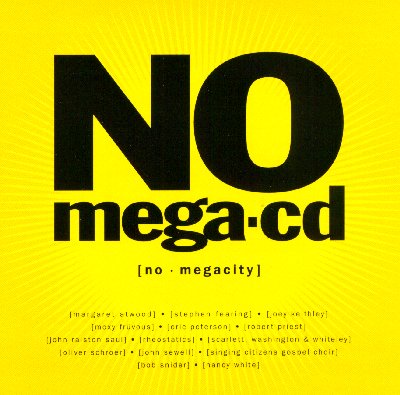 'Today's The Day That We Fight Back' Lyrics


Track 1: Today's The Day That We Fight Back [3:22]
[moxy früvous]
written by moxy früvous ©1997 früvous publishing [socan]
recorded for this project, friday, february 28, 1997 at
phase one studios, scarborough
produced by moxy früvous
engineered by scott lake

mike ford - lead vocal, guitar
murray foster - vocals, percussion
jian ghomeshi - vocals, percussion
david matheson - vocals, banjo

moxy früvous appears courtesy of warner music canada


---
Jian Ghomeshi is a writer, performer and producer who lives in Toronto. He is a member of moxy früvous and is probably rushing off on tour somewhere. He needs to get some sleep.
Moxy Früvous is a platinum-selling Canadian music group who started as buskers on the streets of Toronto. They are internationally known for songs that often blend groovy pop melodies with social and political satire. Their latest album, You Will Go To The Moon [Warner Music Canada], will be released in Canada on April 22.

---
From the Liner:
This album was conceived of and produced in the past seven days. It is a part of the growing grassroots movement against the neo-conservative policies of the Ontario progressive conservative (Harris) government, and specifically, bill 103 - the megacity legislation, bill 104 - affecting school boards, and the downloading of social services onto municipalities. It is meant as a protest sing-a-long, an expression of the Toronto artistic community, a political tool, and, of course, a fundraiser for the Citizens for Local Democracy.
I've never witnessed such a fast-growing and committed protest movement coming out of Toronto. Indeed, I was overwhelmed by the immediate response of the artists who contributed to this record. The word was put out on Tuesday, and by Saturday, songs and speeches had been recorded and donated. Toronto artists are very passionate about their belief in democracy and their opposition to the Harris government's policies. Time and volume prevented the inclusion of many wonderful musicians and writers who were willing to contribute to this project, but it is telling that this album is only a very small sample of the great artistic work that is out there on these issues.
There are a number of individuals that must be recognized for bringing this project together. First and foremost, many thanks to all of the artists who kindly donated their time and energy for this recording. In addition, the following people should be acknowledged for all their volunteered time along the way: Tara Luft, Sarah Layton, Olivia Chow, Jack Layton, Ken Whiteley, Phil Disera, Therese Dineen, Neil Mathers, Hans Burgschmidt & Hamish Wilson of CIUT 89.5FM, Soozi Schlanger, Oliver Schroer, Lindsay and Irene of Music Manufacturing, and Jack Ross.
Finally, special thanks to Peggy Karfilis from Citizens for Local Democracy, who was instrumental in helping to organize and inspire the recording of this disc, and to Michael Wrycraft for his graphic talents, boundless energy, and moral support, without which this album could not have been made.
Jian Ghomeshi - March 2, 1997


---

Conceived and compiled by: Jian Ghomeshi
Design, layout & enthusiasm by: A Man called Wrycraft, Toronto
Mastered by: Roland Rainer at Umbrella Sound, Toronto
Film and proofs by: Moveable Type, Toronto
Manufactured by: Music Manufacturing Services, Toronto
Administration: Tara Luft, Sarah Layton
For Further information or to order this CD call the:

No Mega-CD Hotline
416-392-4109
e-mail: tara_lufe@tvo.org

To reach the Citizens for Local Democracy:

416-977-8736
email: citizens@web.net
http://community.web.net/citizens

---

Back to the discography page...