Three, Two, One...Alive! From Studio A
---
WCBE Volume 3. Released in 1995 by the Cleveland radio station WCBE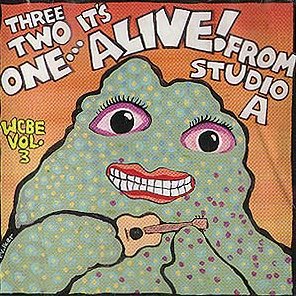 This CD features live tracks recorded in-studio and was made available to donors to the station.
Liner Notes
This third in WCBE's series "Live From Studio A" is our finest yet! In terms of technical quality, variety, and warmth, there is something truly unique and magical captured here...a cross between the fidelity of a studio recording and the spontaneity of a "club date." Here, however, the concert is very intimate and personal. Freedy, Iain, Shawn, Jim, Sara and the rest are captured "live" playing a command performance for you! (Jon Peterson, Music Director - WCBE)
Track Listing
You Are Live In 3...2...1... (studio chatter) (:28)
Blogurt - Grover's A Puppet (3:58)
Gunshy Ministers - Wall For Trains (3:44)
Iain Matthews - Jumping Off The Roof (3:55)
Freedy Johnston - This Perfect World (4:37)
Sara Hickman - Eye of the Storm (5:24)
Terry Devin - Immature Tomboy (3:14)
Moxy Fruvous - BJ Don't Cry (3:01)
Rusted Root - Big White Bird (3:24)
Vinyl - The Promised Land (6:37)
Adjibella - Sangela (8:56)
Madraguda - Slowly (6:00)
Angels R Us (studio chatter) (:49)
Patty Larkin - Good Thing (4:39)
Shawn Colvin - Knowing What I Know Now (1:58)
Jim Lauderdale - Run Like You (4:24)
Swinging Steaks - Lonely Man (3:45)
Kimberly's review
The Fruvous track, mixed for this CD by Norm Beeker, is a really well-done live version of BJ. Mike's vocals are a bit loud, but the best part about this version is the background "he's our Messiah" line later in the song: the mix makes this line louder than the lead, and it sounds wonderful. I'd like to hear BJ performed this way in person. I got this CD for the Fruvous track, of course, but I was amazed at how wonderful some of the other songs were. Tracks 2, 3, and 4 quickly became my favorites. Blogurt's "Grover" is a tuneful, witty political commentary showing the effects of a republican regime upon everyone's favorite muppets - Oscar thrown out of his trash can, Big Bird branded "third generation yellow trash," and the title character labeled a "radical subversive freak." This is probably the only song that'll ever use the word "Sununuuffeluppagus," and I adore it. "Wall For Trains" by the Gunshy Ministers is a gritty, folky song that I find catchy for no particular reason. The Iain Matthews offering, "Jumping Off The Roof," is a haunting story of a destructive relationship delivered in a simple, one-man-and-a-guitar style. It's a relationship song and I STILL like it, which is unusual: I rank this one right up there with "Fly" for sheer lyrical beauty. The other tracks on this CD are pretty standard fare, although I liked the Rusted Root song rather more than I thought I would. Mike Glabicki's vocal affectations keep the song off my Favorites list, but I'd love to hear a karaoke version of "Big White Bird."
---

Back to the discography page...