Bottom Line Records, #VEL 97301-2
Velvel Records, LLC, 97301 (UPC # 63440473012)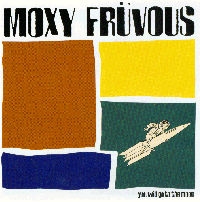 Release Dates: Tuesday, March 18, 1997 in the U.S. (Bottom Line Records)
and April 29, 1997 in Canada (Warner Canada)

The Lyrics (confirmed by Mike Ford)

Total Time: 41:48


From the Liner:

Produced by Moxy Früvous & Stephen Traub
All songs by Moxy Früvous © 1996 (except *)
All instruments & Voices by Moxy Früvous (except as indicated)
Recorded by Stephen Traub (title track recorded by Shawn Edmondson) at Comfort/Bayside and Phase One studios in Toronto
Mixed by Moxy Früvous & Stephen Traub at Phase One
2nd Engineers : Gabe Lee, Darius Szczepaniak, Shawn Edmondson, Jeffrey Cryderman, Shaun Scheull
Mastered by Brett Zihali at Metalworks
String Arrangements: Danny Levin
Drum Looping: Stephen Traub, Jian Ghomeshi, Rob Preuss, Wayne Swingle
*"I've Gotta Get A Message To You" by B. Gibb, M. Gibb, R. Gibb, Gibb Brothers Music (BMI)
Band photos by Graham Kennedy
Design by Helios (www.heliozilla.com/helios)



---
Newsgroup Frühead Angel posted this info to alt.music.moxy-fruvous:
I've been looking through my radio trade magazines in search of want ads and looks what I came across:
FMQB (Friday morning quarterback)<-- popular industry magazine that covers... umm, well, lotsa stuff-
Progressive adult Radio Progress report, April 11th issue. This is basically music directors from stations talking about the hot new records/songs
David Dye, WXPN, Philly
-Moxy Fruvous, You Will Go to the Moon- "The Bee Gees cover and Michigan Militia are really garnering listener reaction!" <-- to yawl in Chicago, Jian was going to tell us about getting the support of this major station before he and Dave started interrupting each other. BTW, in the Radio & Records chart, they have Michigan listed as their #1 track of the past week. EEEEEEEE!! :)
Rita Houston, WFUV, NY
-Moxy Fruvous, Gotta Get a Message to You- "Easily the best cover of the year."
yaayyy, but that's not all folks. April 18th FMQB, the album got a writeup in Progressive adult radio picks-
"This record is simply amazing. After hearing You Will Go to the Moon, we are thoroughly convinced that this is the album that will break Moxy Fruvous wide open. Combining solid pop songs with 'gangsta banjo hip-hop' and 'accordion love songs,' the 13 songs on this album have appeal that could easily cross from Progressive to Modern, and possibly even top 40." then it goes on to give Bottom Line's phone # and their suggested tracks (which are basically half the songs on the album. Pretty cool, also in that section were reviews of the new Skynrd, Son Volt, Depeche Mode and Bela Fleck. Nice company to keep.


---
'Moon' font
The YWGTTM font is called Harlem Slang Normal. It's a commercial font. (i.e. not free)
You can find info on it here: http://www.fontfont.de/packages/harlem7092/harlem7092.html
Fruhead David Garcia (Donovan) has made his own font that looks a lot like Harlem Slang. He calls it 'Hardly Slang' and you can download it by clicking on this link. (Note: you may have to right-click on the link and select "Save As...")
You can also go to a web page David has set up: http://www.abs.net/~donovan/fruvous/fruvous.html. This page includes his font and also a YWGTTM winamp skin.


---
Order 'You Will Go to the Moon' online!
This and other Moxy Früvous releases are available online. Check out the following sites:
---

Back to the discography page...