3/23/96
Fredonia, NY
Reviewed by: Chris O'Malley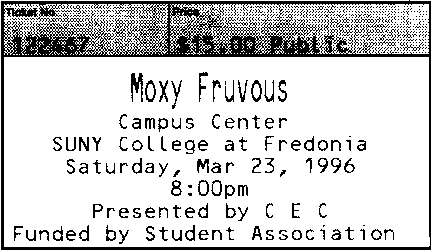 ---
The Details
Moxy Früvous appeared in Fredonia, NY on Saturday, March 23 at the State University of New York College at Fredonia, in the Campus Center. After the opening act (I can't remember the name), Moxy went on at around 9pm. I attended this show with my friend Colleen. This show definitely showcased tracks from the 'B' album, which had just been recently released.
The Leader, Fredonia's campus newspaper, had a review of this show.
---
The Music
Help me to fill the rest of this in!!

Opened with: The Set (in no particular order):
Present Tense Tureen
My Baby Loves a Bunch of Authors
Video Bargainville
King of Spain
Spiderman
Greatest Man in America
Ash Hash
Johnny Saucep'n
I Love My Boss
B.J. Don't Cry
Brown Eyed Girl
The Kids' Song
Finished with:
Encore:
---
Misc. Info
Some little tidbits from the performance include:
A fan brought in a stuffed Spiderman head, which the band playfully tossed around the stage.
---

Back to the main tour dates page